Japanese fans will be welcomed to watch the games in the 17,000-capacity Yokohama Arena from December 23-24.
JAPAN – Riot Games has announced five teams invited to their upcoming OFF//SEASON tournament, Riot Games ONE Pro Invitational. The tournament will be played as part of the two-month integrated event held by the Japanese branch of Riot Games to commemorate the end of the year. With the concept of "Games, Fans, Riot, As ONE", various events will be held to bring together fans, community, and partners. 
DRX, Paper Rex, and FNATIC are among the highest-ranked squads invited and will be joined by domestic sides ZETA DIVISION and DetonatioN Gaming. The Riot Games ONE Pro Invitational will be a historic event as it is the first international VALORANT event to be hosted in Asia. The organizer anticipates that approximately 20,000 people will attend the two-day event.
ALSO READ: peri joins DWG KIA as coach; reunites with NUTURN trio solo, allow, Lakia
The invitational will take place on December 24 and will see the playoffs stage be played at the Yokohama Arena, a venue primarily used for live concerts, including for the upcoming NCT Dream's Japan tour late this month. In addition, it will be streamed live on Twitch and YouTube via the official Riot Games and VALORANT channels.
The main stage will see ZETA DIVISION and DetonatioN Gaming take turns participating in a set of exhibition matches, against all three overseas teams in a best-of-one format. In addition, this will be the first chance for fans to see the newly-built DetonatioN Gaming roster in action. 
🇯🇵 ZETA DIVISION

vs. 🇸🇬 Paper Rex
vs. 🇰🇷 DRX
vs. 🇪🇺 FNATIC

🇯🇵 DetonatioN Gaming

vs. 🇸🇬 Paper Rex
vs. 🇰🇷 DRX
vs. 🇪🇺 FNATIC
In addition to the VALORANT Invitational, Riot Games ONE will feature an exhibition stage a day before the game, on December 23, including live musical performances, streamer showmatches, and more. Famous Japanese singer Reol will perform "SCORPION," the official theme song of Riot Games ONE, followed by hip-hop artist rap AK-69 and Sound's Deli's performance the following day. 
For the first day, the Riot Games ONE x Crazy Raccoon Cup Special will see two teams clash on stage after winning the initial online double-elimination bracket held from December 19-21. Below you can find the lineups for the CR Cup Special showmatch: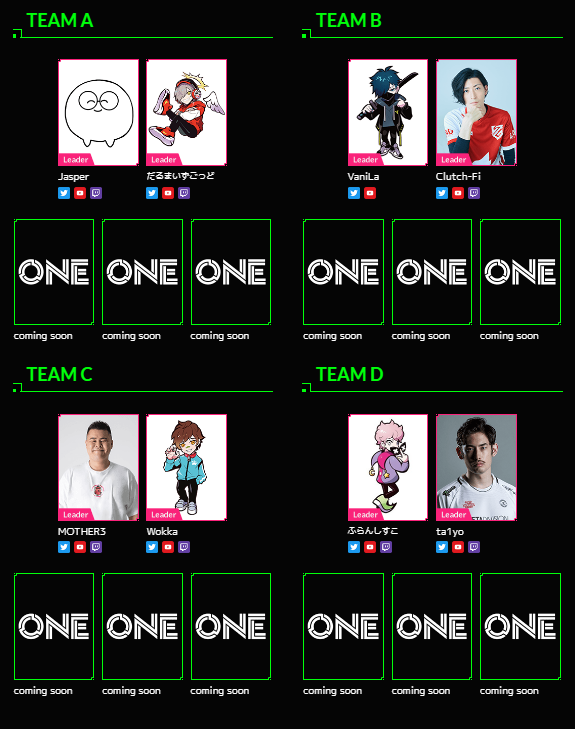 Along with the Crazy Raccoon Cup Special, the first day of the event will also feature THE DEFIERS, an exhibition stage with five prominent Japanese streamers facing a mixed team of some top domestic players. Crazy Raccoon duo Yusuke "neth" Matsuda and Ibuki "Meiy" Seki will team up with Daiki "Minty" Kato, current NORTHEPTION player Kohei "BlackWiz" Mikami, and "Art". 
Chikara "SHAKA" Kawakami, on the other side, will be playing alongside Keigo "Jasper" Tashima, Yuto "MOTHER3" Ōe, "Darumaizugoddo", and Lag Gaming's "Clutch_Fi". 
Tickets for the event will go on sale from November 10, at 8:00 PM JPT, with prices ranging from 5,800 yen to 9,800 yen (~US$39-63). Find more information about tickets here. All visitors will receive the limited edition VERSUS // Yol + Phoenix" player card and an exclusive "ONE // 2022" in-game title. An additional 1,000 keychains will be given per day.
---
For more insights on the Asian VALORANT scene and upcoming content like this, be sure to like and follow VALO2ASIA on Facebook, Twitter & Instagram.
---
Cover photo courtesy of Riot Games Japan