The 19-year-old makes a return to the Vietnamese scene with Fancy United Esports. 
VIETNAM – Fancy United Esports have announced that they have rounded out their roster with the addition of former Alpha Esports Pro Duelist Phan "Gin" Văn Gin. The move will reunite gin with his former DivisionX Gaming teammates Đinh "YESicaN" Đình Đạt, Võ "Hyzee" Nhựt Huy, and Nguyễn "Nizzy" Tấn Thành. He comes in to replace Nguyễn "Suka" Tiến, who was released from the team in late October. 
Having made his name in several stints with DivisionX Gaming and more recently Alpha Esports Pro and W Streak Esports, gin has been turning heads with promising performances in the APAC sub-top. He excelled in VCT Philippines Stage 2 Challengers with AEP, whom he helped to a 5-6th finish with 241.7 ACS, the fourth-highest rating for the tournament. 
ALSO READ: Riot Games ONE Pro Invitational announced featuring FNATIC, Paper Rex, DRX, & more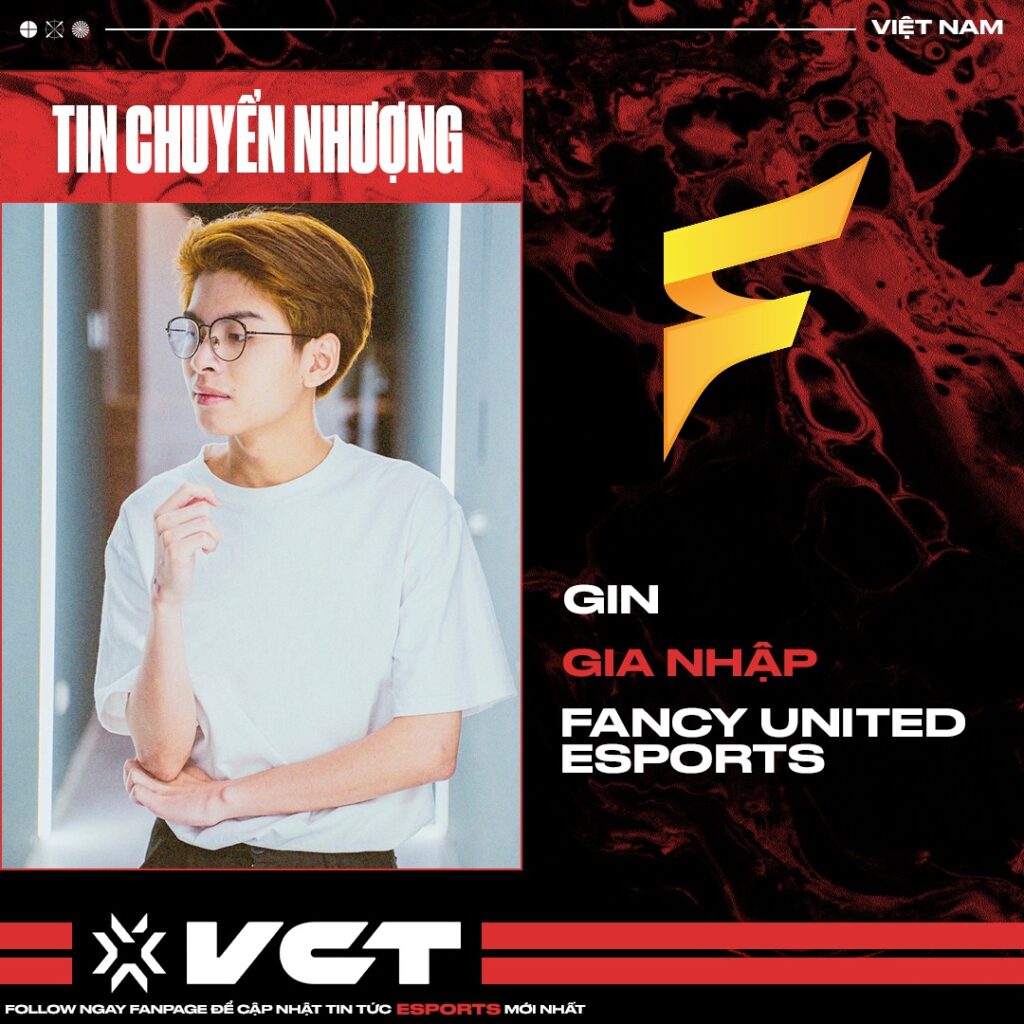 The move also sees him return to action after he was left teamless in August when W Streak Esports decided to move away from international roster composition and return to an all-Filipino lineup, resulting in the departures of gin and Phạm "d0rf" Quốc. 
Gin joins Fancy United Esports at a time when the Vietnamese side has been making deep runs as of late, with a runner-up finish in TEC Challenger Series 9 being the highlight of their OFF//SEASON campaign so far. As mentioned earlier, he will be accompanied by three players in this new challenge, having played alongside YESicaN, Hyzee, and Nizzy under the DivisionX Gaming banner for the 2021 SEA Esports Championship and EPulze Royal SEA Challenge.
Gin rounds out the Fancy United Esports roster in the middle of their campaign in the ESL Clash of Nations SEA Qualifier, where they hope to snatch one of the two main event spots on offer. 
Fancy United Esports now have the following team:
🇻🇳 Võ "Hyzee" Nhựt Huy
🇻🇳 Đinh "YESicaN" Đình Đạt
🇻🇳 Hoàng "f1cio" Ngọc Sơn
🇻🇳 Nguyễn "Nizzy" Tấn Thành
🇻🇳 Phan "Gin" Văn Gin
🇻🇳 Ngô "Kishi" Trường Huy (Stand-in for ESL Clash of Nations SEA)
🇻🇳 Phan "Kawa" Anh Huy (Coach)
---
For more insights on the Asian VALORANT scene and upcoming content like this, be sure to like and follow VALO2ASIA on Facebook, Twitter & Instagram.
---
Cover photo courtesy of Fancy United Esports