Six teams will participate in an online showmatch in the leadup to the two-day main event at the Yokohama Arena on December 23-24.
JAPAN – Riot Games has announced the participants for the Riot Games ONE Pro Invitational Online, a domestic showmatch taking place ahead of the main event of Riot Games ONE, a series of VALORANT events hosted by the Japanese branch of the LA-based game publisher.
Taking place from December 10-11 and 18, the exhibition tournament, called the Riot Games ONE Pro Invitational Online, will feature six local Japanese teams, in which a total of three matches will be played in a best-of-three format. It will be streamed live in Japanese on YouTube and Twitch (VALORANTjp and RiotGamesJP).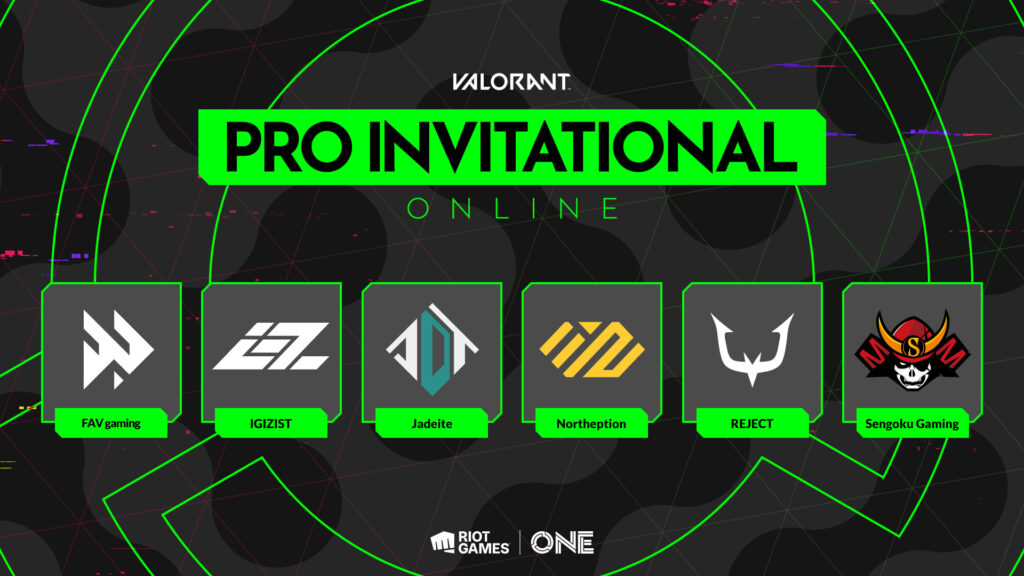 FAV Gaming, IGZIST, Jadeite, NORTHEPTION, REJECT, and Sengoku Gaming have all accepted invites to compete. Below you can find the matchups for Riot Games ONE Pro Invitational Online: 
December 10, 19:00 – IGZIST vs. Sengoku Gaming
December 11, 19:00 – NORTHEPTION vs. FAV Gaming
December 18, 19:00 – Jadeite vs. REJECT
FAV Gaming have yet to announce their fifth player, having just removed 25-year-old Hideki "Fisker" Sasaki last month due to a breach of contract. Masayuki "oitaN" Takahashi's IGZIST will face off against Sengoku Gaming, who will compete without Russian duo Ilya "something" Petrov and "Vici".
Meanwhile, REJECT's and NORTHEPTION's full rosters remain to be seen. The latter team were most recently in action at the TEN 5_Valorant Korea vs. Japan showmatch when Byung-yeon "JoXJo" Cho, Tomoki "xnfri" Moriya, Kim "Meteor" Tae-O, and coach Lee "bail" Sung-jae were still part of the team. "TenTen", the younger brother of Meteor, will make his official debut under the NORTHEPTION banner in this tournament.
Here are the list of participating teams and their roster as of December 1:
FAV Gaming
– 🇯🇵 oitaN
– 🇯🇵 RIPablo
– 🇯🇵 Thiefy
– 🇰🇷 GangPin
– 🇯🇵 NoriseN
– 🇯🇵 poem
– 🇯🇵 hNt (Coach)
IGZIST
– 🇯🇵 Art
– 🇯🇵 Misaya
– TBA
– TBA
– TBA
Jadeite
– 🇯🇵 BlackWiz
– 🇯🇵 Derialy
– TenTen
– TBA
– TBA
NORTHEPTION
– 🇯🇵 bazz
– 🇯🇵 Phantom
– 🇯🇵 Minty
– 🇰🇷 L0B
– TBA
– 🇯🇵 pocky (Coach)
REJECT
– 🇯🇵 SylFy
– 🇰🇷 Akame
– 🇯🇵 Brofeld
– 🇯🇵 sakurai
– 🇰🇷 iZu
– 🇰🇷 Bullco (Coach)
Sengoku Gaming
– TBA
– TBA
– TBA
– TBA
– TBA
– 🇯🇵 KeNNy (Coach)
The online showmatch is one of a series of events held in the leadup to the two-day main event at the Yokohama Arena on December 23-24. On the last day of the event, ZETA DIVISION and DetonatioN Gaming will play a series against three international high-caliber teams: DRX, Fnatic, and Paper Rex. 
In addition to the Riot Games ONE Pro Invitational Online, the organizer will host various online and offline events throughout the month, including the Crazy Raccoon Cup VALORANT, LIMITZ VALORANT ALL-STAR, Crazy Raccoon Cup Special, and more. More information about Riot Games ONE can be found on their website here. 
---
For more insights on the Asian VALORANT scene and upcoming content like this, be sure to like and follow VALO2ASIA on Facebook, Twitter & Instagram.
---
Cover photo courtesy of Lance Skundrich/Riot Games