Riot Games has revealed the details for the VALORANT Champions Tour circuit in 2022.
Riot Games' statement on the one-day break for VALORANT Champions contains details on the upcoming VCT 2022 season, new in-game features for VALORANT esports, offseason competitions, and a global tournament for the all-female Game Changers circuit.
The Valorant Champions Tour returns with its three core competitions, Challengers, Masters, and Champions events. As was the case in 2021, teams will compete in regional Challengers events, with the champions qualifying for Masters. These 2022 Masters competitions will culminate in VALORANT Champions 2022, which will take place in September rather than early December this year.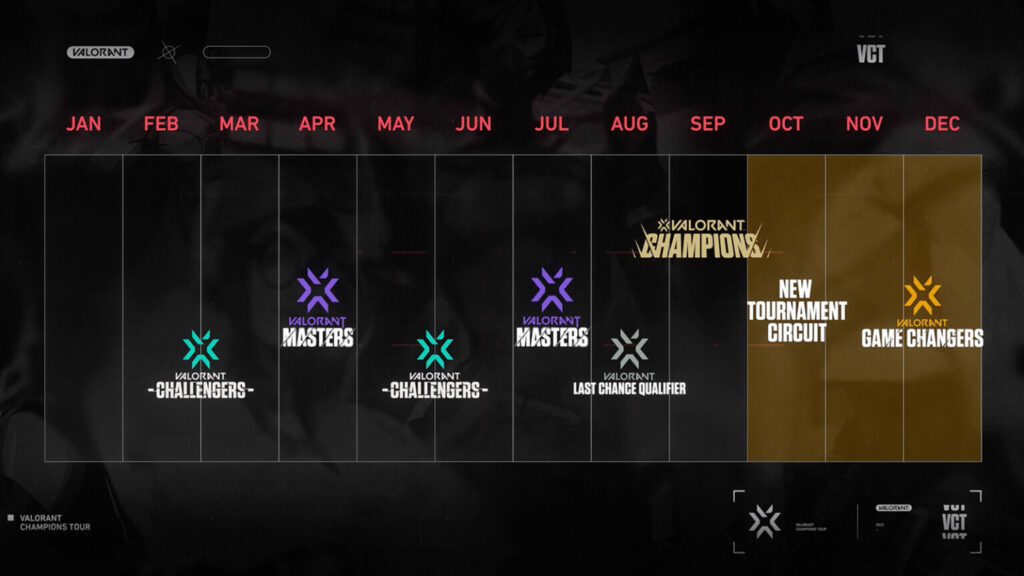 The new schedule decreases the number of Masters events to two and pushes Champions to September, enabling Challengers tournaments to operate more like leagues, with more games to watch and more separation from Masters.
Riot will also launch national leagues to cultivate homegrown talent. They want to invest in new country-based competitions to create a new generation of homegrown stars, similar to how League of Legends' national leagues feeds into the LEC. The company plans to start in Europe and then expand the grassroots competition abroad.
"Reflecting on this past season, our team wanted to create more competitive opportunities for aspiring pros who are leaning into that next year through multiple new initiatives," Riot Games' Head of Global Esports Operations, Whalen Rozelle, stated. 
Apart from serving as the official organizer, Riot Games is reviving its Ignition Series events, collaborating with third-party tournament organizers to create a lineup of events that will allow new and established teams, as well as those retooling rosters in the offseason, to put their skills to the test. The top-performing teams will then compete in a Playoffs competition to determine who will qualify for the Masters.
Riot Games is also doubling down on its female VALORANT ecosystem in 2022, with the announcement that they will hold a worldwide LAN for their VCT Game Changers competition program in 2022, pending any COVID-19 pandemic-related complications. The tournament will be the series' first LAN, spanning teams from North America, Europe, South America, and Southeast Asia.
ALSO READ: Alter Ego Celeste crowned VCT Game Changers SEA: FSL Elite champions
"In 2022, we're going to double down on our efforts by launching a new global tournament that will feature the best teams from Game Changers programs around the world.
This event will bring the best teams together into a single, massive competition for the first time. We're thrilled to take this next step to grow VALORANT into the social experience our players deserve." Rozelle continued.
The 2022 VCT season kicks out in February with the first Challengers split.
---
For more insights on the Asian VALORANT scene and upcoming content like this, be sure to subscribe to our newsletter. Don't forget to follow VALO2ASIA on Facebook, Twitter & Instagram.
---
Cover photo courtesy of VALORANT Esports