Riot Games has announced its new plans for the upcoming VALORANT Champions Tour circuit to take place over the course of 2023.
Riot Games today unveiled new plans to establish an expanded Challenger ecosystem for the 2023 season. Challengers will see 21 regional circuits run across the Americas, APAC, and EMEA regions with the goal of surfacing new talents. Challengers will play an important role in emerging up-and-coming talent, testing the skills of teams aspiring to compete in the International leagues, and bridging the sport (VCT) and the game (VALORANT). 
Challenger Leagues will provide highly structured competitions that begin with open qualifiers and ladder the best teams into two splits of multi-week regular season play. Furthermore, teams that begin in Challengers will have a pathway into the international leagues and eventually even global events.
ALSO READ: EDward Gaming outclass On Sla2ers to qualify for VALORANT Champions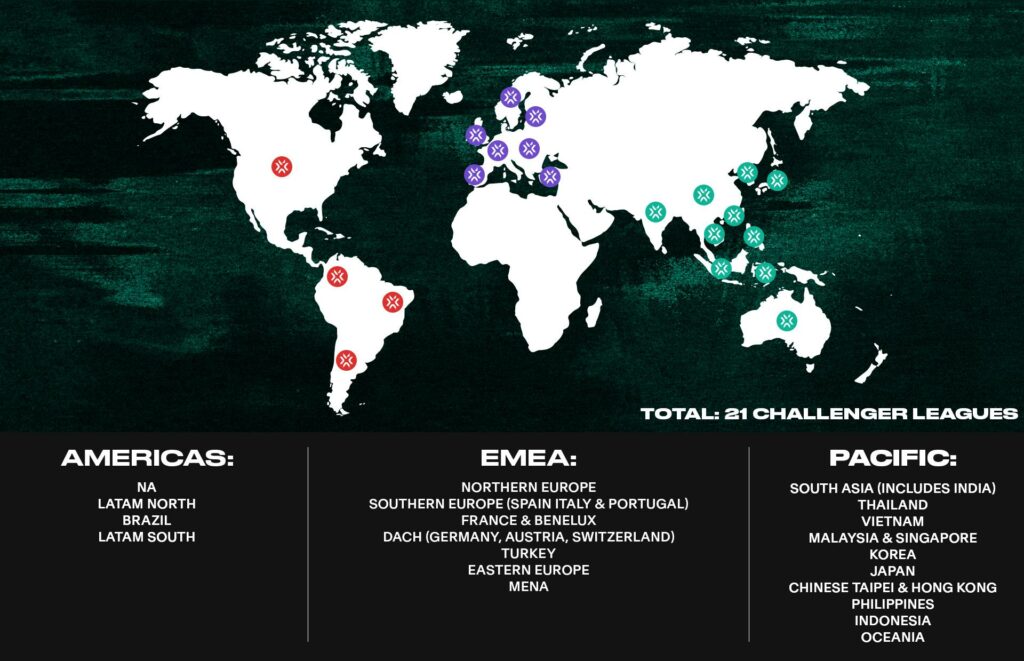 "Throughout the past few months, the overwhelming demand from teams to compete in the VALORANT esports ecosystem led us to expand our plans for VCT Challengers," said Whalen Rozelle, Head of Esports Operations at Riot Games.
"A strong Challenger ecosystem is a key part of VALORANT esports' long-term success and we believe connecting every level of the pyramid is the best way to give aspiring stars the chance to shine and teams to participate in meaningful high stakes competitions."
Next year, Challenger leagues within each of the three territories will culminate in a new event series called Challengers Ascension. The three Challengers Ascension tournaments will crown the best team in their respective regions. In addition, teams who secure victory at the three Challengers Ascension tournaments will earn a spot in the following year's international league.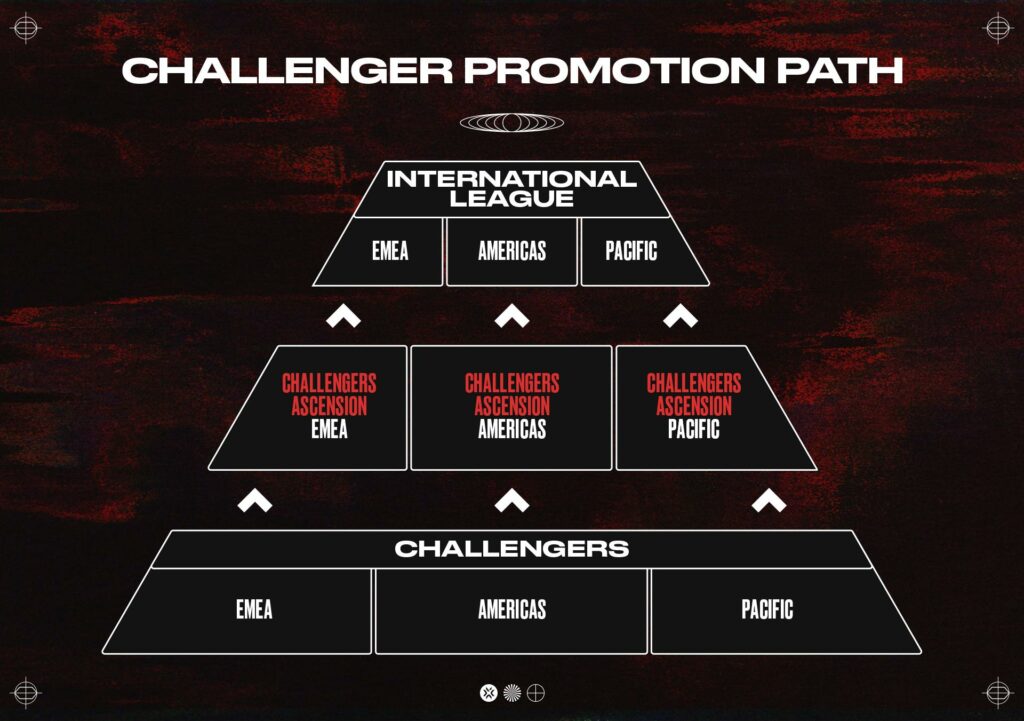 Through the Challengers promotion system, the three international leagues will expand by one team each year, reaching a cap of 14 teams in 2027. Teams who win Challengers Ascension will be promoted to their region's international league for two years. During the VCT season, promoted teams will be able to prove themselves against the international league teams, receive similar league benefits, and have an equal chance to qualify for global events such as Masters and Champions. After two years, teams will return to their league to battle their way back through Challengers and Ascension tournaments.
Today's announcement is part of Riot Games' ground-breaking plans for the 2023 VALORANT Champions Tour. The publisher revealed plans early this year to establish three international leagues as the highest level of competition for the 2023 season. The new model will incorporate long-term partnerships with no entry fees to a select number of teams to ensure continued long-term stability for the world's fastest-growing esport. 
ALSO READ: Riot Games announces plans for 2023 VALORANT Champions Tour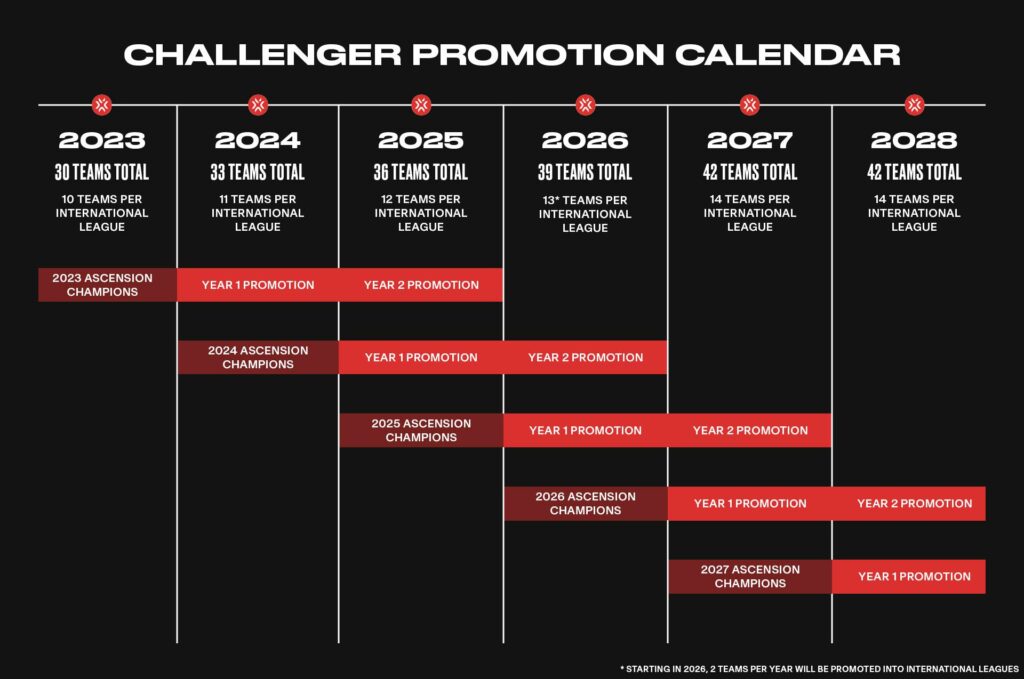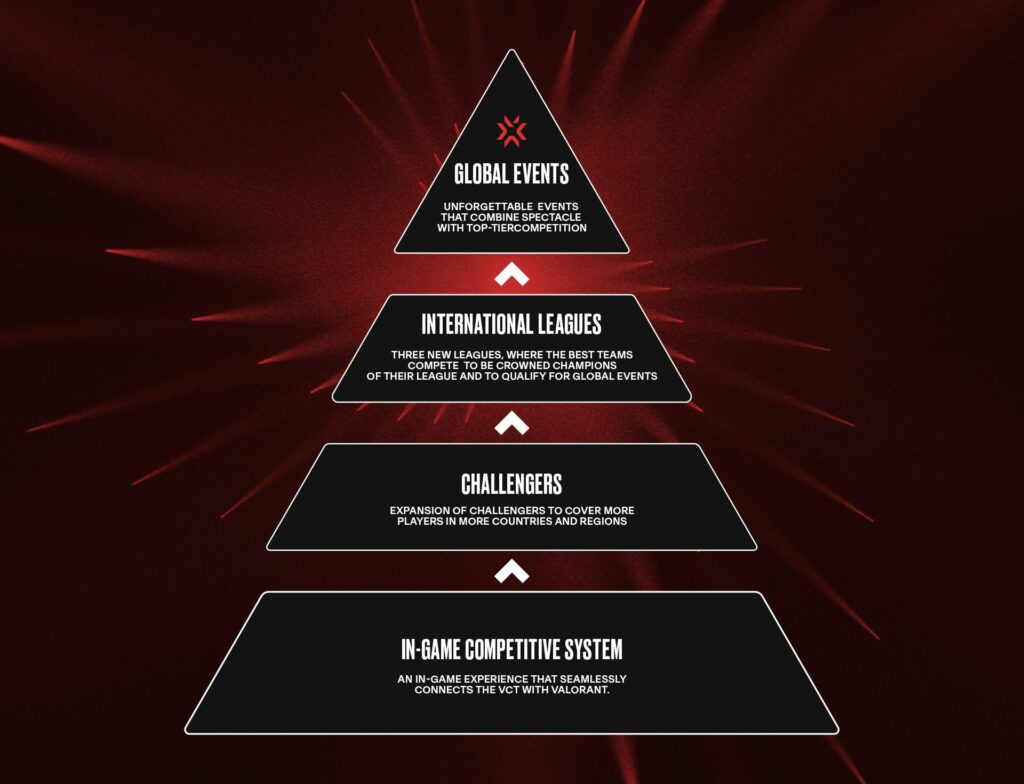 Riot Games will break new ground in the esports competitive space by waiving any entry or participation fees for selected organizations, paving the way for long-term partnerships. Throughout 2022, Riot Games will conduct a selective application process to identify the right long-term partners to grow VALORANT into the world's leading FPS title. Teams who meet the selection criteria will be provided with financial support from Riot Games in the form of an annual stipend and the exclusive chance to collaborate on unique in-game activations and products.
---
For more insights on the Asian VALORANT scene and upcoming content like this, be sure to like and follow VALO2ASIA on Facebook, Twitter & Instagram.
---
Cover photo courtesy of VALORANT Esports