Bleed eSports have parted ways with their Singaporean-Swedish VALORANT squad, the organization announced on Monday.
SINGAPORE – The announcement brings an end to an eight-month association with the team, which featured two players from the Louvre lineup that finished runner-up in The Esports Club Showdown, as well as two Swedish imports that included in-game leader Max "maxie" Lönnström and former G2 Esports player Jacob "pyth" Mourujärvi. The roster quickly became a powerhouse in the domestic MY/SG scene, although still in the shadow of Paper Rex. 
Despite not having any trophies to back them up, Bleed eSports showed a lot of potential against APAC opposition at events of stature, including VCT APAC Stage 1 Challengers, VCT APAC Stage 2 Challengers, and the VCT APAC Last Chance Qualifier. Unfortunately, the team always came close to qualifying for all international VALORANT tournaments this year but had never been able to seal the deal.
ALSO READ: BOOM Esports qualify for VALORANT Champions following APAC LCQ victory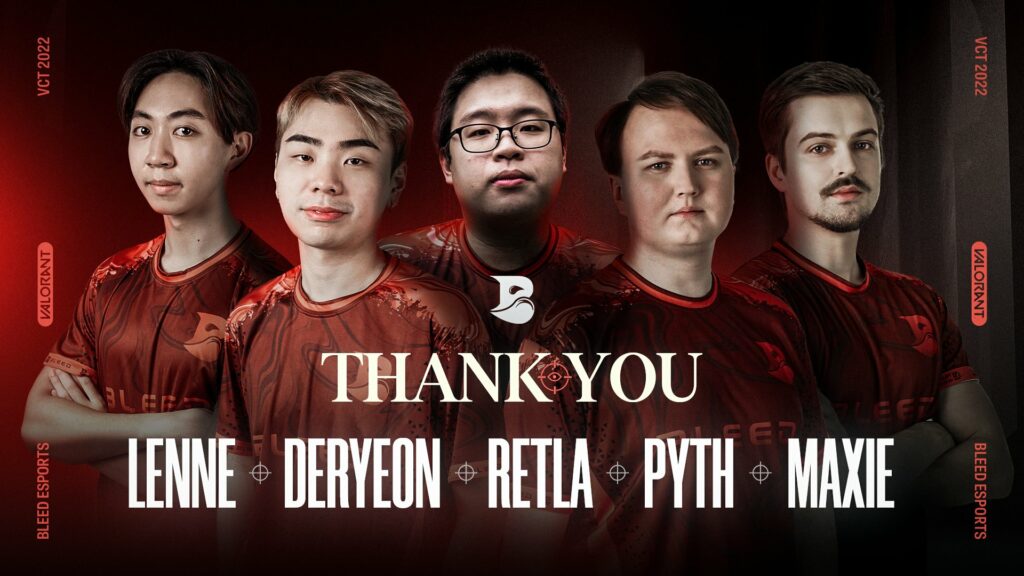 With many uncertainties surrounding the 2023 partnership league and its tier 2 circuit, several organizations, including Bleed eSports, have taken a step back from the scene and are monitoring it closely to return to the scene in the near future. 
The organization has also had an academy team under its wings since May. While there has been no official announcement, Zhong "SHINSEI" Kang Yeo and Lee "Kairo" Kai Xi have come forward to announce that their contracts will soon be coming to an end.
In a statement, Bleed eSports founder Mervyn Goh added that the decision was not based on BLEED's VCT partnership application for next year. 
Bleed eSports' roster at the end of the VCT APAC Last Chance Qualifier was:
🇸🇬 Derrick "Deryeon" Yee
🇸🇬 Lionel "lenne" Lim
🇸🇬 Jorell "Retla" Teo
🇸🇪 Jacob "pyth" Mourujärvi
🇸🇪 Max "maxie" Lönnström
🇸🇬 Zhong "SHINSEI" Kang Yeo (Substitute)
🇩🇪 Nikola "LEGIJA" Ninić (Coach)
🇨🇦 Charnjit "S3rius" Singh Mudhar (Assistant coach)
🇸🇬 Sushant "Ominous" Jha (Analyst)
---
For more insights on the Asian VALORANT scene and upcoming content like this, be sure to like and follow VALO2ASIA on Facebook, Twitter & Instagram.
---
Cover photo courtesy of Bleed eSports