Peng "Roninbaby" Xu and Wang "Cate" Binjie are the latest names from Asian Counter-Strike to make the switch over to VALORANT, now representing Invictus Gaming. 
CHINA – Invictus Gaming have signed former Counter-Strike pros Peng "Roninbaby" Xu (彭旭) and Wang "Cate" Binjie (王斌杰) to their revamped VALORANT roster. In addition to Roninbaby and Cate, four players who previously played for iG in the FGC VALORANT Invitational earlier this year will return to the lineup.
Roninbaby and Cate are the latest additions to a rapidly growing list of high-ranked Chinese Counter-Strike players who have recently ventured into high-level VALORANT competition, such as Ran "Viva" Lifan and Zhuo "MarT1n" Zhengjie – both of whom are now representing Rare Atom.
ALSO READ: Moothie leaves NORTHEPTION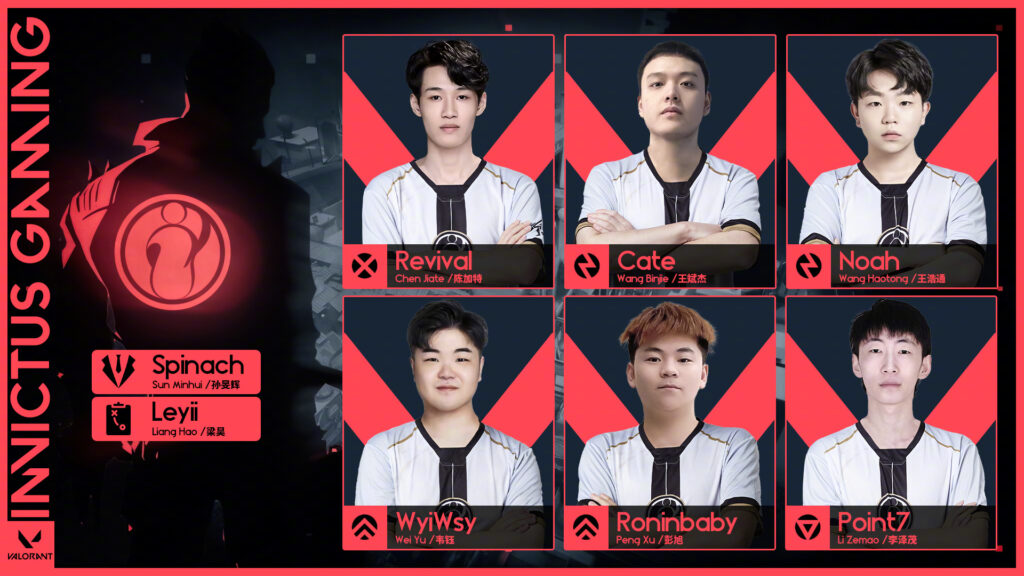 Roninbaby, although having entered the upper echelon of Chinese Counter-Strike only in 2019, has been a steady presence in the region. His career saw collaborations with Counter-Strike heavyweights such as Liu "captainMo" Ke on Triumphant Song Gaming and Marcus "nephh" Tan on Huat Zai.
A pinnacle of Roninbaby's career was during his loan tenure to Singapore-based Huat Zai. With them, he secured a spot in the Perfect World Asia League Fall 2020 main event, marking his sole participation in an RMR-level event to date.
While Roninbaby is largely known for his stint with CatEvil, he gained international recognition when he was temporarily loaned to Lynn Vision Gaming, a period during which the squad bootcamped in Europe. This team marked its presence in the 2021 Elisa Invitational Winter and Funspark ULTI Europe Season 4. In the latter event, they secured a victory against Patrik "f0rest" Lindberg's Team Dignitas in the initial round, only to face retaliation in the deciding match.
This move to VALORANT makes him teammates with Cate once again, having previously played with him on 8EASY and CatEvil. The latter association lasted about five months before Roninbaby's temporary move to LVG.
ALSO READ: 17 Gaming announce Chinese VALORANT roster featuring BeomJun and Hate
Cate becomes yet another noteworthy player who has made the transition away to Riot's first-person shooter, bringing with him an impressive resume. He previously played together with familiar faces within the Counter-Strike and VALORANT scenes such as TYLOO veteran Luo "ryk" Likan while on Team Aster, BLEED's Anthony "ImpressioN" Lim and Alter Ego's Adrian "adrnking" Setiawan on Big Time Regal Gaming, and Rare Atom's Zhuo "MarT1n" Zhengjie during his time with JiJieHao.
The 25-year-old is fresh off of a successful stint with ChaoRan Gaming after winning the PW Arena Premier League Season 4 Challenger Division and ESEA Open Season 44 APAC.
The newly-revamped Invictus Gaming will be making their first campaign in the Open Qualifier of VALORANT China Evolution Series Act I, with the ultimate goal of qualifying for the Ascension China event in December
With the confirmed moves, Invictus Gaming's VALORANT roster is now:
🇨🇳 Chen "Revival" Jiate (陈加特)
🇨🇳 Wang "Cate" Binjie (王斌杰)
🇨🇳 Wang "Noah" Haotong (王浩通)
🇨🇳 Wei "WyiWsy" Yu (韦钰)
🇨🇳 Peng "Roninbaby" Xu (彭旭)
🇨🇳 Li "Point7" Zemao (李泽茂)
🇨🇳 Liang "Leyii" Hao (梁昊) (Coach)
---
For more insights on the Asian VALORANT scene and upcoming content like this, be sure to like and follow VALO2ASIA on Facebook, Twitter & Instagram.
---
Cover photo courtesy of Invictus Gaming