RRQ have secured the services of Eroll Jule "EJAY" Delfin and Nathaniel "Nexi" Cabero for next year's VCT Pacific league, the Indonesian organization has announced.
PHILIPPINES – Rex Regum Qeon (RRQ) has announced that it has completed the signings of Filipino duo Nathaniel "Nexi" Cabero and former Bren Esports player Eroll Jule "EJAY" Delfin.
RRQ made headlines in late September as it secured a partnership with Riot Games in the VCT Pacific league. The plan of having an APAC lineup made up of players from Indonesia and the Philippines was revealed by the organization's CEO Andrian "AP" Pauline during an Instagram live stream session.
ALSO READ: Talon Esports VALORANT holding open recruitment ahead of VCT 2023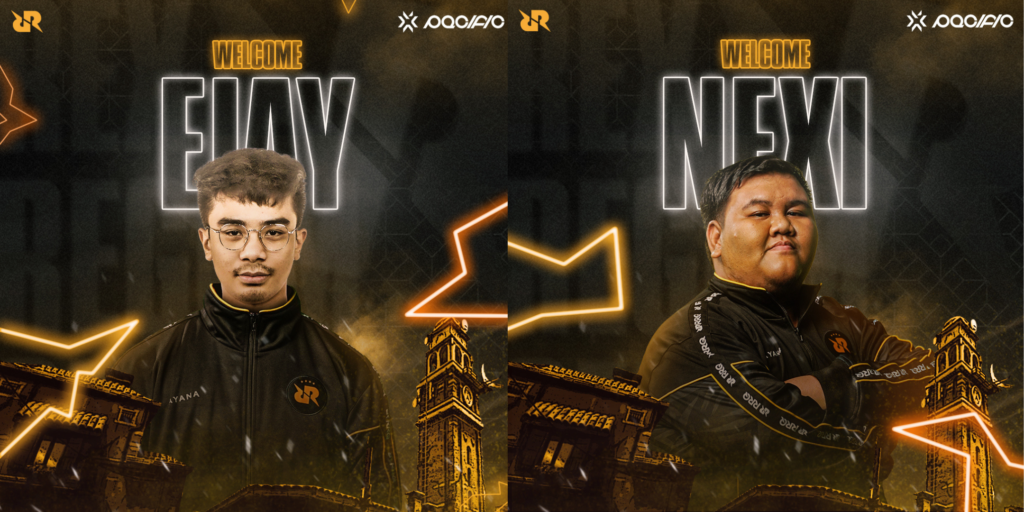 " We kick things off by welcoming EJAY! RRQ EJAY is a solid player which has shown strong individual performance in both our trial and his previous team." the announcement reads. "Please welcome our second player Nexi! Nexi is a player on the sentinel role with his signature agent Chamber, Having lifted the title with us in the Predator League 2022 with the RRQ PH team." the organization announced in a separate tweet two hours later.
Nexi is no stranger to playing for RRQ, having donned the black and orange jersey since March. Moreover, he recently garnered attention after winning Predator League 2022 Philippines with the Filipino lineup, taking down the likes of NAOS Esports, Team Secret, and Oasis Gaming en route to the grand finals against South Built Esports, in which RRQ PH took in two maps.
Meanwhile, EJAY links up with Rex Regum Qeon after spending nine months with Bren Esports, where he helped the team to qualify for both of the main events of VCT Philippines Challengers this season. In his VALORANT career, EJAY averaged 245.1 ACS over 2242 rounds played, mostly with Jett.
As for the other trial players, their status is currently unknown, with RRQ allowing Franz Kevin "kvzx" Dingal and Jed "Draxii" Jamir to explore their options. Gary "blaZek1ng" Dastin, Michael "severiNe" Winata, and Cahya "Monyet" Nugraha have also reposted their LFT tweets, indicating that RRQ is nearing a final roster decision and will not move forward with the aforementioned players.
More players are expected to be revealed this month as the soft roster lock deadline approaches.
With these additions, RRQ's VCT 2023 roster stands as follows:
🇵🇭 Eroll Jule "EJAY" Delfin
🇵🇭 Nathaniel "Nexi" Cabero
🇿🇦 Martin "Ewok" (Head coach)
🇵🇭 Jose "Rbtx" Carlo Jamir (Analyst)
---
For more insights on the Asian VALORANT scene and upcoming content like this, be sure to like and follow VALO2ASIA on Facebook, Twitter & Instagram.
---
Cover photo courtesy of RRQ