The new signings mark a drastic change from the team's former roster that reached the finals at VCT Ascension Pacific.
JAPAN – SCARZ have completed an overhaul of their roster with three new signings, which sees the Japanese organization continue with international talents as they added former Four Angry Men player Maxim "Lumo" Demianovskikh, former Crest Gaming Zst player Yuzuki "MrTenzouEz" Inada, as well as "Tempura".
The move follows the end of the 2023 VCT season, during which SCARZ clinched the VCL Japan Split 2 title and went on to represent Japan at VCT Ascension Pacific finishing as runners-up to Bleed Esports.
John "Yoshiii" Kawakami and "Allen" have been retained from SCARZ's previous roster to complete the lineup. Maksim "Jemkin" Batorov has been acquired by Rex Regum Qeon to play in the upcoming VCT Pacific League, while Savva "Kr1stal" Fedorov has been allowed to explore his options as an unrestricted free agent. Jusei "TORANECO" Saito, while not in active competition, will still be affiliated with SCARZ, focusing on content creation.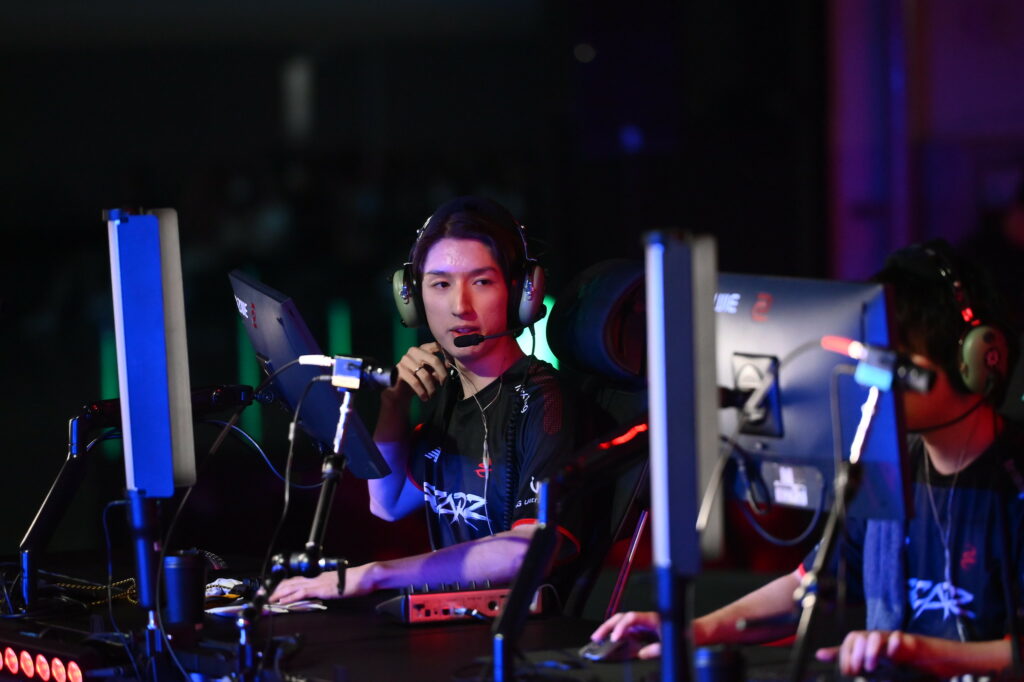 Two of the new additions, Lumo and MrTenzouEz, are no strangers to the upper-echelon of Japanese VALORANT, with the former having spent most of his career in Challengers Japan representing teams like Insomnia and EVA:e before earning a move to the Chinese region with Four Angry Men. Going into the SCARZ team, the 20-year-old will be hoping to put the experience that he garnered while playing under 4AM to good use in this new challenge. 
Taking the in-game leading reins from Kr1stal will be Lumo, who will be working in tandem with head coach Junya "noppo" Taniguchi, along with coaches Kim "Bullco" Jeong-uk and Daulet "Fadezis" Abilov.
"My name is Lumo, I'm ready to fight for the title in Japan! I want to achieve the top one in Japan with the team, go to the Ascension league, and go to the Pacific league! Follow me as a good leader in the game and outside the game, I love all the fans who support me! I hope we will show a good result at the upcoming Red Bull Home Ground 2023!"
Meanwhile, MrTenzouEz formerly played with Gaming Team SELECTOR, DeToNator, and more recently Crest Gaming Zst where the 18-year-old was the team's second-best performer. Rounding out the new SCARZ lineup is Tempura, a relatively unknown quantity who has recorded just seven VLR-featured maps across his career so far.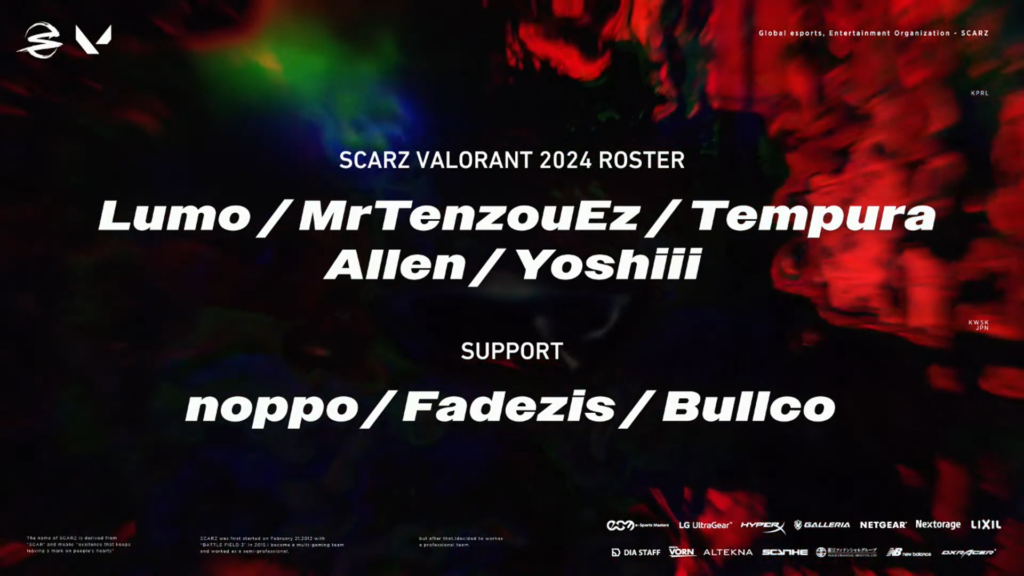 SCARZ are set to debut their new-look roster at Red Bull Home Ground Tokyo on November 3-5, where the likes of FNATIC, DRX, Cloud9, and other tier-one contenders will be in attendance.
SCARZ's new team looks as follows:
🇵🇭 John "Yoshiii" Kawakami
🇷🇺 Maxim "Lumo" Demianovskikh
🇯🇵 Yuzuki "MrTenzouEz" Inada
🇯🇵 "Allen"
🇯🇵 "Tempura"
🇯🇵 Daichi "善悪菌" Igarashi (Inactive)
🇯🇵 Junya "noppo" Taniguchi (Head coach)
🇰🇷 Kim "Bullco" Jeong-uk (Coach)
🇷🇺 Daulet "Fadezis" Abilov (Coach)