The IN₹700,000 (~US$8,830) competition will feature Enigma Gaming, Velocity Gaming, Orangutan, and more.
SOUTH ASIA – After the inaugural edition of the Skyesports Pro Invitational was won by Enigma Gaming, who were able to pull off a 3-2 victory against domestic rivals Revenant Esports, the tournament organizer announced the next season, this time featuring more than double the prize pool of the last one. 
"After the success of the Skyesports Pro Invitational Season 1, we are thrilled to be back with the second edition." Shiva Nandy, the CEO and Founder of Skyesports, said, commenting on the return of the Skyesports Pro Invitational. "Our regular events for VALORANT are aimed at keeping the competitive scene alive in the South Asia region and display our long-term commitment to elevating the game's esports scenario in the region."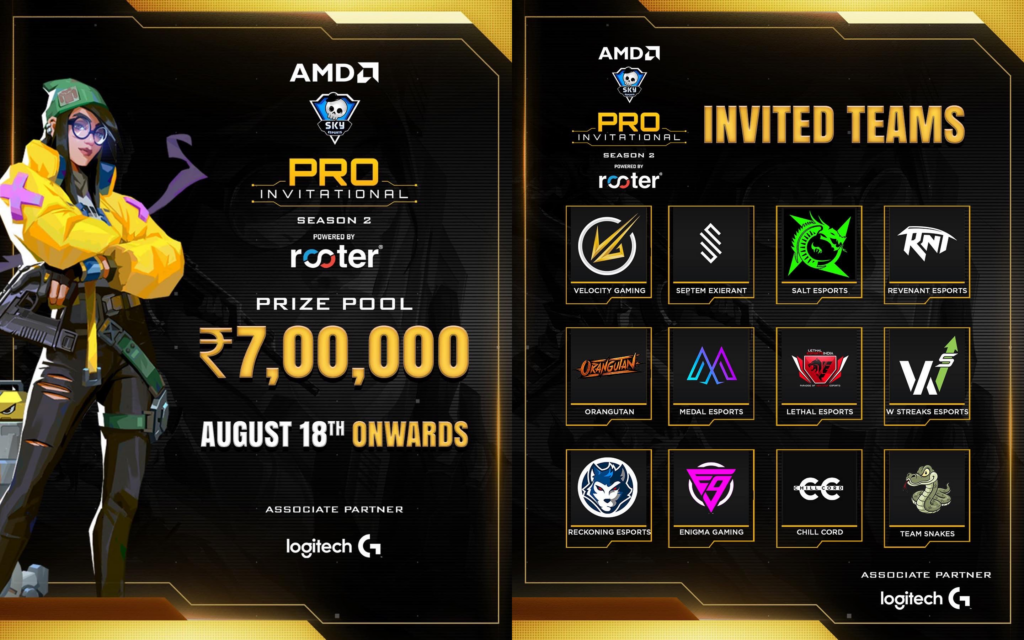 Enigma Gaming and Velocity Gaming headline the tournament from Group A and D, respectively. Despite bowing out of the tournament early, Orangutan come into this season as a strong contender, having acquired Garvit "Ember" Nehra from Revenant late last month as the perfect final piece of the puzzle. On the other hand, Revenant Esports will be vying for the trophy after falling short in the closely-contested grand final of Season 1.
After an initial announcement that it would be ceasing operations in South Asia, L Streak Esports has rebranded as W Streak Esports and brought in former True Rippers player Pruthvi "RelliK" Rathod and former Oblivion Force HK player James "NoMan" Man to kick off a new chapter.
Skyesports Pro Invitational Season 2 will feature twelve invited teams with a strong presence in the South Asian region. The team list for the South Asian event is the following:
🇮🇳 Velocity Gaming
🇧🇩 Septem Exierent
🇵🇰 LFO
🇮🇳 Revenant Esports
🌏 Orangutan 
🇮🇳 Medal Esports 
🇮🇳 Lethal Esports
🌏 W Streaks Esports
🇮🇳 Reckoning Esports
🇮🇳 Enigma Gaming
🇮🇳 Chill Cord
🇵🇰 Team Snakes (previously Full Power Gaming)
The twelve teams have been seeded into four double-elimination groups featuring best-of-three series. The top two sides from each group will progress to the double-elimination, best-of-three playoffs that will decide who takes the grand prize. Out of the IN₹700,000 (~US$8,830), IN₹385,000 will go to the winner.
Skyesports Pro Invitational Season 2 continues tonight with the Pakistani derby between LFO and Team Snakes, followed by Orangutan taking on Septem Exierant from Bangladesh. 
---
For more insights on the Asian VALORANT scene and upcoming content like this, be sure to like and follow VALO2ASIA on Facebook, Twitter & Instagram.
---
Cover photo courtesy of Skyesports