Take care of your health!
VCT LOCK//IN has kept the Asian VALORANT community up late into the night, eager to catch the action of the world's best teams live for their debut in the VCT 2023 season. While it is thrilling to watch your favorite teams compete, staying up late can take a toll on your health. Here are some tips to stay healthy while still enjoying VCT LOCK//IN, brought to you by VALO2ASIA. 
Still, prioritize enough sleep
You may need to change your sleep routine to fit the schedule of the tournament, either by taking a nap during the day or rearranging your sleep hours. The VCT LOCK//IN tournament has three match times: 1 AM, 4 AM, and 7 AM in Singaporean time (SGT). Decide which games are the most important for you to see, and then plan your sleep schedule accordingly.
Match 1
01:00 AM SGT/MYT/PHT
12:00 AM JKT/BKK
10:30 PM IST
Match 2
04:00 AM SGT/MYT/PHT
03:00 AM JKT/BKK
01:30 AM IST
Match 3
07:00 AM SGT/MYT/PHT
06:00 AM JKT/BKK
04:30 AM IST
VALORANT Esports has carefully scheduled matches for each team, so there's a slight chance you'll have to watch a top Pacific team plays at 4 AM. Although it may be tempting, watching every game might interfere with your sleep schedule. If you must watch all the matches, taking more naps during the day can help you stay alert during the late hours of the night. 
Studies have also shown that small naps can help people feel less sleepy and function better, particularly when experiencing sleep deprivation. Keep them short, for about 20 to 30 minutes, and try to take them at the same time each day.
Take breaks and move your body
It's important to take frequent breaks to stretch and exercise your body since prolonged sitting might be bad for your health. Walking around during timeouts or in between maps can help reduce the risk of back pain, neck pain, and other issues arising from sitting for prolonged periods. 
Long durations of screen time can be can for your eyes. Take frequent pauses and look away from the computer to lessen eye strain. You can also adjust the brightness and contrast of your screen to make it more comfortable to view at night. 
Stay hydrated
Staying hydrated is essential for your overall health, and it's especially important when you're staying up late to watch the tournament. It can also help you stay alert and focused. And if you're hungry, try drinking some water and see if that helps because about one-third of people mistake thirst for hunger when staying late. Avoid energy drinks since they often have caffeine levels ranging from one to five cups of coffee. The overall quantity of caffeine is larger than it seems since they also include guarana, a component that contains caffeine.
Avoid snacking on junk food
While watching the VCT LOCK/IN event, it may be tempting to snack on unhealthy foods, but doing so might be bad for your health. Snacking on junk food might result in weight gain and other health problems. Try to replace them with nutritious snacks like fruits and vegetables. These can help you stay alert and focused while providing essential nutrients your body needs.
Catch up the next day (?)
Another helpful tip is to consider catching up on matches you missed in the morning. The VODs are always available on the official VALORANT Champions Tour YouTube channel, so you don't have to stay up all night to watch the live action. This allows you to watch the matches at your own pace while still enjoying the excitement and drama of the tournament. Just be sure to avoid clip spoilers on social media before watching the replay so you can still experience the thrill of the game!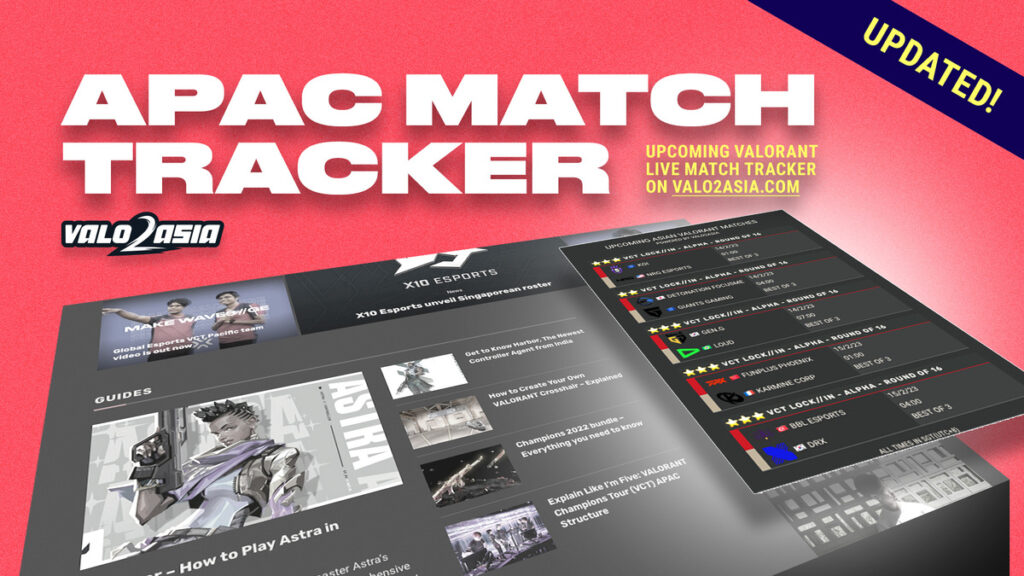 Get ready for non-stop action with VALO2ASIA.com! We bring you the pulse of APAC's most electrifying matches with our real-time match ticker, updated daily to keep you in the loop on all the latest. Our star rating system rates the importance of each match based on factors such as the teams' lineups, tournament rounds, and prestige.
From VCT LOCK//IN to other major tournaments in Asia, we've got you covered with the most comprehensive coverage in the region with accurate schedules in Singaporean Time (UTC+8). Explore VALO2ASIA's match ticker now on the right side of our website!
---
This is a guide brought to you by VALO2ASIA to help elevate the Asian VALORANT scene. For upcoming content like this, be sure to follow us on Facebook, Twitter & Instagram.
---
Cover photo courtesy of Lance Skundrich/Riot Games