We are now in the Team SMG era.
SINGAPORE – Team SMG have booked their ticket for the 2023 VCT Game Changers Global Championship, representing the APAC region from November 28 to December 3.
Team SMG did not skip a beat on their way to securing a place at the VCT Game Changers Global Championship, riding the upper bracket of the APAC Elite event flawlessly with three one-sided victories over NYX Kyosei, Orangutan X, and FULL SENSE Sapphire to reach the grand final versus RRQ Kaguya.
Abigail "Kohaibi" Kong and co. head out to São Paulo, Brazil, for the season-ending spectacle after taking down the Indonesian-majority side in the grand final, 3-0 (Split 13-7, Haven 10-5 FF, Bind 13-5). The victory caps off SMG's flawless regional run in APAC, boasting a streak of 34 back-to-back series victories, without experiencing a single defeat throughout the year.
The team will be hoping to see if this form carries over against international opposition in what will be their inaugural LAN appearance.
ALSO READ: sushiboys joins FULL SENSE for VCT 2024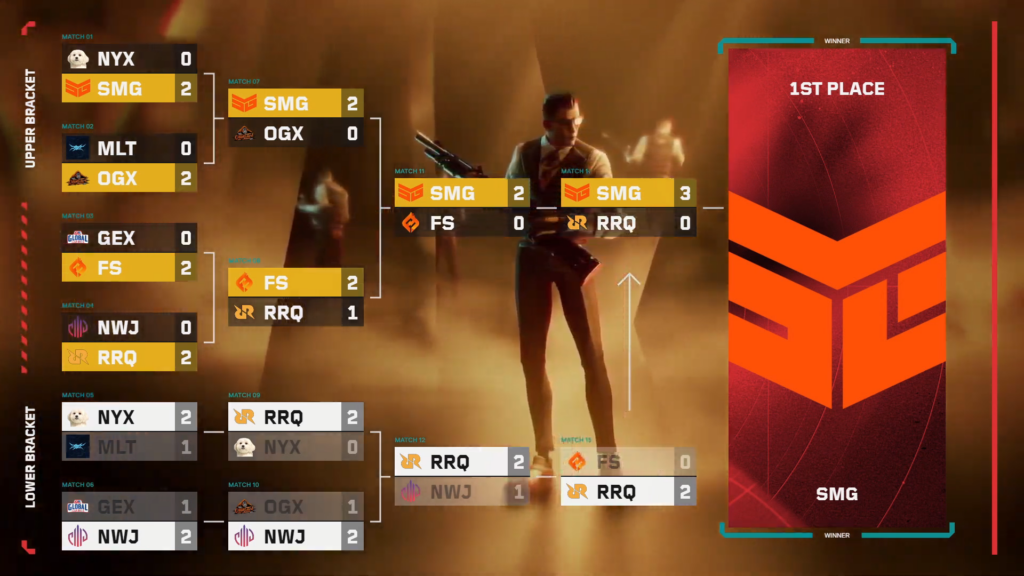 ---
Split (Team SMG 13-7 RRQ Kaguya)
MVP: Kelly "shirazi" Jaudian (23K-11D-5A // 301 ACS // Viper)
The series kicked off on Team SMG's map pick of Split, where RRQ Kaguya gained initial momentum by securing the first pistol round and the subsequent two rounds. However, the tide quickly turned as the Singapore-based side clinched nine consecutive rounds, concluding the half with a dominant 9-3 lead.
Despite RRQ Kaguya showing signs of life by capturing another pistol round on the attacking side and a couple of rounds after that, this proved to be all the squad could muster before Team SMG marched to victory, 13-7, moving the series to Haven.
Haven (Team SMG FF WIN 10-5 RRQ Kaguya)
SMG's dominance on the server did not fade over the next map, and the team quickly picked up where they left off and raced to an unblemished 8-1 lead on the defending side. It took a triple kill from Nurul "Ayumiii" Aini in the tenth round for RRQ to get on board, and from that point forward the race was very much on.
However, due to unforeseen network issues on RRQ's end, there was nearly an hour-long delay before it was officially announced that RRQ had to give up the second map of Haven, which was their pick. The last score stood at 10-5, favoring SMG, and the grand final would move on to the third map on Bind, with the momentum clearly on SMG's side.
Bind (Team SMG 13-5 RRQ Kaguya)
MVP: Camille "Kamiyu" Enriquez (21K-8D-7A // 315 ACS // Brimstone)
Bind was Team SMG's second map pick, and it was them who were quick to lay down the law with an early 6-0 lead. RRQ Kaguya managed to snag a couple of rounds back, but this would only serve to temporarily interrupt SMG's onslaught as the team led by Kohaibi surged ahead to an 8-4 lead at the interval.
Any chance of Kaguya's comeback was quickly brushed aside once the teams swapped sides, with Team SMG wasting no time to steal Bind away, 13-5, and take the series.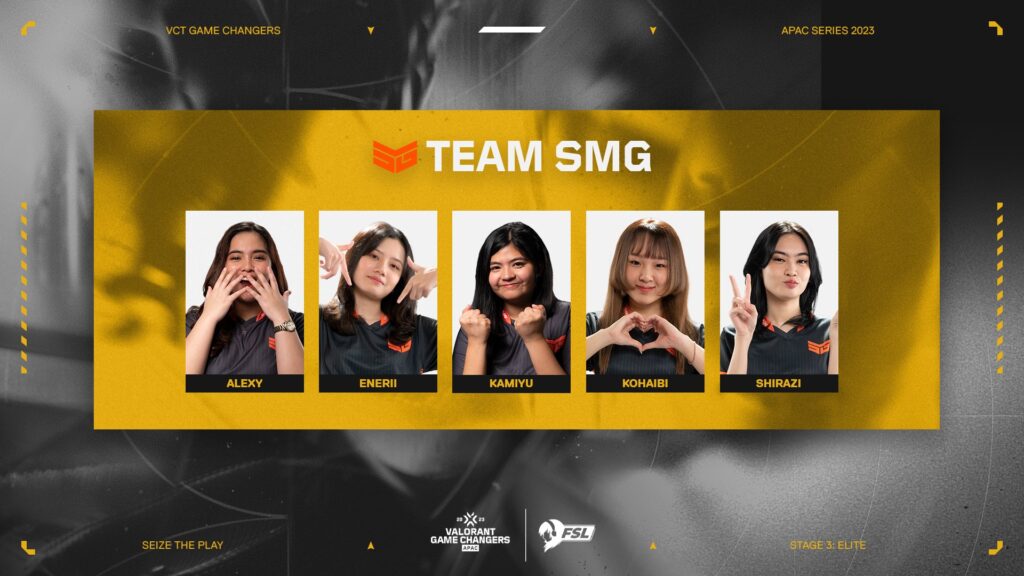 ---
Attention now turns to the event in São Paulo, featuring a yet undisclosed prize pool and eight of the world's best teams including the likes of G2 Gozen, Version1, and Team Liquid Brazil, among others. In 2022 it was G2 Gozen who won the inaugural world championship for the Game Changers circuit over Shopify Rebellion GC.
There are still a number of teams left to be confirmed, including a representative from East Asia which could be from Japan (ZETA DIVISION GC, FENNEL Hotelava, DetonatioN FocusMe GC), Korea (Nuclear GC, CVA), or China (Chao Hui EDward Gaming, ASE Girls, and Chosen Clique Gaming).
The full team list for the Game Changers Global Championship, which starts on November 28, is:
| | |
| --- | --- |
| 🇹🇷 BBL Queens | 🇪🇺 G2 Gozen |
| 🇺🇸 Evil Geniuses GC | 🇺🇸 Version1 |
| 🇧🇷 Team Liquid BR | LATAM – TBD |
| 🇸🇬🇵🇭 Team SMG | East Asia – TBD |
---
For more insights on the Asian VALORANT scene and upcoming content like this, be sure to like and follow VALO2ASIA on Facebook, Twitter & Instagram.
---
Cover photo courtesy of FSL