With VALORANT Masters Tokyo kicking off this Sunday, VALO2ASIA presents a preview with all the essential information you need to follow the event.
JAPAN – VALORANT Masters Tokyo begins this Sunday. The sole Masters event for the 2023 season will be live from June 11-25 and play host to twelve teams, all fighting for both bragging rights and a chance to claim the lion's share of the US$1,000,000 prize pool.
This tournament holds significant importance for the VALORANT community in Asia as it marks the first international VCT tournament in the region since the game's release in 2020.
The tournament schedule, which revolves around the Japanese time zone (UTC+9), allows Asian fans to conveniently experience the event without having to stay up late into the night to support their favorites.
ALSO READ: China Qualifier for VALORANT Champions team list finalized; set to be played offline
The tournament will consist of two stages, with four top-seeded teams earning direct placement in the playoffs. Paper Rex and LOUD emerged as the Pacific and Americas league champions, respectively, and therefore will have six more extra days before their first game starts on June 16.
Meanwhile, the EMEA region secured two spots in the playoffs with Team Liquid and FNATIC, benefitting from the latter's victory at VCT LOCK//IN earlier this year.
The remaining eight teams have been divided into two groups of four. They will battle it out in a best-of-three GSL group stage. The top two teams from each group will then advance to the double-elimination playoff stage, also featuring best-of-three matches except for the best-of-fives during the lower final and grand final.
Paper Rex with or without something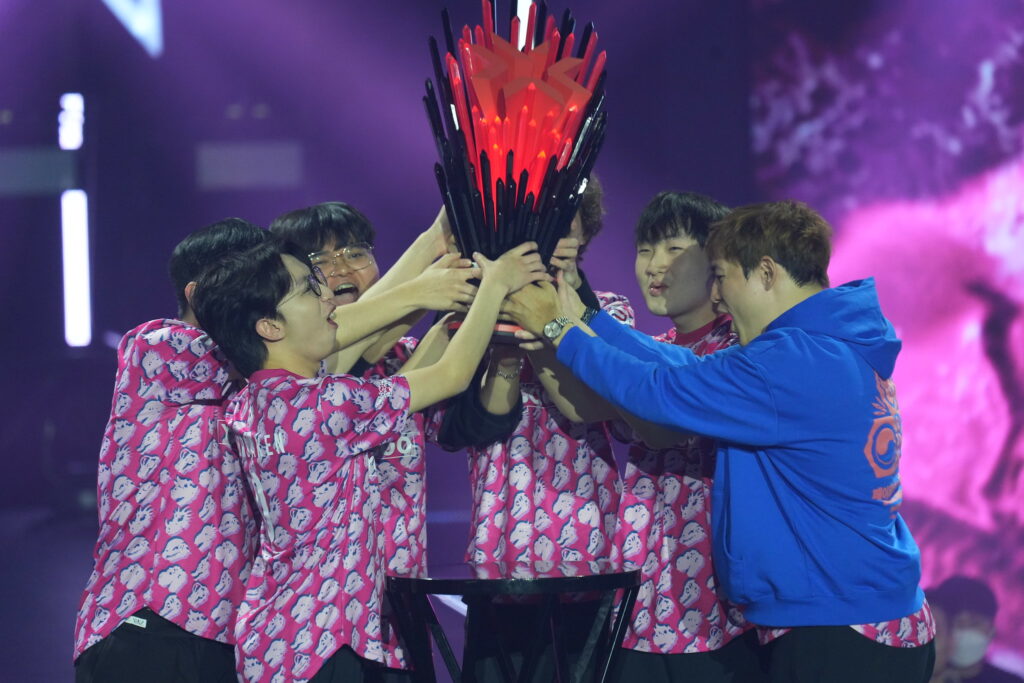 Taking the spotlight from the Pacific region are Paper Rex, as they arrive in Tokyo following their triumph in the regional league over the highly regarded Korean powerhouse, DRX.
Led by Alexandre "alecks" Sallé, the team exceeded expectations in Seoul by not dropping a series since Week 5, a remarkable feat made even more impressive by the addition of former Sengoku Gaming star Ilia "something" Petrov during the mid-season transfer window.
However, Paper Rex are also preparing for a scenario where Patiphan "CGRS" Posri may substitute for something. The Singaporean organization has anticipated a situation where something might be unable to compete initially due to ongoing visa processing for Japan. This circumstance could significantly impact Paper Rex's chances of making it all the way in Masters.
Group A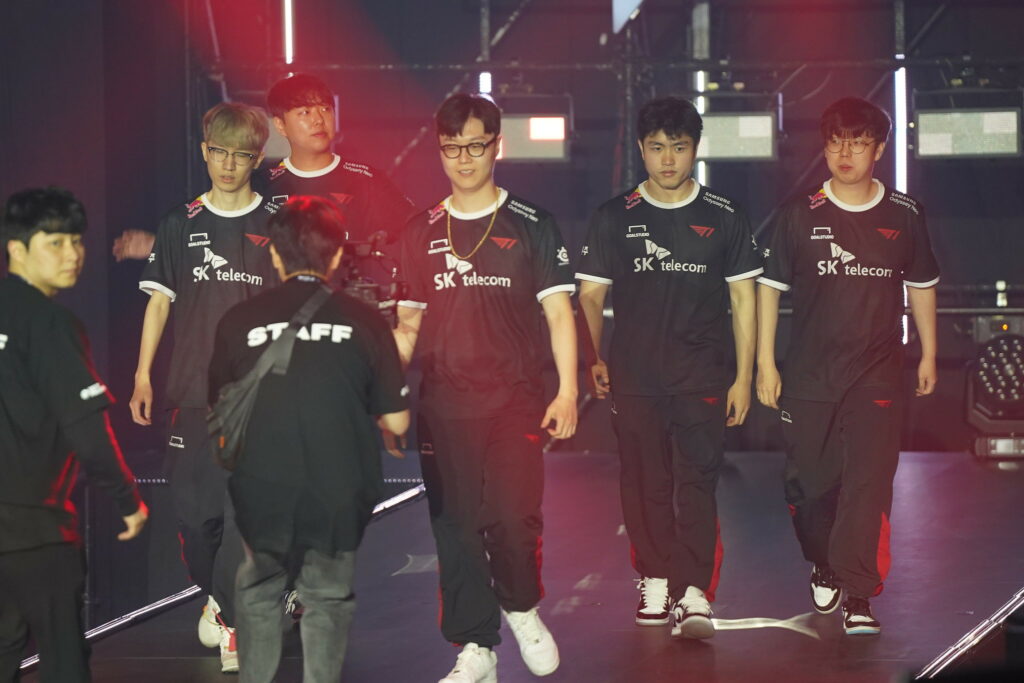 Consider this group a must-watch, where every match holds significance. NRG Esports and Natus Vincere boast players from the championship-winning cores of the 2022 Masters Reykjavík and Copenhagen, respectively.
EDward Gaming will embark on their third international venture following their participation in Istanbul and São Paulo. Witnessing their growth from previous campaigns, people can anticipate an even stronger performance, making EDG strong contenders who could potentially challenge the two giants for a spot in the playoffs.
Completing the group are T1, a team that surprised many with their performance in the Pacific League. Despite having a newly formed roster in anticipation of the regional league, the Korean squad secured the third and final spot at Masters Tokyo, showcasing their superiority over Korean compatriots Gen.G and home team ZETA DIVISION.
With four players boasting international experience, T1 bring a wealth of talent. Son "xeta" Seon-ho and head coach Yoon "Autumn" Eu-teum were previously part of Cloud9's roster during their time in North America. However, circumstances have prevented their reunion, as the blue and white side failed to qualify for the event. Japanese fans will eagerly anticipate former Crazy Raccoon player Byeon "Munchkin" Sang-beom when he takes the stage.
The success of T1's playoff ambitions will rely heavily on former The Guard player Ha "Sayaplayer" Jung-woo, while Lee "Carpe" Jae-hyeok's extensive experience in the Overwatch League with the Philadelphia Fusion for five years will greatly benefit the team, including Joseph "ban" Seungmin Oh. The American player has settled well in Seoul and showcased significant improvement in gameplay compared to the early weeks of the Pacific League.
Group B
Besides finishing runners-up in the VCT Pacific League, DRX also shone on the global stage by finishing 3rd-4th at VCT LOCK//IN. While it is fair to say that DRX are considered the favorites to advance deep into the playoff bracket, the remaining three teams should not be underestimated. Attacking Esports, FUT Esports, and Evil Geniuses will all fancy their chances.
FUT Esports, the core of which won the EMEA's Valorant Regional Leagues Finals last year against Team Vitality, took the third seed going into Masters Tokyo. Konur "qw1" Şahin and co. nearly prevented Natus Vincere from qualifying for Masters had EMEA not secured an additional fourth slot.
Attacking Soul Esports will make their international debut close to home. It's worth noting that Zhang "hfmi0dzjc9z7" Juncheng demands his name be pronounced letter by letter. He stated, "I hope that everyone pronounces my in-game name letter by letter. That's what I had in mind from the beginning, to pronounce it all the way through."
Furthermore, ASE have demonstrated their potential by securing the first seed from China with a victory over international-experienced EDward Gaming in the FGC VALORANT Invitational Act I early this year.
Evil Geniuses present a significant question mark and can be said to be the most compelling dark horse at the event. Their significant progress and winning performances against the likes of Sentinels, NRG Esports, and Cloud9 have caught much attention. The confirmation of Max "Demon1" Mazanov to the Tokyo lineup injects relief into the team led by Christine "potter" Chi. The presence of Demon1 significantly elevates the team's competitive edge, having consistently been their top performer in the VCT Americas League, boasting an impressive average VLR rating of 1.08 (#9) across 642 rounds.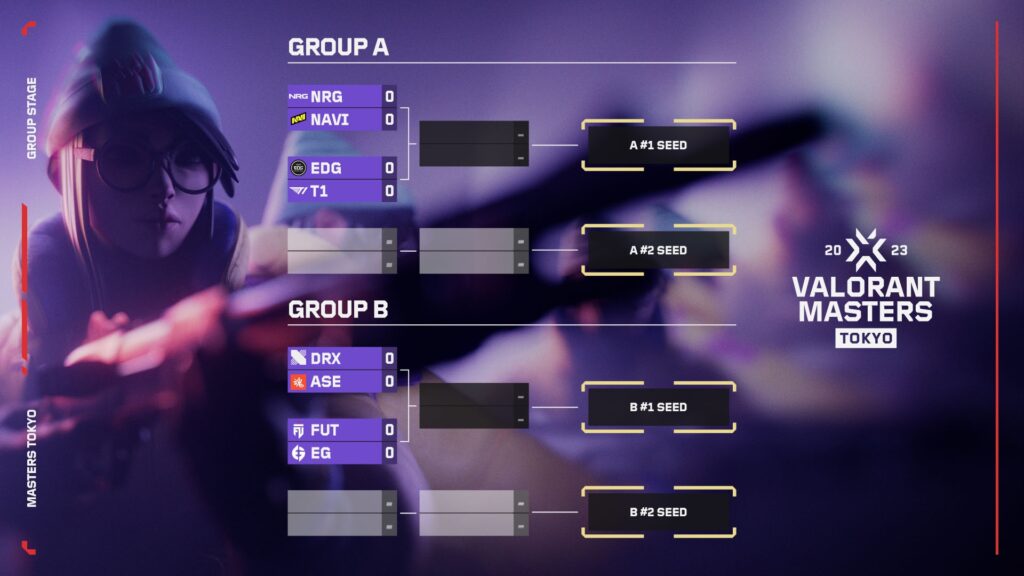 The action-packed VALORANT Masters Tokyo event will commence on Sunday (June 11) at 11 AM SGT, and it will unfold over the course of several days until Wednesday (June 14), with the culmination of the group stage in the tenth and final match starting at 2 PM SGT.
Following the group stage, Thursday (June 15) will serve as a well-deserved rest day for the teams, allowing them to recharge and strategize before the playoff bracket commences the next day. The matchups for the playoffs have not yet been drawn.
Following is the full schedule for VALORANT Masters Tokyo:
June 11, Sunday – Group Stage
June 12, Monday – Group Stage
June 13, Tuesday – Group Stage
June 14, Wednesday – Group Stage
June 15, Thursday – No Matches
June 16, Friday – Upper Bracket Round 1
June 17, Saturday – Upper Bracket Round 1
June 18, Sunday – Lower Bracket Round 1
June 19, Monday – Upper Bracket Round 2
June 20, Tuesday – Lower Bracket Round 2
June 21, Wednesday – Lower Bracket Round 3 & Upper Bracket Round 3
June 22, Thursday – No Matches
June 23, Friday – No Matches
June 24, Saturday – Lower Final
June 25, Sunday – Grand Final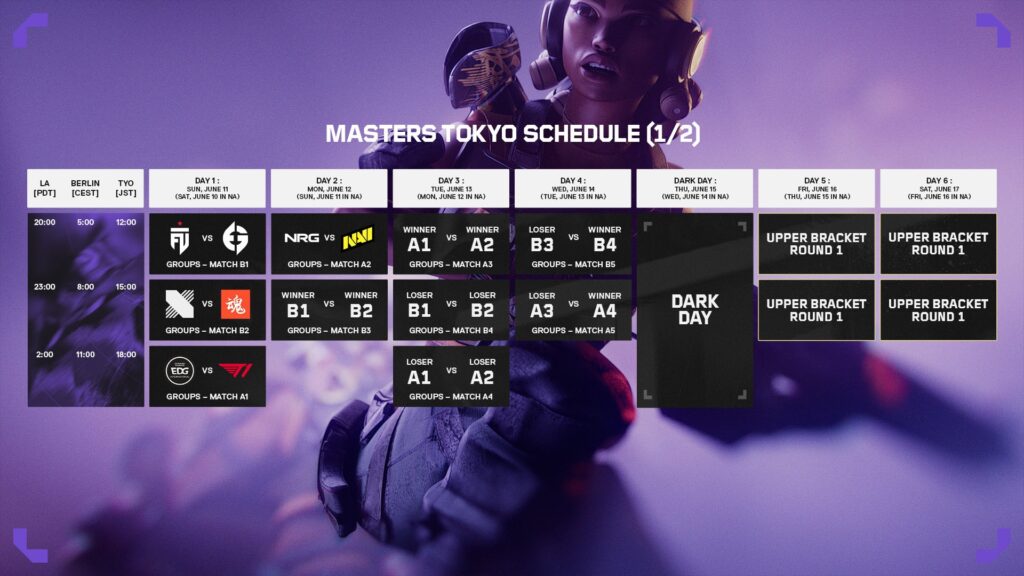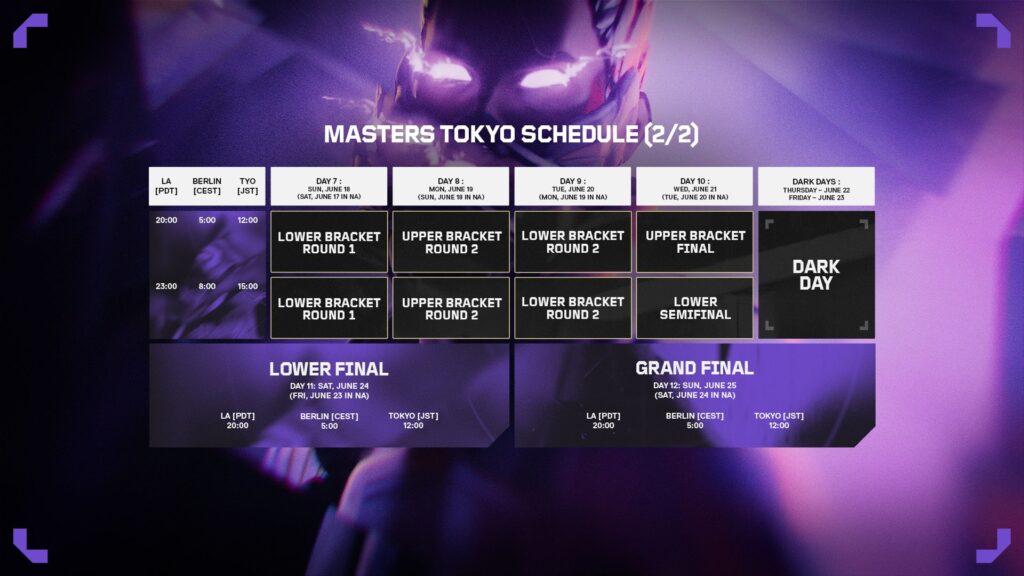 ---
For more insights on the Asian VALORANT scene and upcoming content like this, be sure to like and follow VALO2ASIA on Facebook, Twitter & Instagram.
---
Cover photo courtesy of VALORANT Esports