Got5? @everyone
VALORANT has been one of the fastest-growing esports in history, and Riot Games is about to launch an open beta for its new in-game competitive system, Premier. 
Premier is VALORANT's team-based competitive system that will allow you to build a team and compete across a set of pre-scheduled matches.
The global open beta for Premier is set to launch on April 25, 2023, along with Episode 6 Act 3, and will last until late May, with a second beta scheduled for July. Premier is set to bring seasonal tournaments to the player base, providing a path to the VALORANT Champions Tour circuit.
ALSO READ: VCT Pacific gets new start time starting in Week 5
It is a three-phase in-game tournament platform that involves enrollment, weekly matches, and tournament day, providing a path to the VALORANT Champions Tour circuit. Joining the beta phase of Premier is simple, as Riot Games simply requires three completed objectives for you to be eligible: 
Enable SMS verification on your account
Completion of a ranked placement match in any VALORANT Act
Form a team of five to seven players for ranked play
Teams are made up of five to seven players, and the teams can be formed by groups of friends who already compete together or by joining an existing team in need of more teammates. The team owner then enrolls the roster and selects a time zone, which determines the servers on which the team will play.
Enrollment for Premier is scheduled from April 25-28, with matches taking place from April 29 to May 20. The following is the complete schedule:
Apr 25 – May 23

Enrollment period: Apr 25–28
Weekly Matches: Apr 29–May 20
Playoff Tournament: May 21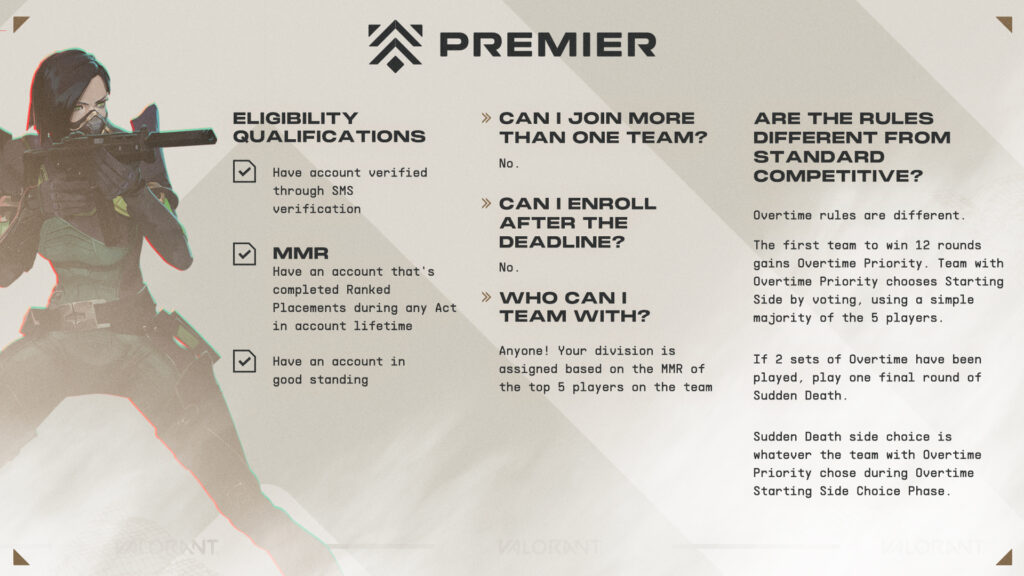 Teams will be seeded into one of 20 divisions based on the average MMR of their top five players. Each team will play two matches per week, with teammates able to view the schedule in the Team Hub. During the course of each week, teams will have the opportunity to play up to two matches which will earn them points toward their Premier score. The Premier score will ultimately determine whether or not your team qualifies for the Playoff tournament. A team will earn 100 points for a weekly match win and 25 points for a loss.
Currently, in the Premier Global Open Beta, a team will need to accumulate 375 points to qualify for the Playoff tournament. However, it is important to note that this number may be subject to change after the Beta test.
On the last day of the Global Open Beta, the Playoff tournament matches will take place. If a team qualifies for the Playoff Tournament, they will be placed into a bracket with other qualifying teams from their division.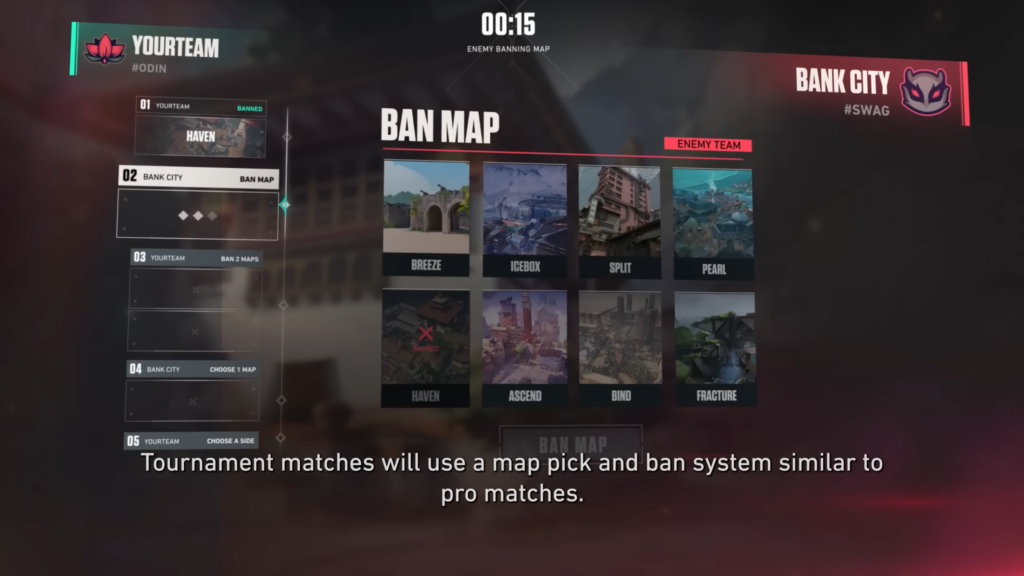 The tournament will feature a map pick and ban system, similar to professional tournaments. Teams that win all their matches will receive unique prizes, including a Premier Beta Champions player card, a Premier Beta Champion title, and bragging rights.
Losing teams will compete in a Consolation Bracket for third place, with players earning an in-game title and player card if they participate in at least one match.
Looking ahead, the next beta phase of Premier will be launched in July, with the full launch planned for just after VCT Champions 2023 in August.
---
For more insights on the Asian VALORANT scene and upcoming content like this, be sure to like and follow VALO2ASIA on Facebook, Twitter & Instagram.
---
Cover photo courtesy of VALORANT