The viewership is expected to remain high in the next stage of the VALORANT Conquerors Championship.
VALORANT Conquerors Championship (VCC) 2022 secured a peak viewership of 40 thousand during the Upper Bracket Final and the Grand Final between Velocity Gaming and Global Esports, according to Esports Charts. The tournament, which Velocity Gaming ultimately won, garnered an average viewership of 13,122 and over 572,985 across its 44 hours of runtime.
The viewership record, however, is still held by VCC 2021 with 55,719 at its peak, which has a 38.52 percent higher peak than this year's figure. This could be attributed to VCC 2022 being broadcasted simultaneously with the other five APAC sub-regional events (Thailand, Indonesia, Philippines, MY/SG, Vietnam). This does not include independent regions in Asia such as Japan, Korea, and China.
Meanwhile, last year's VCC began from August 20-29, two days before the completion of the VCT Southeast Asia Stage 3 Challengers Playoffs on August 22 The remaining seven days of the tournament did not overlap with any significant Asian event, which may have contributed to the tournament's increased popularity and viewership.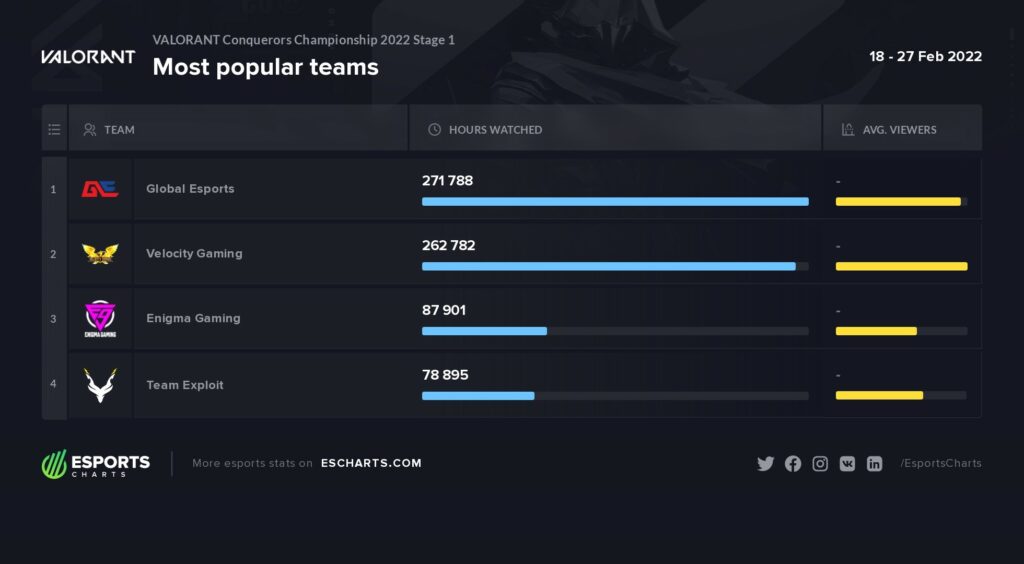 The two most popular teams have remained unchanged since last year. Velocity Gaming had the highest average viewership at 20,889, followed by Global Esports at 19,766 in a narrow margin. However, in terms of total hours viewed, Global Esports led the chart with 271,788, followed by Velocity Gaming with 262,782.
Out of all five most-watched matches in VCC 2022, either Velocity or Global Esports would be there on the server. Meanwhile, Team Exploit and Enigma Gaming were able to maintain their popularity from last year.
ALSO READ: Velocity Gaming part ways with all-female roster; Asteria to stick together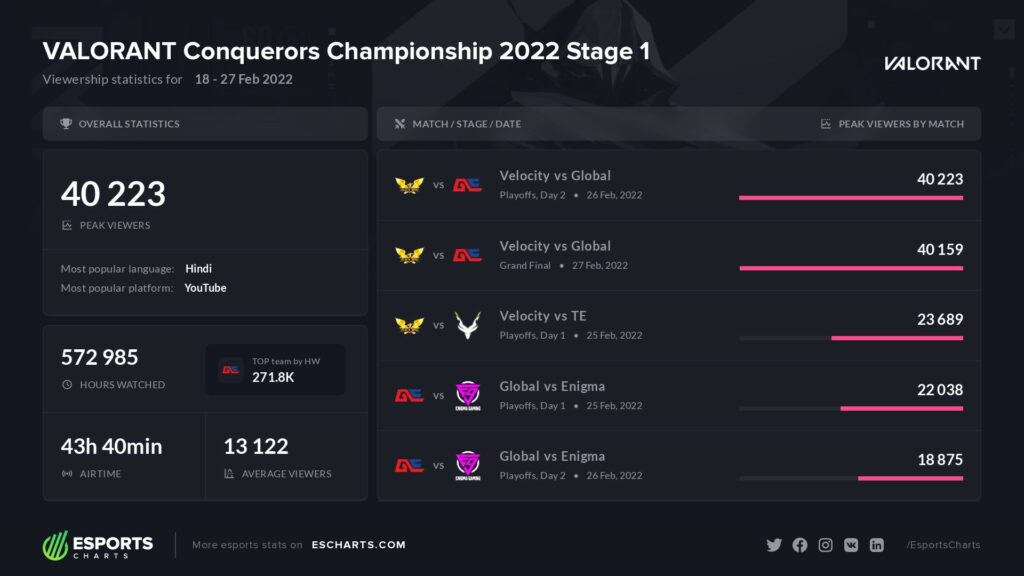 The fierce rivalry between the two South Asian powerhouses was undoubtedly the primary reason most people tuned in to witness the tournament.
The two El Clasico matchups in the Upper Final (a qualification match to APAC Challengers) and the Grand Final between Global Esports and Velocity Gaming drew the most spectators for the event, with each reaching over 40 thousand viewers at their peak. Both games went to the distance, with all maps being played. Ultimately, Velocity Gaming came out on top in the nail-biting competition, hoisting their first VCC trophy in front of thousands of live viewers.
According to Esports Charts, VCC 2022 saw a large majority of its viewership from YouTube, accounting for more than 84% of it. Many of the 40 thousand viewers were watching the event on Hindi-language streams.
---
For more insights on the Asian VALORANT scene and upcoming content like this, be sure to like and follow VALO2ASIA on Facebook, Twitter & Instagram.
---
Cover photo courtesy of NODWIN Gaming/Riot Games