VCL Japan Split 2 will resume on June 3-4 when the final two matches get underway in front of a live audience in Osaka. 
JAPAN – VCL Japan Split 2 has just two series remaining, and Jadeite, SCARZ, and FENNEL are left vying for the Pacific Ascension berth. The latter two sides will face off in the lower bracket final for the right to challenge Jadeite in the grand final.
Despite Crazy Raccoon's impressive performance in the previous stage, FENNEL dashed the favorites' hopes after a tightly contested best-of-five match on Thursday, which went all the way to the fifth map.
All eyes will be on the mouth-watering clash between SCARZ and FENNEL. This will be their fourth encounter this year, with SCARZ holding a slightly better record (2-1 in matches, 6-4 in maps). These teams previously met in the same round of VCL Japan Split 1, where FENNEL emerged victorious and eventually won the grand final against Crazy Raccoon.
ALSO READ: 95X Esports release VALORANT roster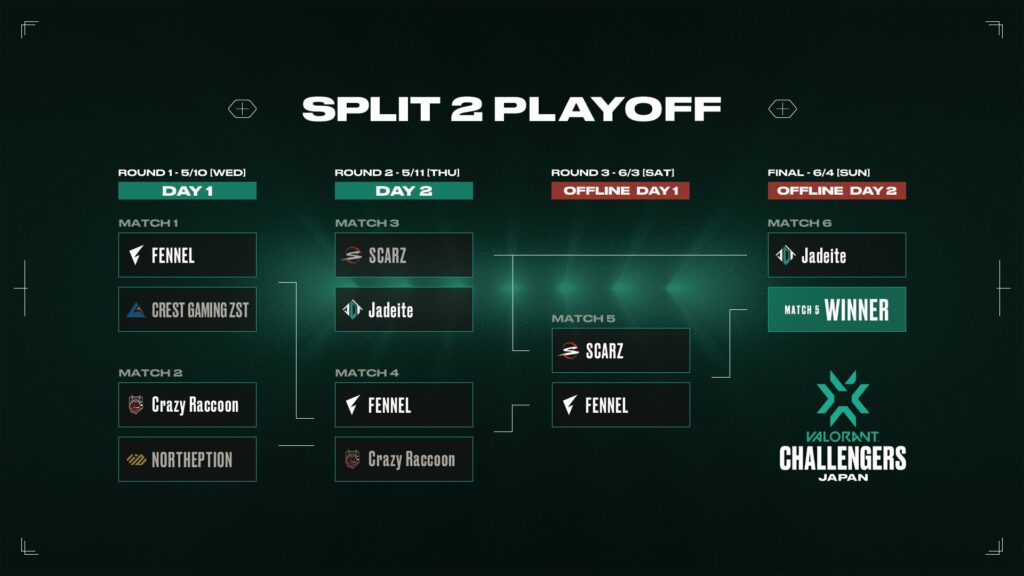 Waiting in the grand final is Jadeite who have taken many by surprise. The team headlined by "Art" was unable to qualify for the main event of VCL Japan Split 1 after facing SCARZ early on in the single-elimination bracket. However, they have since made a strong impression in Split 2, boasting a remarkable 6-1 record in the regular season, with their sole loss being against SCARZ. Jadeite managed to exact revenge in the upper final as well.
Jadeite, despite their success, went through a difficult phase that involved Brofeld's upper jaw fracture, Akame's pneumonia, and other challenges. In a Twitter post, they expressed, "We encountered an overwhelming amount of misfortune, but the coaching staff and players persevered with an unwavering spirit. We faced difficulties in our interpersonal relationships and even had disagreements, but ultimately, we are united in working towards a common goal."
Jadeite further stated, "We endured the lack of practice, the challenge to maintain a positive team atmosphere, and the pressure of 'lose and it's over.' Despite all these obstacles, we have managed to come this far."
Moreover, on Twitter, Akame revealed with introspection the consideration of retirement following the conclusion of Split 1, as he grappled with the worsening of his pre-existing hernia condition. In addition, just before the commencement of Split 2, he confronted the onset of pneumonia, prompting a thoughtful contemplation of his continued involvement with the team.
Jadeite, SCARZ, and FENNEL are set to compete in front of a live audience at the EDION Arena Osaka on June 3-4. The lower-bracket final is scheduled to start at 12:30 PM SGT, followed by the grand final the next day at the same time
---
For more insights on the Asian VALORANT scene and upcoming content like this, be sure to like and follow VALO2ASIA on Facebook, Twitter & Instagram.
---
Cover photo courtesy of VALORANT Esports Japan