95X Esports have officially disbanded their VALORANT division as the organization doubles down on other titles and content creators.
AUSTRALIA – 95X Esports have made the decision to release their entire VALORANT roster, as announced on Wednesday. This significant and sudden move comes just a little over a month after the team underwent major lineup changes for VCL Oceania Split 2, introducing three new members from BOBO and Funcrew.
"It is with great sadness that we are saying farewell to our team," the organization announced in a short statement. "We wish them all the best, it has been nothing but a pleasure to work with them. They are absolutely a delight to work with and were incredible when we finally got to meet face to face!"
All five players and the coaching staff have been released from their contracts, granting them the freedom to explore new options in the market. However, the team has decided to stick together for the time being and will continue their campaign in the ongoing VCL Oceania Split 2 under their previous name, Bonkers.
ALSO READ: ARF Team part ways with coach Gibo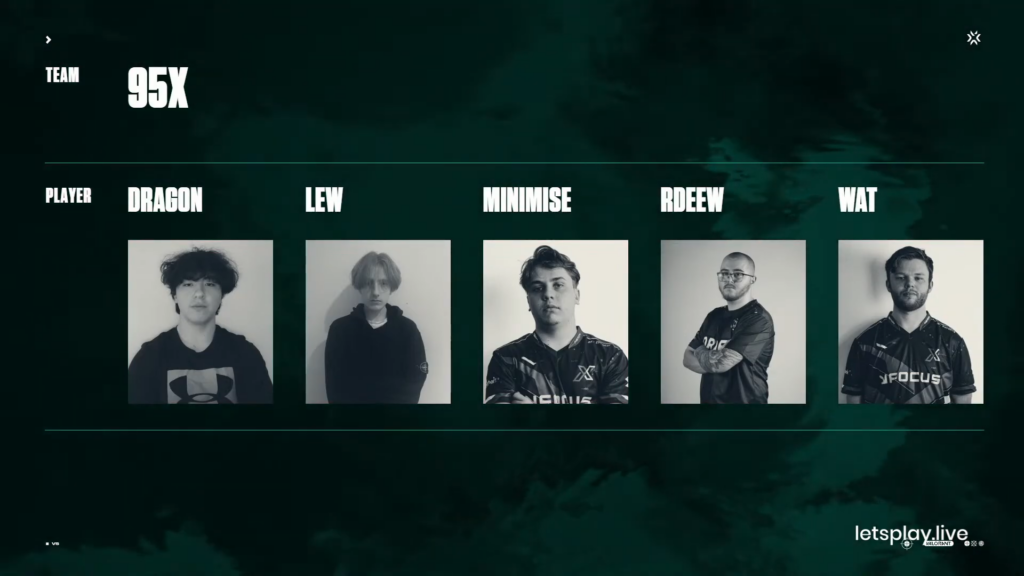 The announcement has come as a surprise, given 95X Esports' previous success in VCL Oceania Split 1 and their current leading position at the top of Split 2, despite the recent changes to their roster. The organization initially acquired the VALORANT roster back in January for VCL Oceania Split 1 and saw huge success by lifting the trophy after taking down BOBO 3-2 in the grand final.
When contacted by VALO2ASIA regarding the decision to release the team, 95X Co-Founder and Owner Miles Toolin said that the organization will reassess their VALORANT venture in the region but emphasized that this move "does not mean we won't be back."
"We are doubling down on our other titles and content creators for the immediate future as this is where the most viewership is for our org." He further mentioned that there are no hard feelings between the organization and the players, and "they're all a great bunch of young men and hard-working."
ALSO READ: Navigating VALORANT Esports in Oceania: Interview with 95X Esports' Miles Toolin
For now, the team will continue their participation in the VCL Oceania Split 2 as Bonkers. Their next and final Regular Season match is scheduled against Guangzhou Long Lionz on May 17 at 4:30 PM SGT.
95X Esports VALORANT were:
🇦🇺 Nicholas "DRAGON" Aleksandrovsky
🇦🇺 Riley "rDeeW" Wilkinson
🇦🇺 Jackson "Minimise" White
🇦🇺 Lewis "WAT" Watson
🇬🇧 Luis "LEW" Hibbert
🇺🇸 Alex "Fr0m" Cunard (Coach)
🇸🇬 Aaron "Eno" Cheah (Analyst)
---
For more insights on the Asian VALORANT scene and upcoming content like this, be sure to like and follow VALO2ASIA on Facebook, Twitter & Instagram.
---
Cover photo courtesy of 95X Esports