FSL has introduced mentorship programs that aim to help up-and-coming female players and talents in the APAC region further their careers with the VCT Game Changers Academy initiative. 
The mentoring program is a hands-on training program that coaches and develops aspiring female players and talents. The chosen mentees for the mentoring program will have the chance to receive learning opportunities and mentorship from some of the game's top players and shoutcasters/analysts available in three different languages.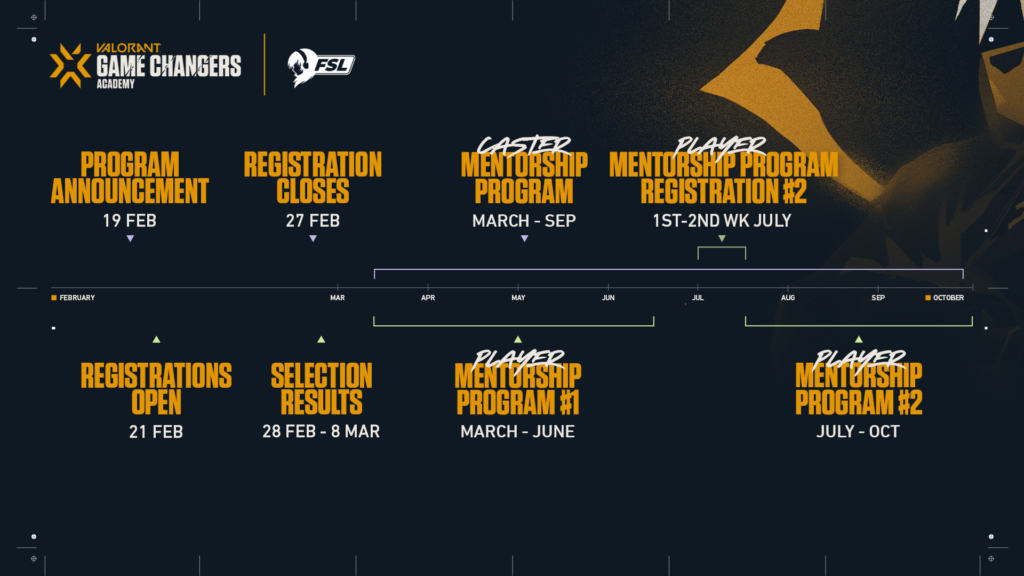 Apart from the mentoring program, the VCT APAC Game Changers Academy program will feature monthly tournaments for newer players – giving players even more opportunities to compete at the semi-pro and grassroots level –and a series of educational content.
ALSO READ: VCT Game Changers APAC 2022 Series – Everything you need to know
---
VCT APAC Game Changers Academy – Player Mentorship Program (March – June)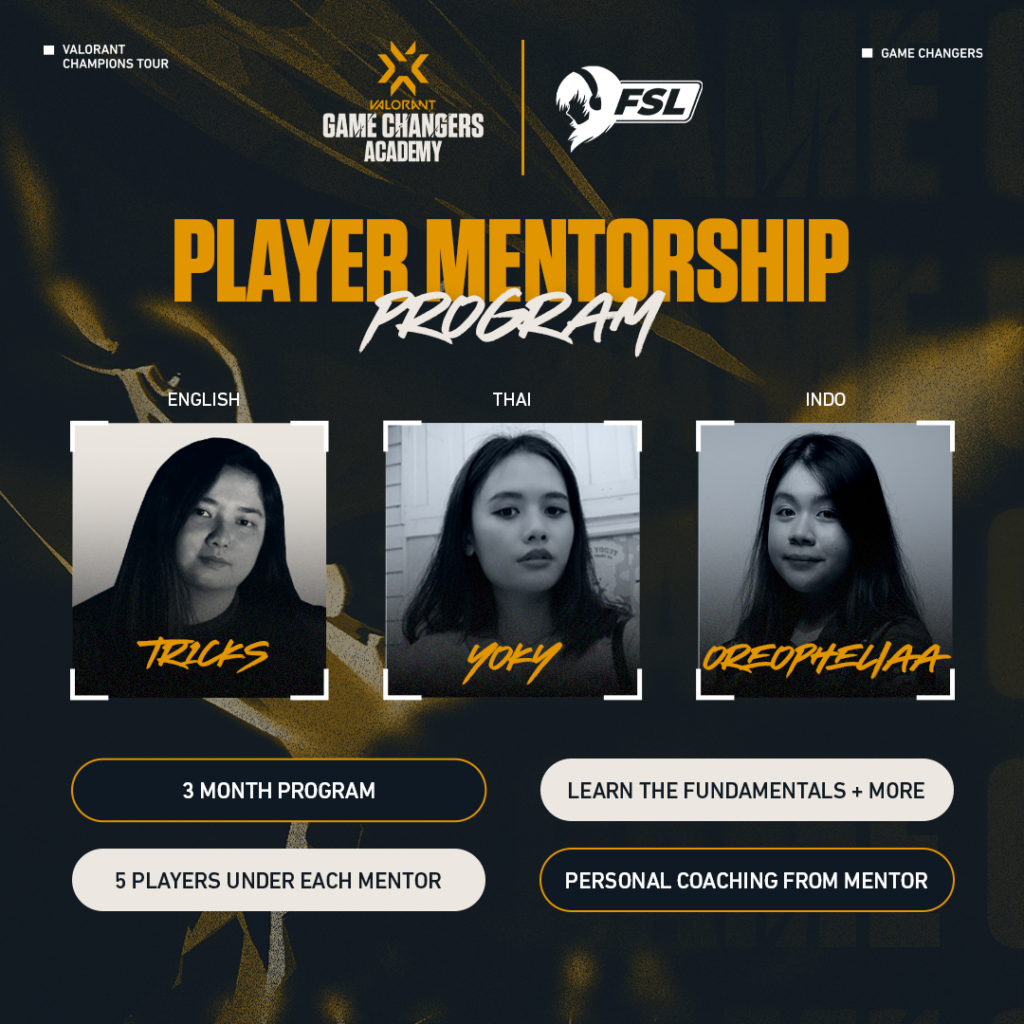 The Player Mentorship Program is accessible to women and other marginalized individuals interested in developing their skills and experience as a competitive player. Selected mentees can anticipate learning and honing various in-game aspects, including fundamentals, such as movement, aim, angle, how to review VODs and replays and how to enhance communication. The mentors will guide and coach the players through monthly coaching sessions and workshops.
Mentors: 
🇵🇭 Kyung-in "Tr1cks" Lee (English)
🇹🇭 Jularat "YOKY" Buaphan (Thai)
🇮🇩 Risalma "oreopheliaa" Agnia (Bahasa)
---
VCT APAC Game Changers Academy – Talent Mentorship Program (March – September)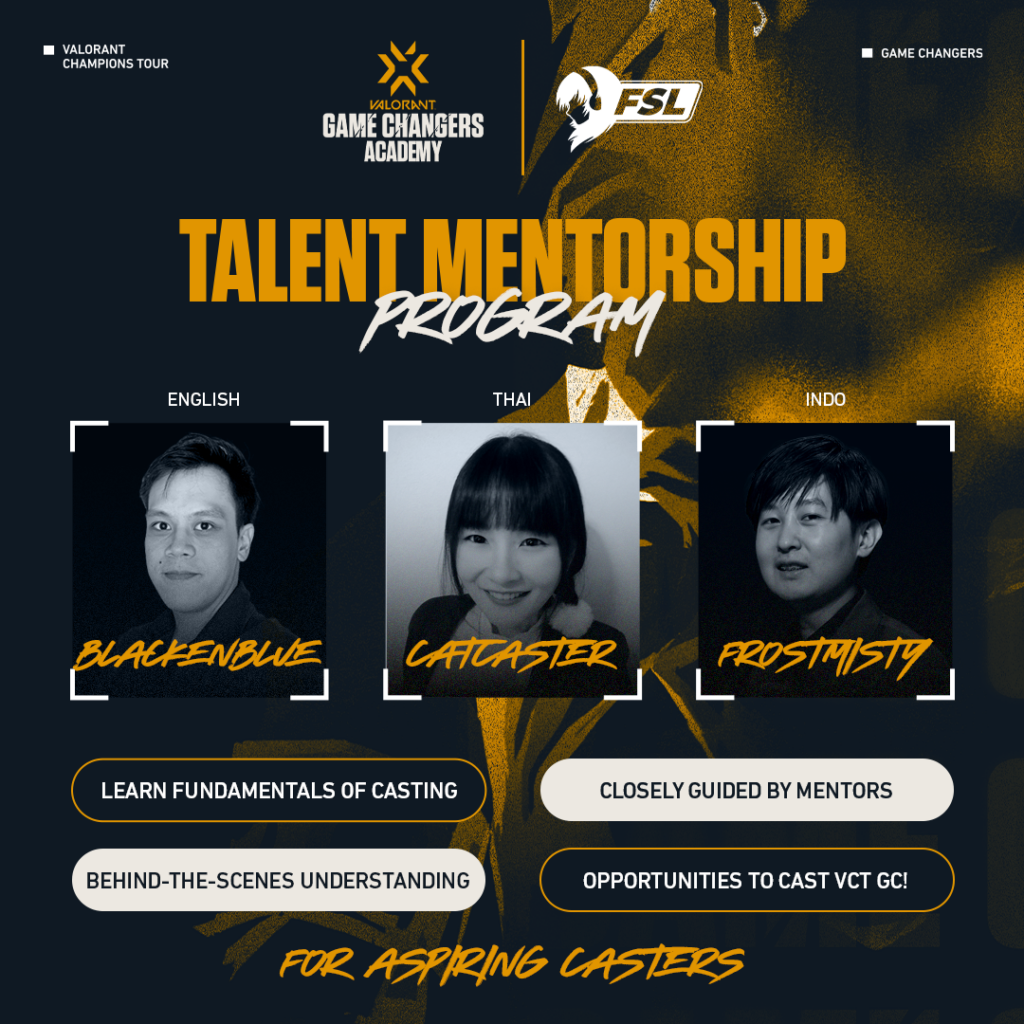 The Talent Mentorship Program is accessible to aspiring broadcast talents interested in honing their skills and learning new ones. Mentors will lead selected mentees through monthly coaching sessions and provide them with the chance to cast for the monthly VCT APAC Game Changers Academy competitions. The mentees can anticipate learning fundamentals such as voice control and story creation, as well as how to do research and prepare for a broadcast, how to create a portfolio and casting reel.
Opportunities to be a part of the talent roster of the VCT Game Changers APAC Series will also be provided to mentees who have shown tremendous growth and improvement throughout the program. 
Mentors:
🇵🇭 Nico "BlackenBlue" Gayoso (English)
🇹🇭 Waralee "CatCaster" Sulaiman (Thai)
🇮🇩 Albert "FrostMisty" Giovanni (Bahasa)
Interested applicants are invited to apply below: 
---
For more insights on the Asian VALORANT scene and upcoming content like this, be sure to like and follow VALO2ASIA on Facebook, Twitter & Instagram.
---
Cover photo courtesy of VALORANT Champions Tour/Riot Games