Riot Games and FSL have revealed the first details for the 2022 VALORANT Champions Tour Game Changers Asia-Pacific series, set to take place starting February 26.
The 2022 VCT Game Changers APAC Series will feature four circuit stages and a total of US$60,000 prize pool on the line. The news comes on the heels of Riot Games' official commitment to host an international LAN for its Game Changers tournament program later this year, barring any COVID-19 pandemic-related issues. It will be the series' first LAN, spanning teams from North America, Europe, South America, and Southeast Asia.
VCT Game Changers is a competitive series that aims to create new opportunities and exposure for women and other marginalized genders within the VALORANT esports ecosystem. The circuit will run in parallel with the main VCT competitive circuit and will be "a pro player circuit that reflects the diversity and global nature of the VALORANT community and player talent seen in the region."
After being created as a safe place for female and non-binary professional players to develop, Game Changers has been a success in 2021. According to FSL, more than 757 players from 20 different countries participated in the 2021 edition circuit. Alter Ego Celeste were crowned the Queen of SEA titles after winning VCT Game Changers SEA FSL Elite 2021 and ending 2021 with a near-perfect run.
ALSO READ: Alter Ego Celeste crowned VCT Game Changers SEA: FSL Elite champions
VCT Game Changers APAC 2022 Series – Structure, format, dates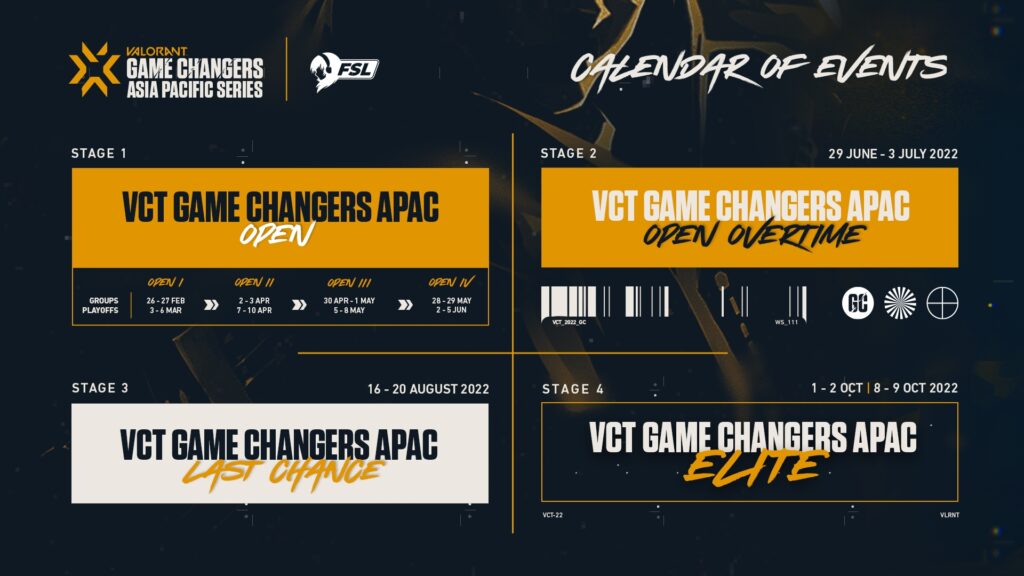 The circuit will span from February through October and will feature a modified structure similar to that of the previous season. According to the release, VCT Game Changers APAC 2022 allows both individuals and teams from the APAC region to partake, with the exception of South Korea, China, and Japan. Each of the three aforementioned regions will have its respective league.
VCT Game Changers APAC Open 1
Registration: February 7 – 20
Groups: February 26 – 27
Playoffs: March 3 – 6
VCT Game Changers APAC Open 2
Registration: March 18 – 29
Groups: April 2 – 3
Playoffs: April 7 – 10
VCT Game Changers APAC Open 3
Registration: April 15 – 26
Groups: April 30 – May 1
Playoffs: May 5 – 8
VCT Game Changers APAC Open 4
Registration: May 13 – 24
Groups: May 28 – 29
Playoffs: June 2 – 5
VCT Game Changers APAC Open Overtime
June 29 – 3 July
VCT Game Changers APAC Last Chance
Registration: July 25 – August 9
August 16 – 20
VCT Game Changers APAC Elite
October 1 – 2 & 8 – 9
The Open tournaments will be contested four times from February to May. A maximum of 64 teams in each Open will compete in a series of double elimination rounds to accumulate points. Teams stand to win US$5,000 at each stage of the Open tournaments.
The eight teams in 4th to 11th place in the VCT Game Changers APAC leaderboard after the Opens will qualify for VCT Game Changers APAC Open Overtime, which will take place starting late June. Matches will be played in a double-elimination format, with the top three teams qualifying for the APAC Elite stage.
ALSO READ: Attack All Around announce signing of former The Infinity Esport roster
The remaining two spots will be filled via the VCT Game Changers APAC Last Chance competition, which will occur in mid-August. A maximum of 64 teams will fight through a series of double elimination brackets. The winner will take home the US$5,000 first-place prize.
The final eight qualifying teams will compete over two weekends in VCT Game Changers APAC Elite, with more details to be released closer to the date, set to take place in early October. US$35,000 prize pool and a chance to be invited to participate in Riot Games' global Game Changers tournament later in the year is on the line. Riot Games has not yet revealed information on the allocated spots for all regions.
---
For more insights on the Asian VALORANT scene and upcoming content like this, be sure to like and follow VALO2ASIA on Facebook, Twitter & Instagram.
---
Cover photo courtesy of ZOWIE DIVINA