VCT APAC Stage 1 Challengers will resume on Thursday with the first matches of the double-elimination knockout stage.
The final eight teams who will compete for two coveted spots at Masters 1 Reykjavik have been set in stone. The knockout stage of VCT APAC Stage 1 Challengers will kick off from March 24-27.
Paper Rex are the only APAC team to remain unbeaten in VCT Stage 1, both in MYSG and APAC, with a winning streak stretching all the way back to November of last year in The Esports Club Showdown. Only Persija Esports could steal a map from the Singaporean side in the group stage after four months long.
ALSO READ: BIGG SCYTHE sign margeaux and Aphrolyn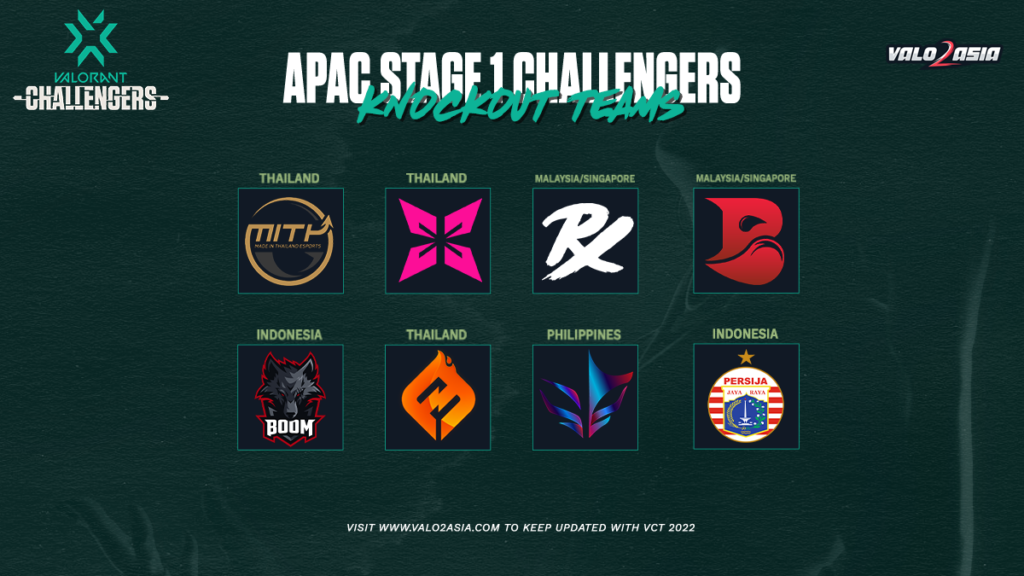 Persija Esports (previously BOY WITH LOVE) made their first international debut in good form despite only being formed for competing in Stage 1 at first. They managed wins over Australia's Bonkers twice to earn a spot in the knockout stage. Meanwhile, MiTH and BOOM Esports qualified after finishing as Group A's top two seeded teams.
XERXIA Esports finished off strong as well despite a challenging run in which they lost an important qualification series due to a power outage caused by heavy rain in Bangkok, Thailand. Without many options on the table, the team had intended to move their computers and other equipment to a different location, but the 15-minute break left them with inadequate time to get ready, thus forcing them to forfeit. Nevertheless, they were able to advance to the knockout stage after defeating ONIC G for the second time in a closely contested decider match.
Despite being put in the group of death, Bleed eSports cruised through the group stage, overcoming NAOS Esports and being given a forfeit victory over XERXIA Esports. Furthermore, VCT APAC Stage 1 Challengers mark the first appearance of the Swedish duo that Bleed eSports acquired late last year after the finalization of their work permits. They will face Thailand's #2 seed MiTH in the knockout stage's opening matchups.
FULL SENSE and South Built Esports breezed through the group stage without dropping a single map. On the opposite side of the bracket, Velocity Gaming were unable to secure another series win after their victory against Oblivion Force in the opening match despite numerous tight matches, including an overtime map against FULL SENSE before getting hammered on the second map.
The top-8 stage of the event will consist of best-of-three matches, except for the grand final which will utilize a best-of-five format.
The complete schedule for the first round can be found below:
| | | |
| --- | --- | --- |
| 11:30 | 🇹🇭 FULL SENSE | 🇮🇩 Persija Jakarta |
| 14:30 | 🇸🇬 Bleed eSports | 🇹🇭 MiTH |
| 17:30 | 🇮🇩 BOOM Esports | 🇹🇭 XERXIA Esports |
| 20:30 | 🇸🇬 Paper Rex | 🇵🇭 South Built Esp |
---
For more insights on the Asian VALORANT scene and upcoming content like this, be sure to like and follow VALO2ASIA on Facebook, Twitter & Instagram.
---
Cover photo courtesy of Colin Young-Wolff/Riot Games