BIGG SCYTHE have bolstered their ranks with the additions of two former Celestè members. 
INDONESIA — Dhammamitta "margeaux" Marvella and Aulia "Aphrolyn" Putri have been officially unveiled as members of BIGG SCYTHE last week. They will step into the shoes of Nicole "Eira" Suhartanto and Meidy "Meyi" Safira who parted ways with BIGG SCYTHE after the conclusion of VCT Game Changers APAC Open 1. 
The pair were part of the Celestè Esports lineup in two separate timelines. Aphrolyn was formerly part of the roster before the transition from CS:GO to VALORANT. She alongside the current Alter Ego Celeste core qualified to the ZOWIE Divina Women's Asia Championship and the WESG Female Southeast Asia Finals in 2019. Despite having a long history in Indonesia's all-female CS:GO scene, she is still an unknown prospect in VALORANT, having never competed in the official VCT Game Changers circuit before.
Margeaux, on the other hand, joined Celestè Esports VALORANT (now Alter Ego Celeste) in November 2020 as their sixth member. The Controller player most notably helped Alter Ego Celeste to win the fourth and fifth editions of the VCT Game Changers SEA – FSL Open series last year. 
"For the time being, I do not have any certain goal for the upcoming events, but I am going to give my best effort to the team and keep learning to become a better player. Why I chose BIGG SCYTHE is because of a couple of simple reasons. One of them was because of Crescents and Aphrolyn, who were my ex-teammate previously in CS:GO and also my best friends. Crescent happened to be the IGL in this team, then Aphrolyn managed to fill the empty spot that this team urgently needed. Secondly, I love being in a warm community that feels like home. It truly felt like God has given me a path where I know I am already connected and have great chemistry with others.
This definitely pushed me to restore my passion for VALORANT and made me more confident with myself. Though winning is a goal that we all want, I realized that there is nothing more important than being happy while doing what I do, and I am looking forward to our team's future growth." margeaux told VALO2ASIA.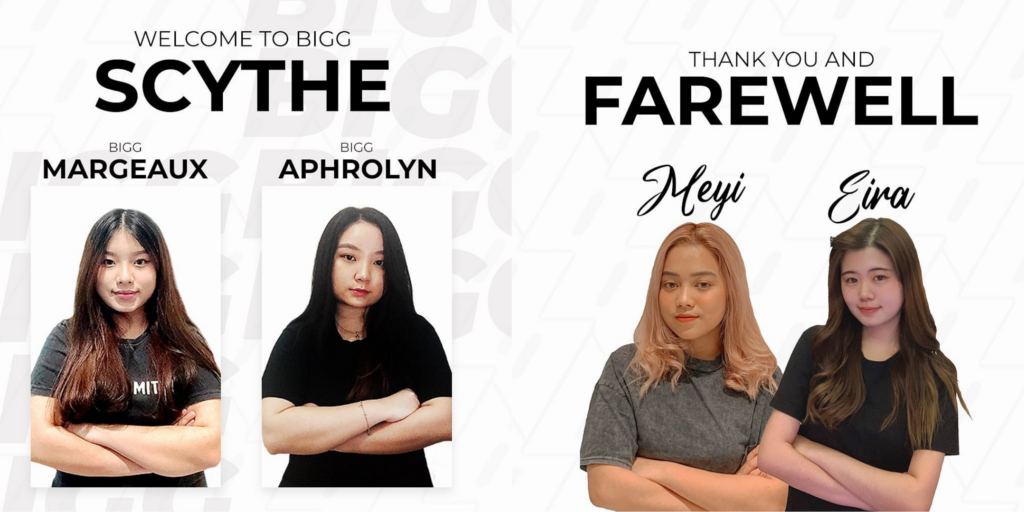 ALSO READ: VCT Game Changers APAC 2022 Series – Everything you need to know
BIGG SCYTHE made it to last year's final VCT Game Changers tournament via the FSL Overtime qualifier. However, they are now looking to improve their results after not making it to the playoffs of VCT Game Changers APAC Open 1. 
With the same six-player configuration, BIGG SCYTHE will compete in the upcoming VCT Game Changers APAC Open 2, which is set to take place from April 2-10.
With these changes, BIGG SCYTHE's roster stands as follows:
🇮🇩 Bella "Heartfire" Victoria
🇮🇩 Daltha "crescents" Amelia
🇮🇩 Anastasya "yaamoriY" Tulung
🇮🇩 Dhammamitta "margeaux" Marvella
🇮🇩 Aulia "Aphrolyn" Putri
🇮🇩 Keane "scaroo" Andiani
🇮🇩 Gana "2become1" Pragala (Coach)
---
For more insights on the Asian VALORANT scene and upcoming content like this, be sure to like and follow VALO2ASIA on Facebook, Twitter & Instagram.
---
Cover photo courtesy of BIGG SCYTHE