The broadcast team for VCT Game Changers APAC Elite will consist of 28 people spread across three streams.
APAC – The VCT Game Changers APAC Elite has revealed the list of talent who will bring us the action from the server in the English, Thai, and Bahasa Indonesia broadcasts.
The final APAC Game Changers tournament of 2023 is set for October 9-15, from which a single team will secure a berth for the upcoming Global Championship event in São Paulo, Brazil, next month. It features Team SMG as the leading contenders, with a record of winning every Open event this season and boasting a 30-game winning streak. For more insight on the other competing teams and what to anticipate, check out our preview article.
The roster of talent includes some of the most recognized names from their respective regions. A team of ten commentators will guide viewers through the intense unfolding of the games in the English broadcast, featuring the likes of VCT Pacific's Kentrell "heyimquack" Kwek, alongside Kaavya "Zahk" Karthikeyan who is also delivering the action for VCT Game Changers EMEA.
ALSO READ: PRX Jinggg moves to substitute role; remains part of the team
The full talent lineup for VCT Game Changers APAC Elite can be found below: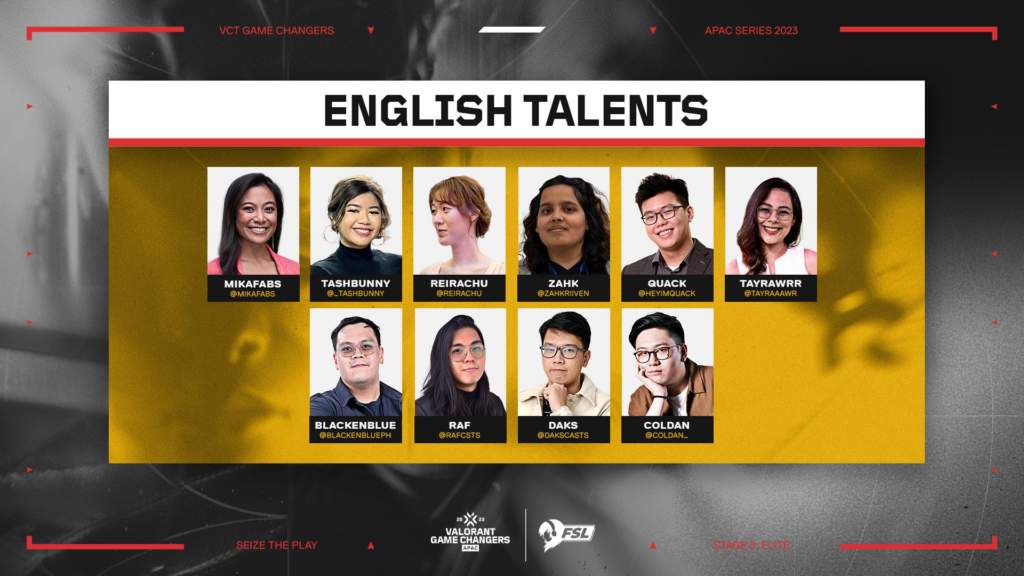 English Broadcast:
🇵🇭 Mika "Mikafabs" Fabella
🇲🇾 Natasha "Tashbunny" Hashim
🇸🇬 Jenny "Reirachu" Lee
🇮🇳 Kaavya "Zahk" Karthikeyan
🇸🇬 Kentrell "heyimquack" Kwek
🇵🇭 Allyza "Tayrawr" Taylor
🇵🇭 Nico "BlackenBlue" Gayoso
🇵🇭 Rafael "Raf" Alino
🇵🇭 Dathan "Daks" Rosales
🇸🇬 Daniel "Coldan" Chee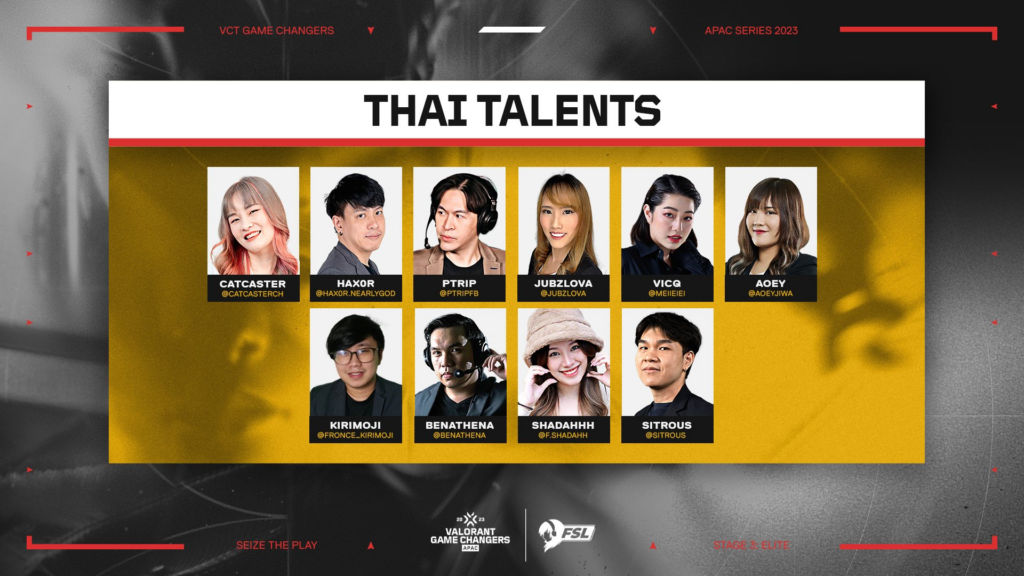 Thai Broadcast:
🇹🇭 Waralee "CatCaster" Sulaiman
🇹🇭 Arm "HAx0R" Kokijrojana
🇹🇭 Paht "Ptrip" Ekkul
🇹🇭 Chonnikan "JubzLova" Sorprasert
🇹🇭 Thanchanok "VicQ" Lawan
🇹🇭 Jiwarin "Aoey" Thongklung
🇹🇭 Chantavat "Kirimoji" Kongthanee
🇹🇭 Bowwonnun "Athena" Yuwayuth
🇹🇭 Sutira "Shadahhh" Siriratpiriya
🇹🇭 Kritsada "SitrOus" Preedakasemsak
Bahasa Indonesia Broadcast:
🇮🇩 Monica "Momochan" Mariska
🇮🇩 Abigail "Abigail" Clarissa
🇮🇩 Bella "Heartfire" Victoria
🇮🇩 Albert "Frostmisty" Giovanni
🇮🇩 Berlian "Nona Berlian" Sakina Tanevi
🇮🇩 Lukas "Kocul" Yanto
🇮🇩 Daffa "Daveee" Rizky
🇮🇩 Rere "Bredel" Bintoro
---
For more insights on the Asian VALORANT scene and upcoming content like this, be sure to like and follow VALO2ASIA on Facebook, Twitter & Instagram.
---
Cover photo courtesy of VCT Pacific