As the kick-off date for the VCT Game Changers Championship draws near, VALO2ASIA presents a comprehensive viewer's guide for the most high-stakes Game Changers tournament yet.
GERMANY – Eight of the world's best Game Changers teams will all be present in Berlin, Germany, from November 15-20 to battle it out for their share of the US$500,000 prize pool, with the winner taking home US$180,000.
Cloud9 White headline the participants in Berlin, accompanied by North American compatriots Shopify Rebellion GC, who qualified after accumulating enough Circuit Points behind Cloud9 White. Meanwhile, from the other side of the globe, Guild X and Michaela "mimi" Lintrup's G2 Gozen will represent EMEA. KRÜ Fem emerged victorious in the VCT Game Changers LATAM Regional Final to represent LATAM, while Natália "daiki" Vilela's Team Liquid accumulated the highest points in the Brazil circuit.
ALSO READ: Witz enters free agency
Rounding out the list are X10 Sapphire and FENNEL Female, representing APAC and East Asia, respectively. The result of the APAC Elite stage means that Alter Ego Celeste, who dominated the Open series with four back-to-back victories, will miss Game Changers' first global event, having lost the grand final series against Sarindhorn "JinNy" Wanothayarnchai's X10 Sapphire. On the other hand, Japanese-Korean side FENNEL Female, which only came together in late June, emerged victorious in the East Asia qualifier to earn their place.
The eight teams that will compete at the VCT Game Changers Championship are as follows:
| | |
| --- | --- |
| 🇺🇸 Cloud9 White (NA) | 🇪🇺 Guild X (EMEA) |
| 🇺🇸 Shopify Rebellion GC (NA) | 🇪🇺 G2 Gozen (EMEA) |
| 🇧🇷 Team Liquid Brazil (BR) | 🇯🇵 FENNEL Female (East Asia) |
| 🇨🇱 KRÜ Fem (LATAM) | 🇹🇭 X10 Sapphire (APAC) |
Having no history of cross-regional matchups, VCT Game Changers Championship will determine who stands on top of the Game Changers circuit and which region is more "superior". Given their dominance in their respective regions, Cloud9 White, KRÜ Fem, Team Liquid Brazil, and G2 Gozen are expected to make a deep run. However, the remaining four could always surprise, including FENNEL Female, who only has eight maps for other teams to learn from.
The final Riot-sanctioned tournament of the year will kick off with a best-of-three, double-elimination bracket, while the grand final will have a best-of-five format which will run on November 20. The competition will be held in front of a live audience from the LEC Studio.
Following is the full schedule for the event: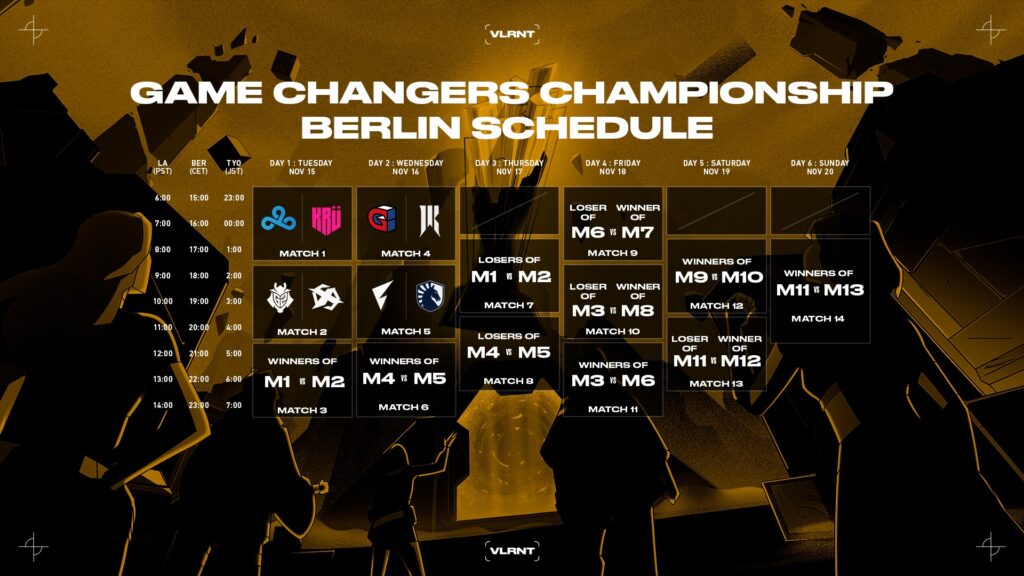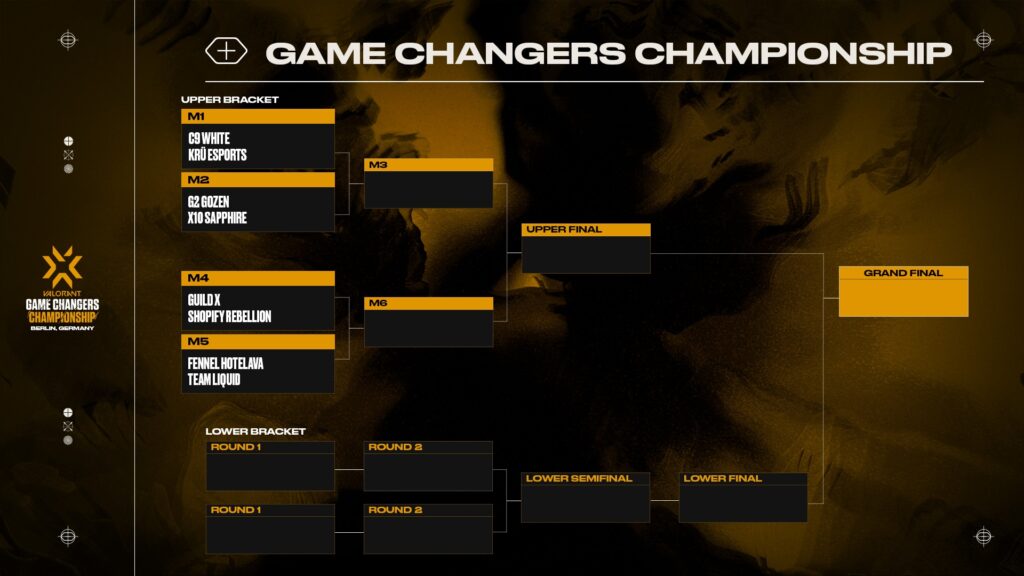 Tuesday, Nov. 15 – 22:00 SGT
Wednesday, Nov. 16 – 22:00 SGT
Thursday, Nov. 17 – 00:00 SGT
Friday, Nov. 18 – 22:00 SGT
Saturday, Nov. 19 – 00:00 SGT // Lower Semifinals & Lower Finals
Sunday, Nov. 20 – 00:00 SGT Grand Final
Rounding out the viewer's guide is the prize pool breakdown, where the eventual victors will walk away with US$180,000:
| | | |
| --- | --- | --- |
| Place | Prize | Team(s) |
| 1st | US$180,000 | ? |
| 2nd | US$110,000 | ? |
| 3rd | US$80,000 | ? |
| 4th | US$50,000 | ? |
| 5th-6th | US$25,000 | ? – ? |
| 7th-8th | US$15,000 | ? – ? |
---
For more insights on the Asian VALORANT scene and upcoming content like this, be sure to like and follow VALO2ASIA on Facebook, Twitter & Instagram.
---
Cover photo courtesy of HLTV