FSL has announced the registration process for the fifth season of its FSL Open league, featuring a US$5,000 prize pool.
The open qualification process will kick off on July 19, with teams and individuals from the Asian region, except for Japan, Korea, and China eligible to sign up for the league.
The qualifying process will begin with a group stage leading to playoffs. The group stage will feature 48 teams in a single-elimination bracket, best-of-one (BO1) format, with the top two teams from each group advancing to playoffs.
ALSO READ: Riot Games Announces Official Female League – VCT Game Changers SEA
Teams will earn FSL VALORANT Circuit points from final placement for qualification of FSL Elite; a tournament in October where eight of the top teams in the region will play for a prize pool of US$25,000. The winner of FSL Elite will be crowned as the first VCT Game Changers Southeast Asia Champion.
VCT Game Changers SEA: FSL Open V will span two weeks from July 19-August 1. A total of US$5,000 will be up for grabs, with the playoffs being held in a double-elimination bracket and best-of-three (BO3) format except for the grand final, which will be played in a best-of-five (BO5) match. 
Registration for VCT Game Changers SEA: FSL Open V will remain open until July 15. Details on the registration process and rules of the tournament may be found below:
Alter Ego Celeste won the past four editions of VCT Game Changers SEA: FSL Open, and are currently residing at the top of the standings with 40 total points. Meanwhile, Galaxy Racer Female and Kid Mai Ork are presently in second and third place of the Circuit standings, respectively.
The Circuit standings for FSL VALORANT, taking into account roster changes from the previous season and their resulting point deductions, are as follows: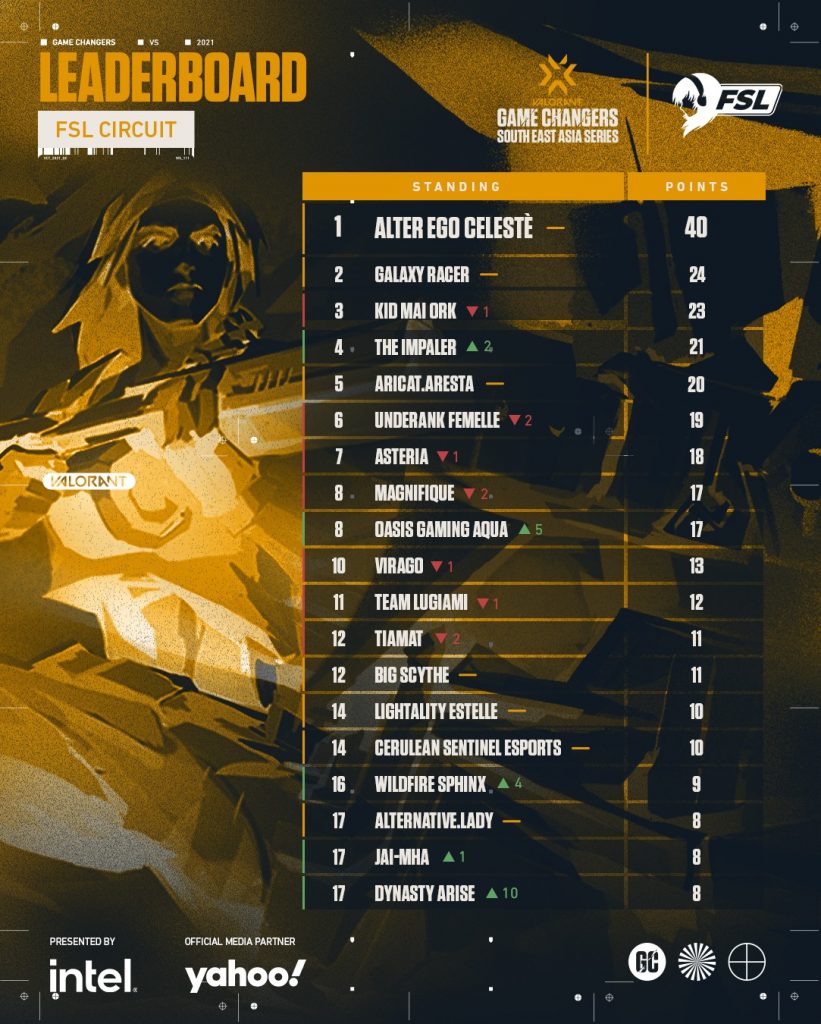 ---
For more insights on the Asian VALORANT scene and upcoming content like this, be sure to subscribe to our newsletter. Don't forget to follow VALO2ASIA on Facebook, Twitter & Instagram.
---