VALO2ASIA spoke with Michael "WRONSKI" Wronski regarding his career in the Oceania region, his recent move to India-based Global Esports, and expectations heading into the kickoff tournament in São Paulo next year.
AUSTRALIA – After securing the partnership status in the VCT Pacific League, Global Esports had decided to bring new faces with the hope to establish themselves as one of the Pacific's finest sides. One of the new names that got introduced was WRONSKI, hailing from the land down under, Australia.
The Laotian player previously played in many well-known Oceania teams such as PEACE, Chiefs, Mindfreak, and ORDER, averaging 261,4 ACS throughout his career mostly playing with Jett.
ALSO READ: DreamHack Showdown VALORANT Oceania Qualifiers revealed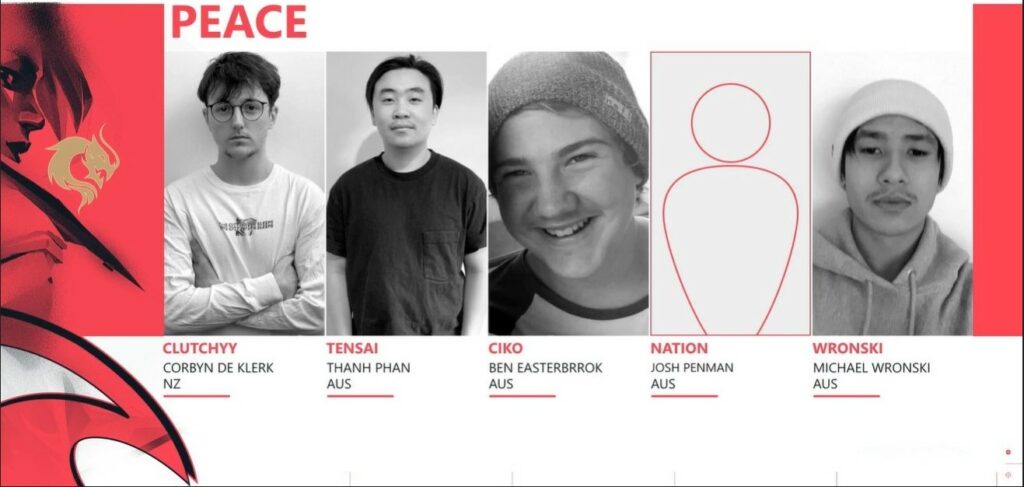 VALO2ASIA: You started your career in VALORANT in 2020; is this your first game as a professional player or have you competed in the highest level of another game before?
WRONSKI: Yes this is the first game that I have competed in at the highest level, but it is not my first attempt at a competitive title. I tried to go pro at CS but, at the time, I could not because I had a VAC-banned account from when I was 12 years old.
VALO2ASIA: Your career started to rise after you successfully reach second place in the VOT Stage 3 Finals with PEACE and even get MVP there. How was the process you went through to become one of the best in Australia in less than a year?
WRONSKI: At the time I did not know what I was doing but looking back at it there were a few things that helped me reach that goal and beyond. I sacrificed a lot of things, especially my health and social life, and the one thing that I really needed to make those sacrifices worth it was the motivation I had.
I feel like to achieve your goal of doing something as ambitious as my goals you really needed those sacrifices, or it would not happen, or it would just take too long. I knew what I wanted, and I told myself that I would give it my everything until I was nineteen years old to make those dreams a reality because I knew getting out of OCE was going to be hell and very unlikely.
VALO2ASIA: Despite qualifying for the NA LCQ, PEACE who were acquired by Chief Esports Club, could not attend the event due to travel regulations (COVID-19). Do you think that OCE VALORANT would have been on a different trajectory if ORDER and PEACE had gone to the tournament?
WRONSKI: Honestly probably not, looking back at it the competition was really strong and for even ORDER at the time to win it would almost be a miracle honestly. For an Oceania team to even be a tier 1 team we just need long-term international experience, which we did not have, and still do not have.
VALO2ASIA: In 2022, you joined the ORDER and qualified for VCT APAC Stage 2 Challengers and subsequently reached the top six in the APAC LCQ. Do you think this period was the best period in your career so far?
WRONSKI: It was the highlight of my career up at that point, but I wish I could have done better individually. What I would do differently now would not be to play more than eleven hours a day every day. I burnt myself out and it was clear after I arrived back in Australia after APAC Challengers that my performance dropped. 
I had the worst two tournaments of my career in that being the VOT Championship and APAC LCQ. But yeah for sure I would not play as much as I did and do more stuff outside of the game but it was hard because all I wanted was to play and to get the most out of playing against better players.
VALO2ASIA: As we already know, there are many Oceania teams that disbanded their rosters after APAC Last Chance Qualifier ended and also there was not any Oceania team in the Pacific League. Do you think having a spot in one of the Pacific league teams and doing well next year will help the OCE region to get some recognition internationally?
WRONSKI: It definitely would have given us what we needed as a team and as a region. I feel like all we needed was time abroad and to practice against the best because the quality of practice in Oceania was not good. 
The best way I can put it is if you were training for a division one soccer game but could only practice against one division 2 team and the rest were division 3 and below but they also do not want to practice against you. Being so isolated is pretty much the biggest handicap you can throw at a region.
VALO2ASIA: Fast forward after ORDER disbanded its roster, you chose to join Global Esports which also will join VCT Pacific 2023. What is your process until officially joining Global Esports?
WRONSKI: To be honest, getting into franchising looked pretty grim. I was in talks with some NA Ascension teams and one team from EMEA but other than that it was just pretty random offers from the APAC region.
I definitely did not want to be stuck here because I feel like it is a detriment to my career, and I would not be proud of myself. I am lucky enough that Global Esports took a look at the Oceania region and they wanted the best player there and I guess they just came to the conclusion it was me. 
ALSO READ: Here's every roster announced for VCT Pacific League 2023
VALO2ASIA: What is the opinion of your teammates that also mostly come from duelist roles like Cahya "Monyet" Nugraha, Park "Bazzi" Jun-Ki, Kim "t3xture" Na-ra, and even Ganesh "SkRossi" Gangadhar? Do you still become a duelist or will you try to play a different role in Global Esports?
WRONSKI: I think we are going to shock everyone honestly. The players I have around me in Global Esports play the same style I play since we all came from the duelist role, so I think we're all going to be on the same page when it comes to doing mid-round team plays and fights. 
I guess AYRIN will be giving us the green or red light when it comes to those plays haha. What role I will be playing is unknown as of right now but I am prepared to learn new agents or roles.
VALO2ASIA: Since this will be your first international LAN event, which team do you wish to meet in Sao Paulo?
WRONSKI: Well I am not sure yet but I definitely want to play against whatever team Adil "ScreaM" Benrlitom is on because I have watched him since I started to play video games back in 2015. I feel like if that or once that happens it will finally make me realize that I have truly made it.
VALO2ASIA: As 2022 will conclude, do you have any wishes for the Oceania VALORANT scene in 2023?
WRONSKI: Yes, I really do hope Oceania VALORANT will continue to grow despite what had happened. There is still Challengers Ascension where the region can still show its talents and from there I hope the best of the best from Oceania get picked up by better teams and maybe one day join me in the big leagues. After all, I do not want to be so lonely being the only player from the Oceania region in the franchise.
VALO2ASIA: Before we end our interview, are there any suggestions to someone who wishes to become a VALORANT professional player, especially in Oceania?
WRONSKI: Basically, being a player in Oceania is a cut throat, if you want to make it internationally, you are going to have to sacrifice more things than people do in other regions.
Your practice is going to be way worse compared to other regions and you are going to have to be doing a lot more self-reflection than others. If there is just one thing I want to say to anyone that would be 'If you want it, you can get it but only if you really want it.
---
For more insights on the Asian VALORANT scene and upcoming content like this, be sure to like and follow VALO2ASIA on Facebook, Twitter & Instagram.
---
Screengrab via YouTube / ORDER