The 26-year-old will, therefore, be the final piece of the puzzle for the team that retains five players that represented them this season.
JAPAN – ZETA DIVISION have rounded out their roster for the VCT Pacific league next year with the addition of former player Ryo "barce" Takebayashi, who will return to the team as their sixth member after spending six months with DetonatioN Gaming. Teams in the VCT partnered league next year are required to field a minimum of six players, and this signing qualifies ZETA DIVISION's lineup for participation. 
The addition marks barce's return to the team he represented for the first two years of his VALORANT career, helping Absolute JUPITER and ZETA DIVISION dominate the domestic Japanese scene and ultimately qualify for VALORANT Masters in Berlin last year. The Controller player was transitioned into streaming for the organization last December and remained so until four months later when he was transferred to DetonatioN Gaming. Only longtime teammates Koji "Laz" Ushida and Tomoaki "crow" Maruoka remain from the roster that barce last played with.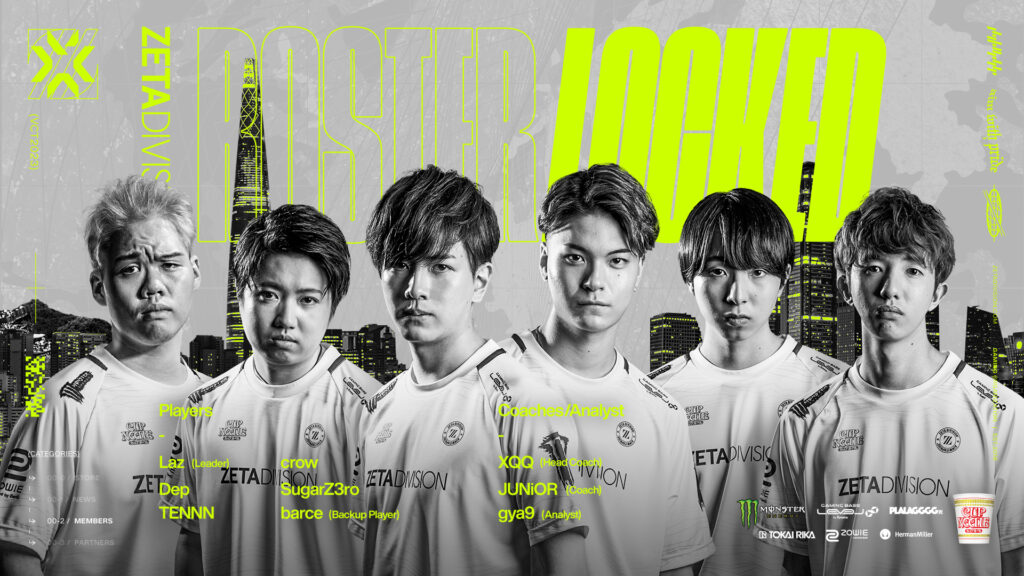 ALSO READ: DetonatioN Gaming unveil Japanese-Korean lineup for VCT 2023
Most recently, barce had been plying his trade for DetonatioN Gaming White, but the team only found limited success throughout the year, unable to make a deep run in VCT Japan Stage 2 Challengers, with 5-8th finishes in the main event of the second week being DWG's highest placing after losing to Park "allow" Sang-wook's Jadeite in the semi-final. 
At the same time, Ryumon "Reita" Oshiro has been officially transferred to DetonatioN Gaming, where he will, at some point, meet three of his former teammate from the opposite side of the server next year in the Pacific league. "We hope to compete with each other in the International League in the next season and aim high together. We look forward to your continued support for Reita as he takes on the world in a new environment." the announcement reads, through a translated machine.
ZETA DIVISION now boast the following lineup:
🇯🇵 Koji "Laz" Ushida
🇯🇵 Tomoaki "crow" Maruoka
🇯🇵 Yuma "Dep" Hashimoto
🇯🇵 Shota "SugarZ3ro" Watanabe
🇯🇵 Tenta "TENNN" Asai
🇯🇵 Ryo "barce" Takebayashi
🇯🇵 Yuya "JUNiOR" Sawada (Coach)
🇯🇵 Hibiki "XQQ" Motoyama (Coach)
🇯🇵 "gya9" (Analyst)
---
For more insights on the Asian VALORANT scene and upcoming content like this, be sure to like and follow VALO2ASIA on Facebook, Twitter & Instagram.
---
Cover photo courtesy of Colin Young-Wolff/Riot Games