95X Esports' new trio has been officially unveiled before their debut match in VCL Oceania Split 2.
AUSTRALIA – 95X Esports has announced a major overhaul of its VALORANT roster ahead of the VCL Oceania Split 2. The team formally announced today the addition of three new players, Nicholas "DRAGON" Aleksandrovsky, Riley "rDeeW" Wilkinson, and Luis "LEW" Hibbert, who have joined in-game leader Jackson "Minimise" White and Lewis "WAT" Watson on the official roster.
The trio will fill the void left by the departure of star player Ali "SWERL" Kobraee, Michael "M1kE" Smith, and Lachlan "Punda" Bamford, with the former making a big move to China to play for Royal Never Give Up.
ALSO READ: GE's SkRossi and Lightningfast secure Korean visas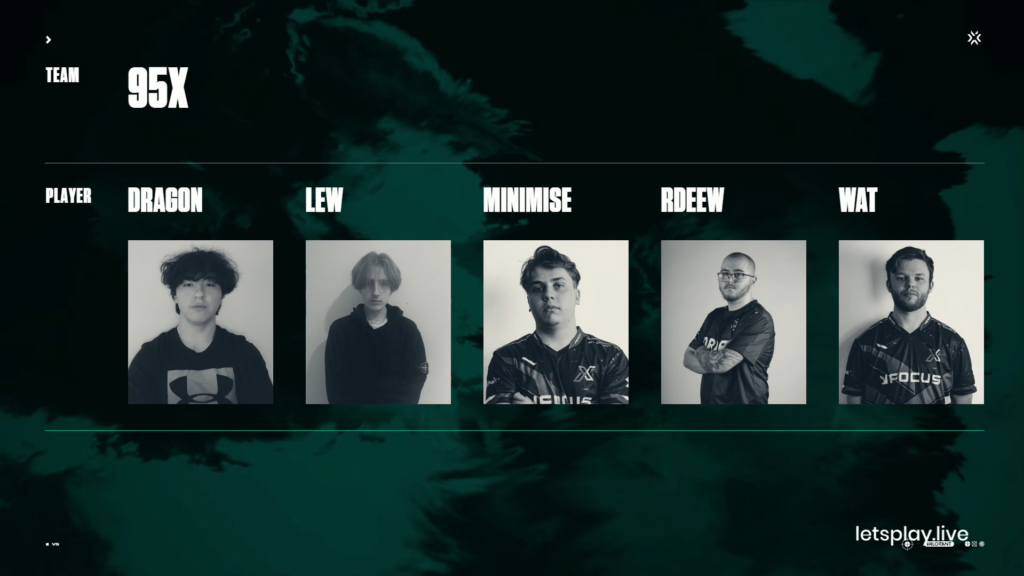 The triple signings complete an overhaul of the 95X Esports team following the conclusion of their title-winning campaign in VCL Oceania Split 1 last month.
DRAGON and rDeeW both come from non-backed BOBO, where they most recently made it to the final of VCL Oceania Split 1 but fell short against 95X's previous roster iteration. Furthermore, the duo was BOBO's two highest-rated players during the campaign, making their addition a valuable acquisition for 95X Esports, as they bring the best of both worlds to the team.
Completing the new lineup is LEW, who shared a connection with DRAGON from their time together on Funcrew last year and notably achieved a fourth-place finish in the 2022 VOT Stage 1 Challengers.
"The current roster looks a bit different due to the volatility within the region recently with multiple international signings," Miles Toolin, Co-Founder and Owner of 95X Esprts, spoke on the revamped roster to VALO2ASIA. An in-depth interview with Miles will be released next week, discussing various topics related to the team and the overall Oceania VALORANT scene.
"The team has adapted like you would expect of a team of that caliber. Professionally, agile, and efficiently. We are ready for Stage 2, and we intend to let our results speak for themselves. Less talk and more action."
The new 95X Esports roster made their debut today against The Who, securing a one-sided 2-0 victory. The team's upcoming match is set for Friday, April 14, against xyz.
95X Esports now boast the following quintet and support staff: 
🇦🇺 Nicholas "DRAGON" Aleksandrovsky
🇦🇺 Riley "rDeeW" Wilkinson
🇦🇺 Jackson "Minimise" White
🇦🇺 Lewis "WAT" Watson
🇬🇧 Luis "LEW" Hibbert
🇺🇸 Alex "Fr0m" Cunard (Coach)
🇸🇬 Aaron "Eno" Cheah (Analyst)
---
For more insights on the Asian VALORANT scene and upcoming content like this, be sure to like and follow VALO2ASIA on Facebook, Twitter & Instagram.
---