Over the course of the next six days, 16 teams will be fighting for their share of the US$25,000 prize pool in the AfreecaTV SEA Invitational, including the likes of Bleed Esports, Fancy United Esports, and RRQ. 
The AfreecaTV SEA Invitational is set to begin with 16 teams from all over Southeast Asia contending for the lion's share of the US$25,000 prize pool. The groups will run over the course of the next two days, with the top eight teams making it to the best-of-three single-elimination playoffs held on December 1-4. 
The group stage of the tournament will see the 16 teams split into four groups of four. MiTH have been placed in the same group as Team NKT, Bigetron Arctic, and South Built Esports, who will be fielding George "Georggyyy" Lachica as a stand-in. Todak were initially set to represent the MY/SG region alongside Bleed Esports, but due to scheduling issues, opted to skip the tournament, subsequently replaced by Phoomphat "qqGOD" Phojjanart's NKT. 
As for Group B, it will feature RRQ, FULL SENSE, BOOM Esports, and Vietnam's Wolves X, who will face off for two spots in the playoffs. Alter Ego have been paired up with SR Nacague, FW Esports, and Vietnam-based Dominus Esports in Group C – all of whom currently reside outside of the top 30 of VLR's APAC ranking.
Bleed Esports will be headlining Group D, with the Singaporean squad coming into the event as one of the favorites after winning two OFF//SEASON titles in TEC Challenger Series 9 and Skyesports SEA Championship. Fancy United Esports and Dewa United from Indonesia will also be joining XERXIA, who will be making their new roster debut, here in this tournament. 
The matchups for the AfreecaTV SEA Invitational can be found on our daily-updated match ticker
VALO2ASIA.com offers a real-time match ticker, updated daily across all major matches to watch. We categorize the match from one to five stars according to both teams' lineups, tournament rounds, and the tournament's prestige. You can always join the euphoria and watch your favorite team play by clicking on the match, and you will be directed to the live stream of the match. Just remember that we use Singaporean Time (UTC+8) for all of the schedules. Check it out right now on the right side of our website!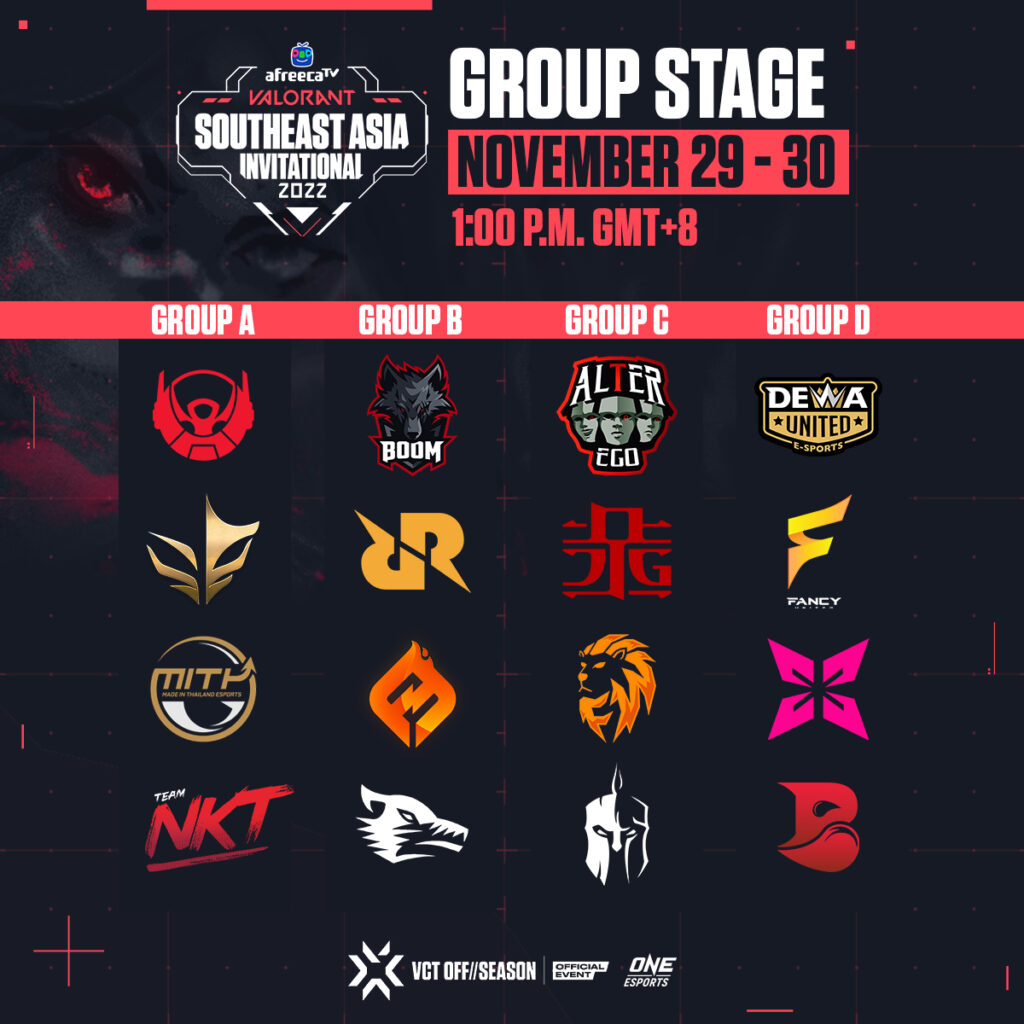 | | |
| --- | --- |
| 🇮🇩 Bigetron Arctic | 🇮🇩 Alter Ego |
| 🇵🇭 South Built Esports | 🇵🇭 SR Nacague |
| 🇹🇭 MiTH | 🇹🇭 FW Esports |
| 🇹🇭 Team NKT | 🇻🇳 Dominus Esports |
| 🇮🇩 BOOM Esports | 🇮🇩 Dewa United |
| 🇮🇩 RRQ | 🇻🇳 Fancy United Esports |
| 🇹🇭 FULL SENSE | 🇹🇭 XERXIA |
| 🇻🇳 Wolves X | 🇸🇬 Bleed Esports |
The opening day of the tournament is jam-packed with action, with ten best-of-one matchups that will take place, kicking off with a battle between South Built Esports and Bigetron Arctic. Ensuing matches will see MiTH up against Thai compatriots Team NKT and BOOM Esports taking on RRQ, before the opening match of the first day concludes with FULL SENSE and Wolves X from Vietnam. Following that, the elimination and winners' matches for those in Group A and B will follow.
The English language broadcast of the AfreecaTV SEA Invitational will be brought by a panel with some notable faces, including Darwell "Asurai" Llerena, Nico "BlackenBlue" Gayoso, and Dathan "Daks" Rosales. The event will be streamed on AfreecaTV and YouTube, with the following team of eleven taking you through the action in the English stream: 
🇵🇭 Darwell "Asurai" Llerena
🇵🇭 Nico "BlackenBlue" Gayoso
🇵🇭 Dathan "Daks" Rosales
🇵🇭 Jem "Donut" Dadula
🇵🇭 Angelica "Honeyglazee" Cortez
🇵🇭 Jayce "Jaeger" Stewart
🇵🇭 Mika "Mikafabs" Fabella
🇵🇭 Rafael "Raf" Alino
🇵🇭 Reycelle "Reyrey" Garrido
🇵🇭 Allyza "Tayrawr" Taylor
🇺🇸 Mary-Kate "Wolf" Ryan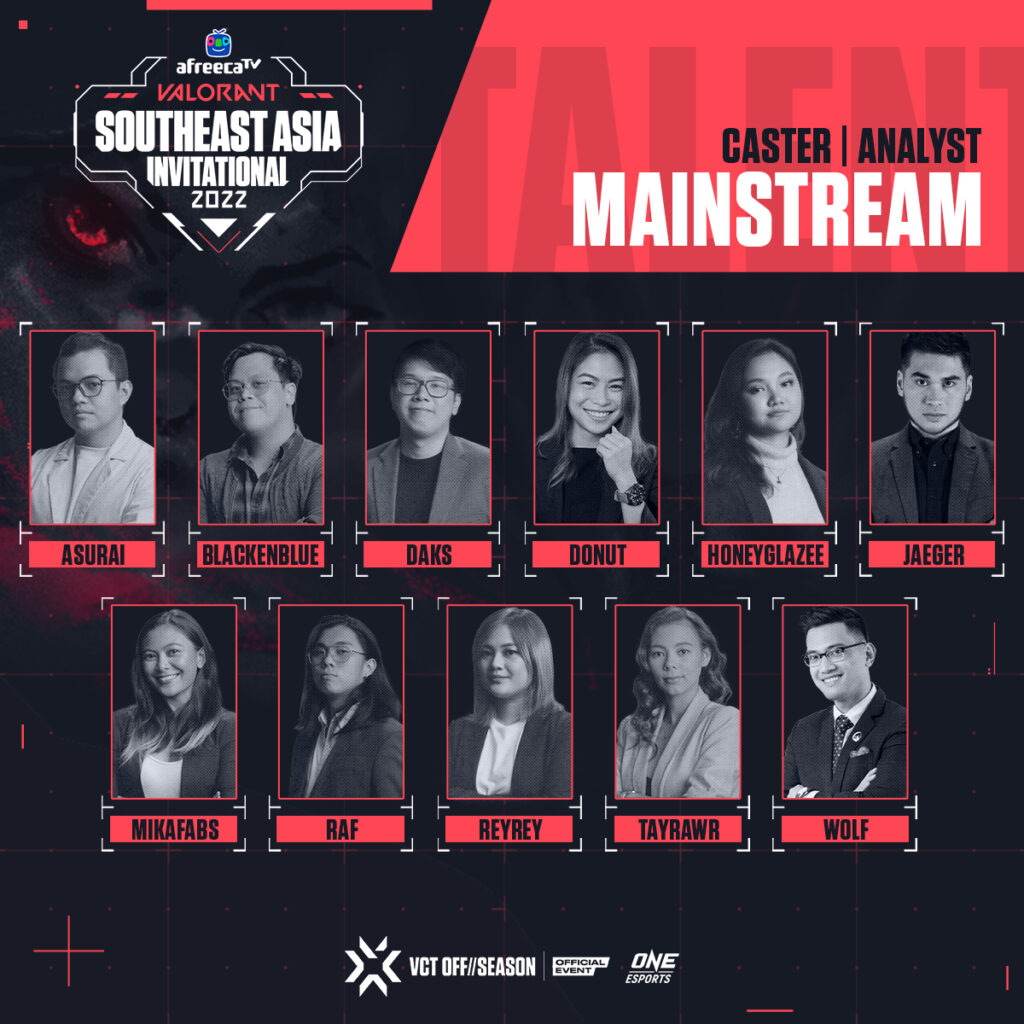 The US$25,000 allocated to the invitational tournament will be distributed amongst all competing teams followingly: 
| | |
| --- | --- |
| Place | Prize |
| 1st | US$7,500 |
| 2nd | US$3,750 |
| 3rd | US$2,750 |
| 4th | US$2,000 |
| 5-8th | US$1,250 |
| 9-12th | US$625 |
| 13-16th | US$375 |
---
For more insights on the Asian VALORANT scene and upcoming content like this, be sure to like and follow VALO2ASIA on Facebook, Twitter & Instagram.
---
Cover photo courtesy of AfreecaTV/ONE Esports