Chong "Fayde" Hoc Wah fills a gap in the BOOM Esports squad's technical staff by becoming the team's analyst.
BOOM Esports have announced the signing of a new analyst Chong "Fayde" Hoc Wah. The 24-year-old joins the Indonesian side after he was on the verge of signing with Kingsmen, whom he assisted in finishing second in the Bleed eSports Christmas Showdown over just a two-week span with the Malaysian side. 
The move marks Fayde's first foray into an analytical role, bringing with him a wealth of experience after occupying a coaching position with Team SMG for nine months. He will be working in tandem with coach Dong "meow" Ji, who has been with the team since June 2021. 
ALSO READ: BOOM Esports sign meow as coach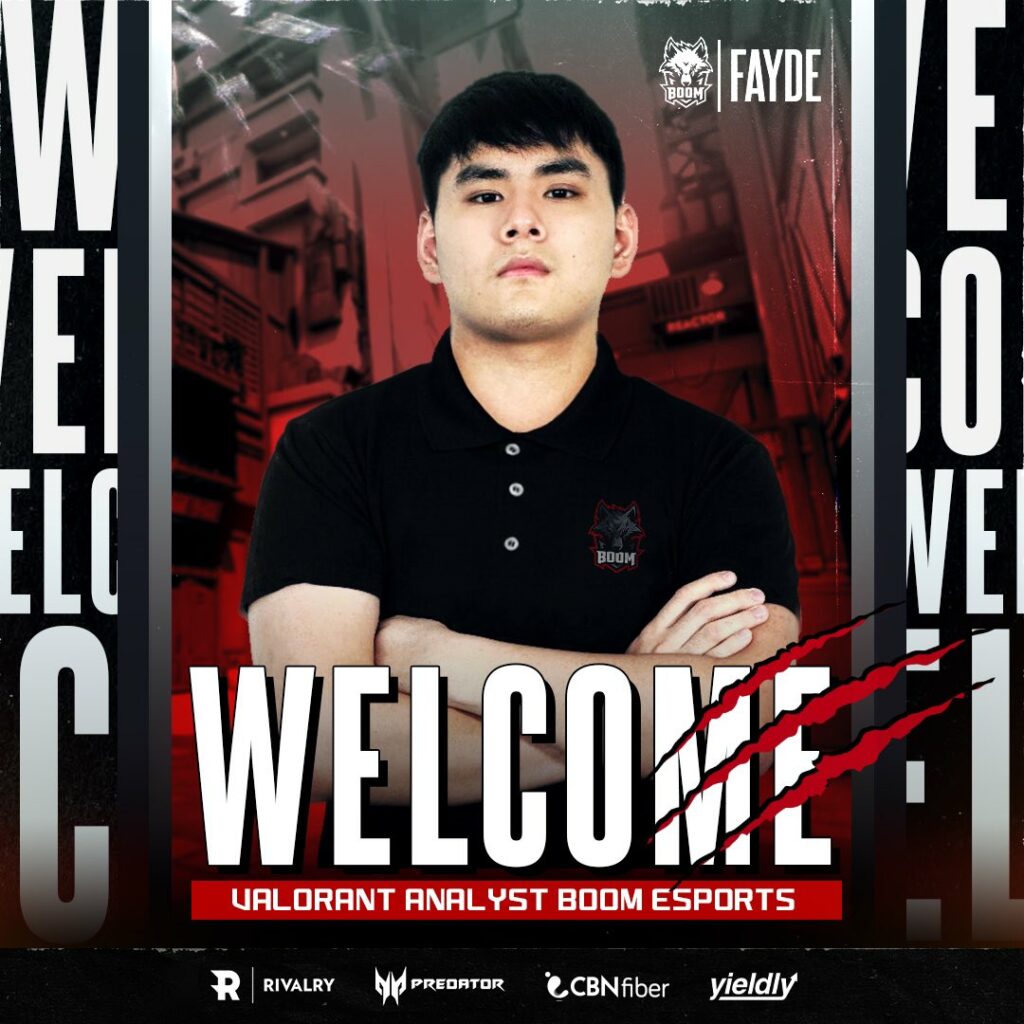 "When Dong 'meow' Ji reached out to me about joining them as an analyst, I did not think twice about the offer, as this is a role that I feel very comfortable at regarding in-game tactics and dissecting demos. I look to further develop my in-game knowledge together with the boys here. My goal for this year is to help the team qualify for the VCT Masters and ultimately Champions."
I have tried coaching last season with Team SMG, and it was a valuable experience because of the guidance I had from the management – shoutout to Orrin and Joy –. This time, I can focus more on the in-game matter since I am not longer have to deal with the problems outside the server." Fayde told VALO2ASIA.
Changes in the coaching staff are another step for BOOM's preparation heading into the busy schedule in January for the Indonesian roster, as the Gary "blaZek1ng" Dastin-led side are heading into the next season of VALORANT Champions Tour, which is set to start on January 20 for Indonesia.
"Fayde officially becomes our analyst for BOOM VALORANT! We believe in his abilities as a coach will provide the analytical skills needed to develop the boys to become a world-class team alongside 'meow', let's give him a huge shoutout Hungry Beasts!" the announcement reads. 
BOOM Esports now have:
🇮🇩 Gary "blaZek1ng" Dastin
🇮🇩 Saibani "fl1pzjder" Rahmad
🇮🇩 Rafi "frostmind" Diandra
🇮🇩 Rizkie "BerserX" Adla Kusuma
🇮🇩 David "Tehbotol" Monangin
🇰🇷 Ji "meow" Dong-jun (Coach)
🇲🇾 Chong "Fayde" Hoc Wah (Analyst)
---
For more insights on the Asian VALORANT scene and upcoming content like this, be sure to follow and like VALO2ASIA on Facebook, Twitter & Instagram.
---