VALO2ASIA caught up with Sarindhorn "JinNy " Wanothayarnchai, who played for X10 Sapphire to talk about her transition from a co-ed to an all-female team and her views regarding the Game Changers Championship.
THAILAND – If you have been following JinNy's career from the Counter-Strike era, you will recognize her as the only female player competing in the upper echelon of the Asian scene. She also helped Made in Thailand, the team she spent most of her career with in Valve's FPS, in becoming one of the best teams in Southeast Asia.
Following her transition to VALORANT, she began her career in Araikordai alongside Nantapol "Kongared" Boonying and Jirayu "wannafly" Meesuk. The roster was later acquired by Attack All Around in what would turn out to be a successful 2020 for JinNy and co., with various domestic and SEA trophies lifted.
ALSO READ: Here's every roster announced for VCT Pacific League 2023
Despite always qualifying for the 2021 VCT Thailand 2021 in both Stage One and Two, JinNy and Foxy Araikordai had never been able to reach the SEA Challengers at that time. It then led to JinNy's departure and her decision to switch to a Game Changers ecosystem. From open qualifiers, Mad Army managed to qualify for Game Changer Elite 2021. She almost became a champion in the tournament but lost the series against Alter Ego Celeste who many people thought was the best female team in the Asia Pacific. Mad Army later were acquired by X10 Esports and rebranded their name as X10 Sapphire.
The path was similar in 2022 but this time they qualified to Game Changer Elite through Last Chance Qualifier. X10 Sapphire had impressive runs in the tournament after winning against Bren Esports Victress, Team SMG, and even beat Alter Ego Celeste twice to become APAC representatives in Game Changer Championship 2022 that will be held in Berlin.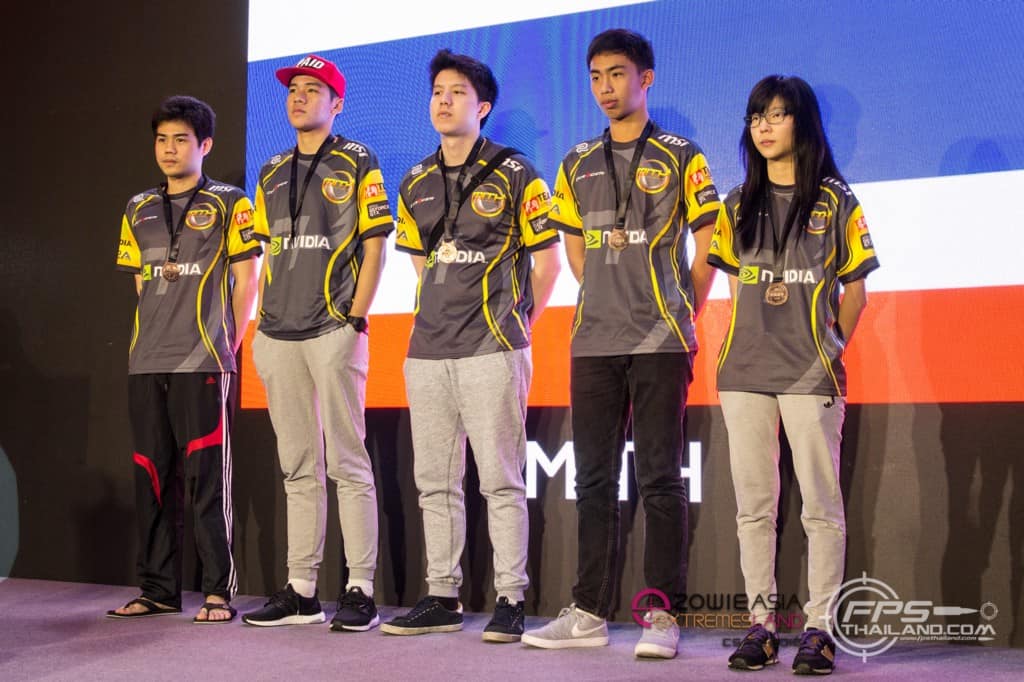 VALO2ASIA : You are known as a former professional CS player since 2014 and have even tasted the PUBG PC competitive scene with MiTH.Streamer. What were your best moments while playing as a professional player before moving to VALORANT?
JinNy: I believe that competing in Counter-Strike was one of the greatest moments for me, because I traveled to so many countries with my team, and I learned a lot and gained so much experience when I formed a team team with Made in Thailand.
VALO2ASIA : What was your first impression of VALORANT as a player that transitioned from CS?
JinNy: To be honest, I had no intention of switching from CS:GO to VALORANT at first since I had planned to retire and become a full-time streamer. But my friends urged me to play VALORANT for fun, so I simply liked playing with my buddies and learning about agents' abilities. It's a little difficult at first when I play the game, however, the [recoil] is quite similar to CS.
VALO2ASIA: You started your career in AAA, What did you think about AAA's performance at that time, and what was the reason it disbanded early?
JinNy: I feel our performance in AAA was good, but we still had COVID-19 problems at the time, so we could not participate in LAN competitions and had to settle with online events. After that, we decided to quit the organization since AAA had no plans to [continue to compete in VALORANT anymore], thus we switched to Foxy Araikordai.
VALO2ASIA: After you left Foxy Araikordai, you decided to play with a female team for the first time in your whole career since CS:GO. Could you elaborate more on the reasons behind the decision to stop playing in a co-ed team?
JinNy: The reason behind my decision to leave Foxy.Araikordai was that I was addicted to ROX (Ragnarok mobile game), thus I had stopped playing VALORANT since I no longer had the desire to play. I also wanted to start my own company, therefore I took a vacation from streaming for at least four to five months.
ALSO READ: Orangutan Female part ways with oreopheliaa and Kachow
VALO2ASIA: You started your career on the female VALORANT team in Mad.Army, how was the story when you first joined the team?
JinNy: I had been approached by both male and female teams to become their stand-in a bunch of times, but I refuse to play in an all-female team because I started my career competing in a male team and I felt like the male scene is more serious and developed. One day, Chalita "Muffyn" Buathong approached me one day and asked me to stand in for Mad Army in the 2021 VCT Game Changers Wild Card stage, which I agreed since it was just the right timing that I want to play VALORANT competitively [again].
They then asked me to continue playing with them in early 2022. When I learned that the 2022 VCT Game Changers Championship will be hosted on LAN, I decided to put my efforts into this team in order to push myself for success in the female scene.
VALO2ASIA : The path to VCT 2022 Game changer Elite is similar to last year in that you start from the Wildcard stage, but this time you became champion after defeating Alter Ego Celeste in the grand final. What do you think about your team's performance from the beginning until the grand final?
JinNy: Since I joined this squad, I've seen that they are solid players, but at first they would rely on individual skills too much, so we all tried to fix it and learned new things. Honestly, it was difficult and time consuming to learn and adjust our playstyle.
I am happy that we can address it before LCQ. Otherwise, [I think] we would be unable to even get a spot in the Elite stage. All of my teammates deserved the win because they worked so hard this year, and it was a stressful one.
VALO2ASIA: From your perspective, what is the difference between the main VCT circuit and the female scene that is Game Changers?
JinNy: The main difference between regular VCT and Game Changers is the bigger number of teams or professional players. Including a higher number of viewers in every live game.
VALO2ASIA: As an in-game leader, do you think there's a massive difference between both circuits?
JinNy: When I lead a male team, I can focus more easily on fixing issues and performing. Because the players' individual talent is [usually] excellent, I can accomplish both at the same time.
While on a female team, I cannot focus the same way again because the level of the game [usually] is not as high as on male teams. Imagine having to both IGL and coach at the same time throughout the game. I hardly have time to glance at my crosshair.
VALO2ASIA: Which team do you wish to meet in Game Changer Championship in Berlin?
JinNy: To be honest, I am not focusing on which team [I'd like] to play. I just want to compete and do my best.
VALO2ASIA: Before we end the interview, is there any advice for any female player who wishes to play competitively in VALORANT?
JinNy: In my opinion, it does not matter if you are a good or terrible player in VALORANT as long as you put out effort and try hard to improve yourself and be a player with a good mindset. Do not be afraid to try anything you want to be; just try and learn from your mistakes and successes.
---
For more insights on the Asian VALORANT scene and upcoming content like this, be sure to like and follow VALO2ASIA on Facebook, Twitter & Instagram.
---
Cover photo courtesy of ESL ASIA
This interview has been edited for length and clarity.