With a long and successful career spanning two gaming titles, HellrangeR leaves behind a legacy filled with an extensive trophy cabinet.
INDIA – Bhavin "HellrangeR" Kotwani has officially announced his retirement from competition today. "As of today, I am retiring from professional gaming," his statement reads. "It's time to start a new journey. Grateful to have done what I love for more than twelve years and eight years professionally. I am glad I got to play with the boys in my last game; no one else I would rather have by my side."
HellrangeR's decision to step away from esports marks the end of a prestigious esports career that encompassed well over half of its existence of CS:GO and the initial three years of VALORANT.
The 25-year-old in-game leader is best known for his four-year tenure with Global Esports, representing the organization for precisely 1,523 days, from April 16, 2019, to June 17, 2023.
Beginning with an appearance at MTS GAMEGOD 2014 with Sudhen "Bleh" Wahengbam, who is now known as India's top caster on the international stage, HellrangeR traveled to his first major LAN event in Bangalore and first came into the general public eye. Constant appearances at domestic SoStronk competitions and domestic qualifiers led to the team eventually being picked up by Dare2Dream.
"Truth be told, I always loved and enjoyed shot-calling, though early on in my career, I would panic sometimes and rage a lot. Those were the two things I had to work on over the years. I feel that I was always comfortable, but when it comes to being a decent team leader and captain, it took me a couple of years for the same." he shared in an interview with Sportskeeda.
HellrangeR wore the jerseys of Team MxB, Dare2Dream, and Eternal Esports before being given his big break in late 2017 when he joined the renowned Indian powerhouse, Entity Gaming. His contribution helped elevate the team to one of the most notable in the history of Indian Counter-Strike, securing victories in the ESL India Premiership Winter 2017 and 2018.
After parting ways with Entity in early 2019, HellrangeR found a stable home with Global Esports, a banner he would represent until the end of his esports journey. During his tenure with GE in Valve's first-person shooter, he participated in numerous ESL India Premiership events and attended significant tournaments such as DreamHack Open Summer 2020 Asia, DreamHack Mumbai Invitational 2018, Conquerors Insignia 2019, and eXTREMESLAND 2019 South Asia.
The in-game leader made his way back to Global Esports as his career progressed, continuing his association with the organization for an impressive duration of two years and eight months in VALORANT alongside the GodSquad roster. Eventually he chose VALORANT as his final competitive game, culminating it with a plethora of trophies and top placings to his name, the titles at the 2021 VALORANT Conquerors Championship, 2022 Skyesports Champions Series, and 2022 Skyesports Souvenir Mumbai being some of the highlights.
Moreover, Global Esports and HellrangeR represented the South Asia region in the two stages of the 2022 VCT APAC Challengers, as well as the 2021 VCT APAC Last Chance Qualifier. "I still remember every victory we had, like the big ones. I remember it in my head like when we won VCC, I remember SkRossi crying and me hugging him, telling him, 'I'm proud of you.' I remember us defeating DWG KIA, and nobody expected us to defeat them." HellrangeR said in GE's 'One Last Dance' documentary.
In more recent times, HellrangeR took a backseat after the conclusion of the 2022 OFF//SEASON period, following the announcement of Global Esports as one of the ten partnered teams for the VCT Pacific League. While waiting for the 2023 VCT Pacific season to commence, he continued playing alongside his teammates, including Ganesh "SkRossi" Gangadhar and Abhirup "Lightningfast" Choudhury, under the original GodSquad name. They competed together at the VALORANT India Invitational, TEC Challenger Series 9, and Skyesports SEA Championship.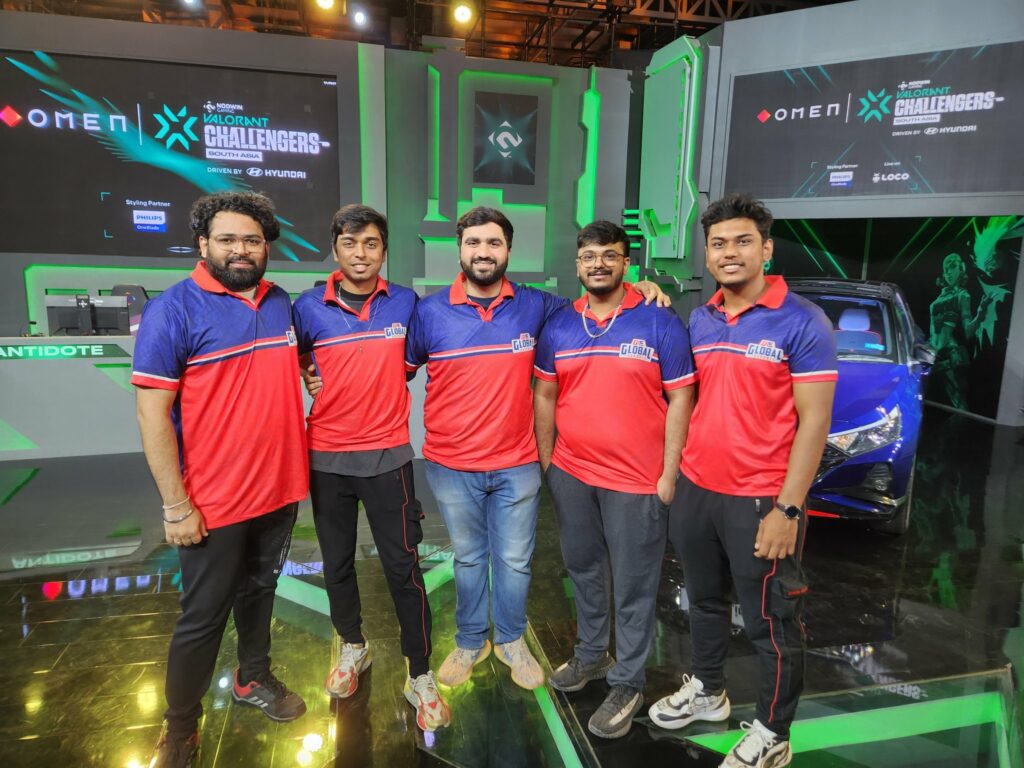 However, HellrangeR never returned to competitive play after that period and ultimately retires from VALORANT, with the VCL South Asia Split 2 showmatch early this month being his last time in the server in an official capacity. "I remember the time we almost wanted to break the team, but we fought for each other, fought with each other for each other, to keep each other in the team."
"I hope our journey is something that ignites the passion of a lot of upcoming future stars and they do a lot more than we could ever do for India. I always did it for India. For me, that has always been my goal, and I hope the next generation or the next batch of players can surpass me and everyone here at Global Esports. I just hope that we give people a small glimmer of hope in helping them achieve that."
During his tenure with Global Esports, HellrangeR played in a remarkable number of rounds exceeding 1,115, as documented by HLTV.org's CS:GO records. In VALORANT, he further left his mark, accumulating an impressive total of over 10,172 rounds, as recorded by THESPIKE.gg.
While his esports career may have come to a close, HellrangeR's influence as one of India's most decorated esports players lives on to inspire fans and fellow players, leaving behind a significant legacy that has played a crucial role in the growth of Indian esports to its present success.
---
For more insights on the Asian VALORANT scene and upcoming content like this, be sure to like and follow VALO2ASIA on Facebook, Twitter & Instagram.
---
Cover photo courtesy of Skyesports