The Korean coach ends his tenure with NORTHEPTION after joining the team in December of last year. 
SOUTH KOREA – Jeong "Jaemin" Jae-min has announced his departure from NORTHEPTION following a seven-month period as coach and will be looking for new opportunities.
Jaemin has his eyes set on several offers, yet he intends to take additional time to weigh other forthcoming ones, as indicated by his tweet. He will now be looking for head coaching opportunities but is also willing to integrate into an already existing support staff as another coach.
Known for his previous coaching roles at NUTURN Gaming (PROPARTY) and On Sla2ers (ESportsConnected), Jaemin joined NORTHEPTION late last year as part of the team's rebuild around Kohei "BlackWiz" Mikami and Daichi "Derialy" Doi who represented the team in Copenhagen. 
ALSO READ: Red Bull Campus Clutch returns for 2023 in Istanbul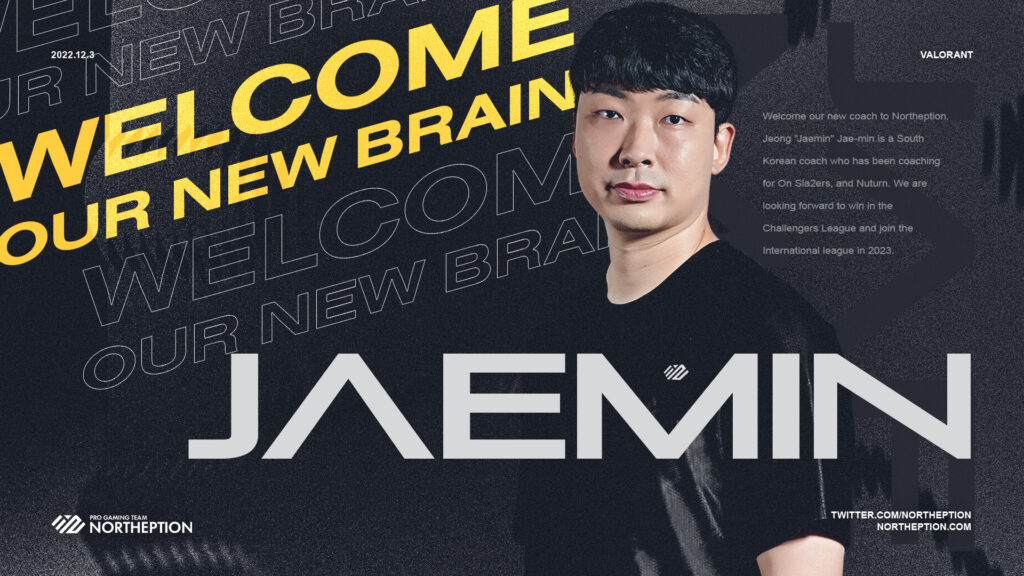 He worked with NORTHEPTION during a turbulent period where the team lost three of their top players, with Tomoki "xnfri" Moriya and Kim "Meteor" Tae-O moving on to play in the VCT Pacific League with DetonatioN FocusMe and Gen.G, respectively, and in-game leader Cho "JoXJo" Byung-yeon joining rival Japanese team FENNEL.
Under the wing of Jaemin's coaching, the team succeeded in reaching the main events of VCL Japan Split One and Two, securing a 5-6th place finish in both.
This announcement comes at a time when NORTHEPTION are also in the process of finding two new players after parting ways with "wai" and terminating "TenTen"'s contract due to an incident involving racist remarks. The organization started scouting for a new coach a day following Jaemin's departure announcement.
NORTHEPTION are now aiming to onboard two new players and a head coach ahead of the OFF//SEASON window start in September.
With Jaemin's departure, NORTHEPTION are now down to three and without a coach:
🇯🇵 Kohei "BlackWiz" Mikami
🇯🇵 Daichi "Derialy" Doi
🇰🇷 Yoo "Moothie" Seung-woo
---
For more insights on the Asian VALORANT scene and upcoming content like this, be sure to like and follow VALO2ASIA on Facebook, Twitter & Instagram.
---
Cover photo courtesy of VALORANT Esports Korea