Lionne Esports have bolstered their ranks with the additions of Keith "FireSaiyajiN" Madarang and Abdul "Rababz" Permites. 
PHILIPPINES – Keith "FireSaiyajiN" Madarang and Abdul "Rababz" Permites have been officially unveiled as members of Lionne Esports.
Lionne Esports made headlines earlier in the month when they introduced former Action PH duo George "Georggyyy" Lachica and Philip "Aryu" Vergara to their roster. FireSaiyajiN and Rababz will join the aforementioned duo on the roster, along with the final member who will be announced later. 
ALSO READ: Lionne Esports announce lineup featuring former Action PH duo Georggyyy and Aryu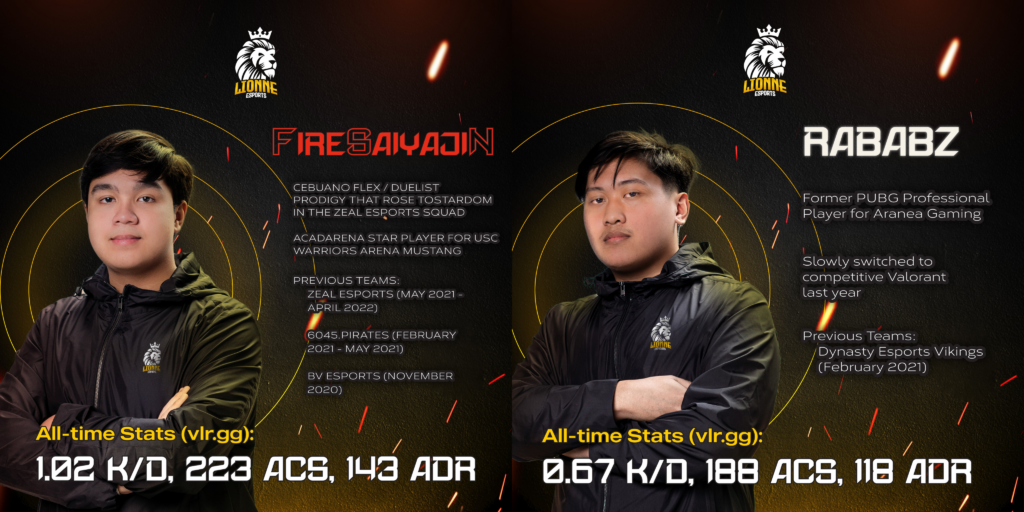 FireSaiyajiN, widely known for his time with 6045pirates and Zeal Esports, played a key role in Zeal Esports' title-winning campaign in the KJC eSports VALORANT Tournament: One, helping the team secure the grand prize of HK$5,000 with a 253 ACS as a Duelist throughout the tournament. 
However, the team was unable to reach the same heights after that, cutting a frustrating figure in the subsequent official VCT tournaments, where a third-place finish in VCT Philippines Stage 3 Challengers 2 last year was their best result to date. The Duelist player had been assessing his options since March after the Cebu-based organization decided to part ways with its roster barely a month after adding Tim "dummy" Olson and Dominic "Kimmy" Lee. 
Meanwhile, Abdul "Rababz" Permites is still a relatively unknown prospect in the upper echelon of Filipino VALORANT, having just two matches recorded on VLR.gg while playing with Dynasty Esports Vikings in the 2021 VCT Philippines Stage 1 Challengers 2 Qualifier.
The Filipino team will soon begin preparations for the off-season, in which there will be various third-party tournaments ready to attend.
Lionne Esports are missing only one player now:
🇵🇭 George "Georggyyy" Lachica
🇵🇭 Philip "Aryu" Vergara
🇵🇭 Keith "FireSaiyajiN" Madarang
🇵🇭 Abdul "Rababz" Permites
---
For more insights on the Asian VALORANT scene and upcoming content like this, be sure to like and follow VALO2ASIA on Facebook, Twitter & Instagram.
---
Cover photo courtesy of Lionne Esports