NAOS Esports have been depleted to three members as the organization looks to rebuild the team, it has been announced.
PHILIPPINES – NAOS Esports have bid farewell to Carl "senyorcarL" Carandang, Noel "NDG" Guia, Jerome "Mojer" Literal, and analyst Lowell "Ell" Marcelo, marking the end of their stint with the organization.
"Thank you for being part of NAOS Esports. Never stop grinding, and keep your head up high. You guys have been pivotal to our success so far, and we can't wait to see you soar to new heights and fly even higher. Rise above the ordinary, rewrite the rules, and carve your path. This is not goodbye, but see you later," the announcement reads.
The move is the first in a series of upcoming changes for the Filipino banner following their quarter-final finish at VCT Ascension Pacific, a result that saw them miss out on a coveted spot in the VCT Pacific League. A minimum of two new players are expected to join the team as NAOS Esports initiate a rebuilding phase for the next season.
ALSO READ: Rare Atom add former Shadow Corporation trio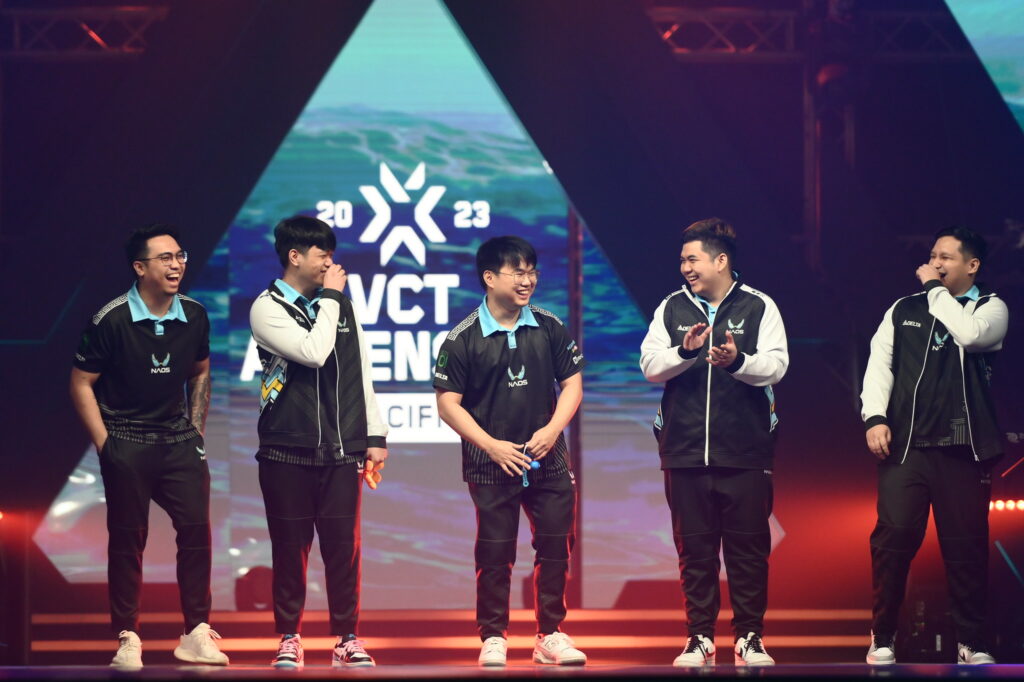 Having been with NAOS since July 2022, NDG and Mojer's departures will leave the team without any players from their 2022 season. Meanwhile, senyorcarL, who came in as the team's latest addition in the midst of VCL Philippines Split 2 from ZOL Esports, will also be departing.
NAOS Esports saw success with their previous roster, clinching the victory at VCL Philippines Split 2 over SIBOL VALORANT representatives Oasis Gaming, thereby establishing themselves as the top Filipino team to represent the region at VCT Ascension Pacific.
The team managed to impress in Bangkok by defeating international opponents such as Fancy United Esports, BOOM Esports, and ONE Team Esports but fell short against eventual finalists SCARZ from Japan in the single-elimination playoff stage at the Queen Sirikit National Convention Center.
With the recent departures, Johnty "JA" Arone, Deko "PapiChulo" Evangelista, and Riley "witz" Go are the only remaining members from the previous roster, all of whom have donned the blue and black jerseys since December of last year. As NAOS Esports undergo restructuring, the newly formed team will be built around this remaining trio and coach Derren "Aimix" Dela Cruz.
These three players have shared a competitive history with Bren Esports in Counter-Strike before transitioning to VALORANT under South Built Esports, with the exception of witz who moved to Bren Esports VALORANT. Over the past quarter, they have repeatedly stood out as the team's best three performers in 37 series and topped the charts in VCL Philippines Split 1.
Having entered free agency, senyorcarL, NDG, Mojer, and Ell have hit the free agent market and are now open to offers from organizations. Ell was the first to announce his availability for roles including coach, assistant coach, or analyst. Meanwhile, NDG also took to Twitter to share, "I'm not done and I'll be back."
NAOS Esports still have two players left to complete the roster heading into the OFF//SEASON window:
🇵🇭 Deko "PapiChulo" Evangelista
🇵🇭 Johnty "JA" Arone
🇵🇭 Riley "witz" Go
🇵🇭 Derren "aimix" dela Cruz (Coach)
---
For more insights on the Asian VALORANT scene and upcoming content like this, be sure to like and follow VALO2ASIA on Facebook, Twitter & Instagram.
---
Cover photo courtesy of VCT Pacific