With the departure of oreopheliaa and Kachow, Orangutan Female are now left with just three players and an open calendar until the end of the year. 
INDIA – Orangutan Female have officially parted ways with Risalma "oreopheliaa" Agnia and Dominique "Kachow" Denise, the organization has announced. Although no statement was given by the organization, Kachow revealed in a Facebook post that she will be taking a break from the Game Changers scene and focusing on her well-being. 
"It has been an overwhelming past few months and I felt like I needed a reset. This year was filled with unforgettable opportunities and experiences, and I am glad to be one of the few people who got to experience them. I am thankful for the people who have been by my side and those who continued to support me; I appreciate it a lot."
While my plans for the future are still uncertain, my love and passion for gaming are still there. I will come back stronger next year and I am definitely not gonna let myself lag behind. Thank you guys!" Kachow says.
ALSO READ: Bleed Esports qualify for VALORANT India Invitational by Galaxy Racer over SBE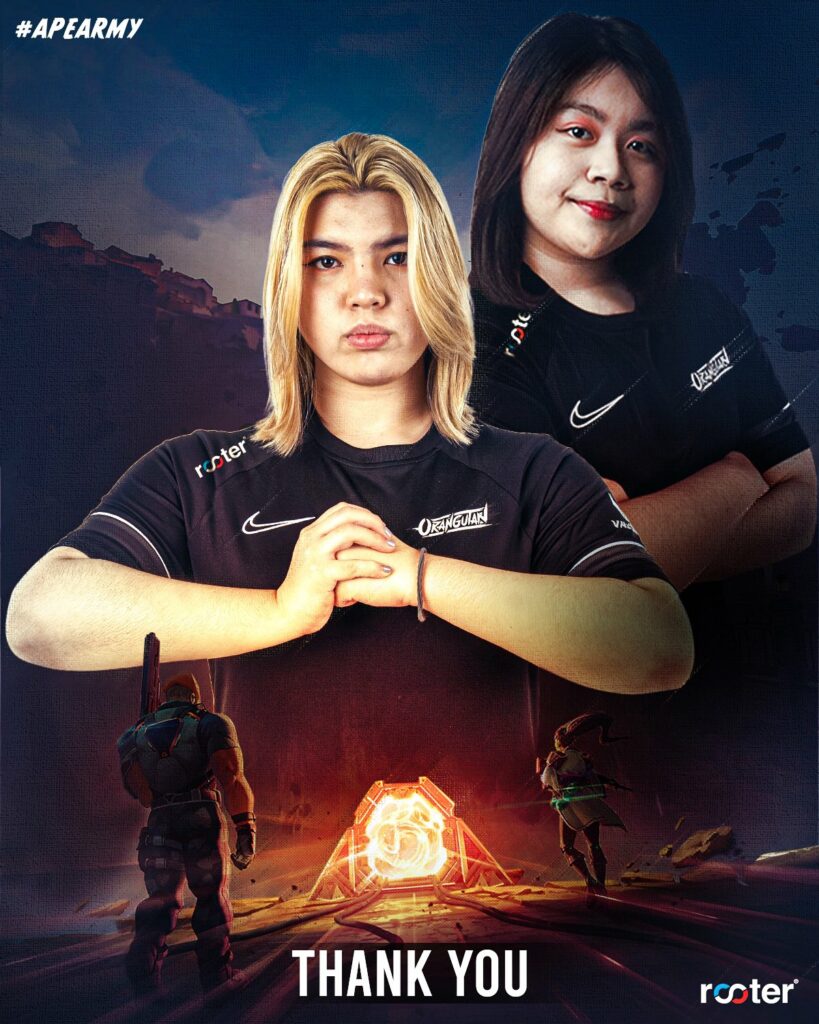 Kachow had joined Orangutan Female in April when the organization ventured into the Game Changers circuit with the signing of an international roster consisting of Kachow, Japips, Neha "CaspeR" Sottany, Swayambika "Sway" Sachar, and Ayesha "Mythica" Samman. On the other side, the departure marks an end to oreopheliaa's three months brief stint with the team, with no official appearance recorded under the OGT X banner. 
The news comes off the back of moderate success for the international lineup this year, who have seen highs such as consistent playoff appearances for three Opens and a victory in the Overtime stage to clinch a place in the Elite stage. The latter was Kachow's last event under the organization, which acts as the qualifier for the VCT Game Changers Championship held in Berlin, Germany this month. Unfortunately, Orangutan Female failed to reach the finals after losing to AEC and Bren Esports Victress in the semi-finals to finish 5-6th.
Meanwhile, with oreopheliaa and Kachow released, Orangutan Female are down to three players: Sway and Japips, the two last members of the original Orangutan Female core, and Chloe "Chloettw" Wong Ting Ting, the second-most recent addition.
Orangutan Female now have the following:
🇸🇬 Chloe "Chloettw" Wong Ting Ting
🇮🇳 Swayambika "Sway" Sachar
🇵🇭 "Japips"
🇵🇰 Asad "GuNNeR" Azam (Coach)
---
For more insights on the Asian VALORANT scene and upcoming content like this, be sure to like and follow VALO2ASIA on Facebook, Twitter & Instagram.
---
Cover photo courtesy of Orangutan