VALO2ASIA caught up with Kyung-In "Tr1cks" Lee, who formerly played for Galaxy Racer and Nigma Galaxy Female squads, prior to the start of Game Changers Elite to talk about her transition to VALORANT, the experience of her coaching and playing for NGX/GXR simultaneously, and her views on the current Game Changers APAC scene.
PHILIPPINES – Known as one of the country's top female players both in CS and VALORANT, Tr1cks' career in the latter is rather unique in that she managed to become a professional player and a coach simultaneously in two of Galaxy Racer's female and male VALORANT divisions, respectively. She achieved some success in both capacities before choosing to focus solely on her professional career this year.
She most recently qualified for VCT Game Changers APAC Elite with ex-Nigma Galaxy Female after clawing their way from the lower bracket of the Overtime stage and defeating W Streak Female in the decider match. The roster was then picked up by Serbia-based Rising Hope afterward, but the collaboration ended after a short stint following their losses to Team SMG and Bren Esports Victress in the Elite stage.
ALSO READ: Talon Esports VALORANT holding open recruitment ahead of VCT 2023
VALO2ASIA: As a former CS:GO player, what made you decide to return and compete as a professional player in VALORANT?
Tr1cks: I have been following VALORANT since they unveiled Project A. So when it was released, I immediately played it with my friends. Initially, I joined some tournaments with my friends. I had other work that I was doing at that time, and I was an analyst for Galaxy Racer in 2021, and then I became a coach for them. After a while, the organization asked me to play for the female team, and I agreed as their sub-player. Since then, players want me to keep competing, so I competed again in VALORANT.
VALO2ASIA: When you became the coach of the Galaxy Racer male team, the team showed great results and one of them is when the team qualified for the 2021 VCT SEA Stage 3 Challengers. How was the experience working with them?
Tr1cks: I enjoyed doing the coaching things, especially since I love teaching. I was a teacher in school; it was the job that I did outside of esports. It was a lot of fun when I became the coach of Galaxy Racer. I feel very honored to be able to coach and be trusted by the players and other coaches as well. Overall, it was a very rewarding experience for me.
VALO2ASIA : If you can only pick one, which one do you prefer? coaching a team or playing professionally?
Tr1cks: It was stressful to do coaching duty and play professionally at the same time. I would not recommend that to other people, since in my experience, my attention was divided and I had no time to even rest. I felt it was rewarding to do both of them, but also very taxing.
Well, that is hard to choose. But I guess if you ask me right now, I would prefer to become a professional player. It was a rewarding experience when you work as a coach, but I also know too well the players' frustrations knowing what they want to do, but you can not help them because you are not in the server. I like to play with them as a player so I can apply what is in my head.
ALSO READ: Report – Global Esports sign former XSET player AYRIN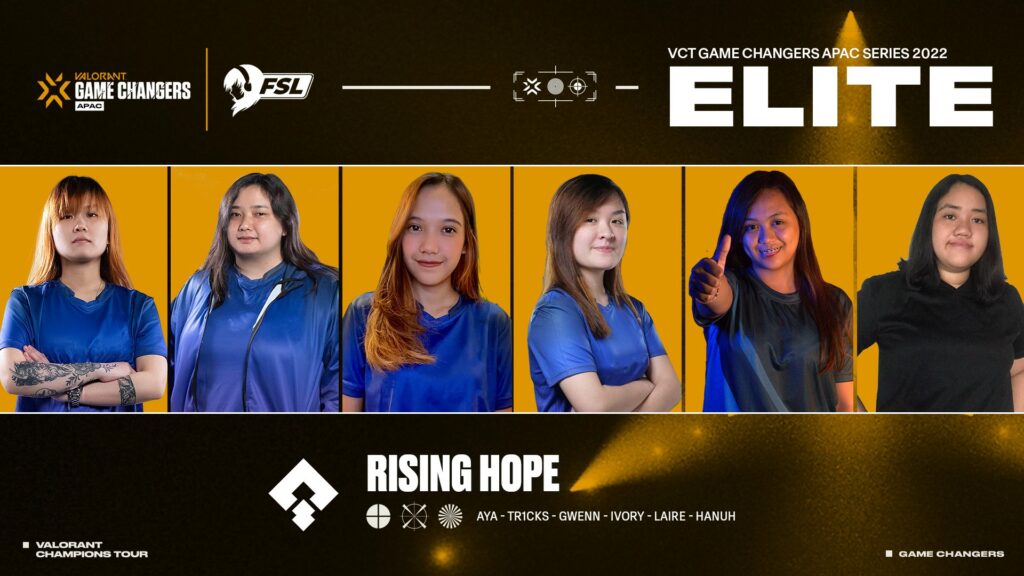 VALO2ASIA: What do you think about the competitiveness of female teams in the APAC region?
Tr1cks: Everyone has been training really hard, even if you look at the APAC region as a whole, not just the female teams. It is about the playstyle that is tuned into everything. VALORANT is still young, I look forward to seeing them all the time the playstyle whether I do know that there is a difference in the playstyle in every team in APAC but it is just a matter of time
VALO2ASIA: How do you place your teams with the rest of the Asia-Pacific female competitions?
Tr1cks: To be honest, I never know how we stack up against other APAC teams. Everybody is training extremely hard. I do not have any idea [of where we stand]. I cannot say if we are right now the best team or in the top three but, hard work is the factor in how our team is going perform in APAC
VALO2ASIA : How far do you think any APAC representatives that qualify (X10 Sapphire) can go in Berlin?
Tr1cks: Any APAC team that made it to the Berlin stage is the best, including every team in the region. I am excited to see how their playstyle is and how the APAC representatives can adapt against the others
VALO2ASIA: Any message to female players who want to become pro players in VALORANT?
Tr1cks: I would say it takes a lot of hard work to become a professional player. I would say If you choose to follow the career, yes, the work is hard, and you get to see it when you play in the tournament. [But] that is the most fun part of it
You develop friendships with both your teammates and your opponents. Do not forget to enjoy the process, because you play your best VALORANT when you are having fun.
---
For more insights on the Asian VALORANT scene and upcoming content like this, be sure to like and follow VALO2ASIA on Facebook, Twitter & Instagram.
---
Cover photo courtesy of ZOWIE DIVINA
This interview has been edited for length and clarity.