Jessie "JessieVash" Cristy spoke to several members of the press ahead of Team Secret's game against Team Liquid tonight.
BRAZIL – In a pre-event press conference of VCT LOCK//IN, Jessie "JessieVash" Cristy Cuyco shared insights into his team's new approach under the guidance of coach Evan "Warbirds" Olzem, the addition of Adrian "invy" Reyes, and the language dynamics with two non-Filipino members in Warbirds and Lionel "lenne" Lim.
One of the most significant changes for the team has been the introduction of Warbirds as coach, who according to JessieVash, has helped them become a more structured team. He explained that their strategy had previously been "pretty chaotic," but Warbirds' experience with North American teams has been instrumental in guiding their new approach.
"I think Warbirds helps us a lot to be a more structured team because our strategy before was pretty more chaotic, I think, so yeah, I think he helps us a lot like how the NA [North American] teams normally do things."
ALSO READ: Velocity Gaming unveil Doma and ec1s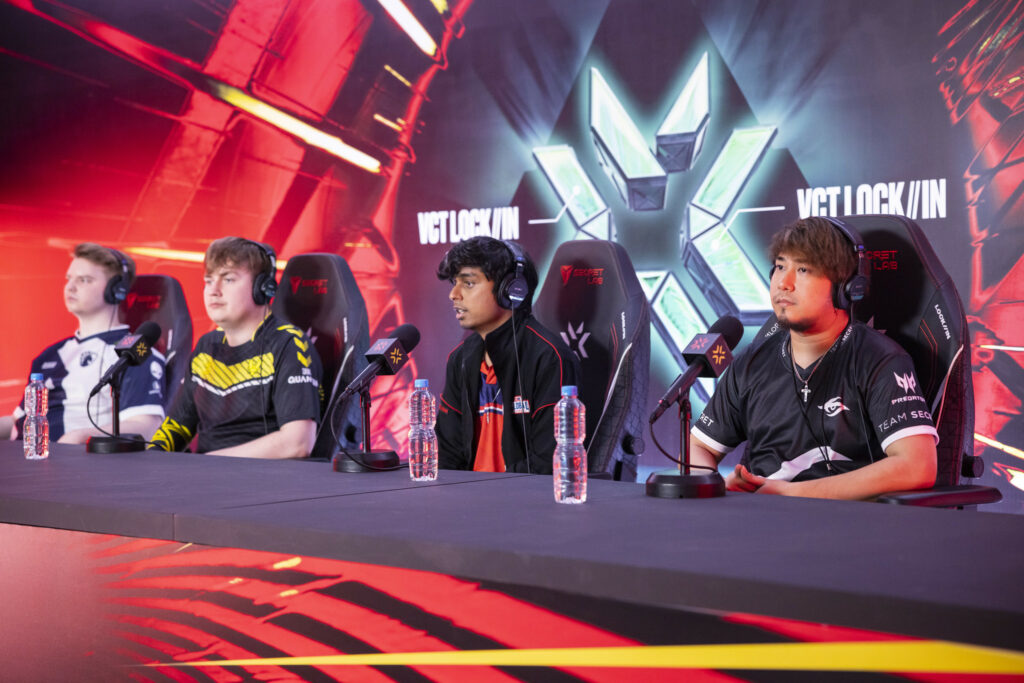 Hailing from the States, Warbirds is mostly known for his time in the lower reaches of the North American scene, standing in behind Renegades and Oxygen Academy throughout the past two seasons before being called up to the Filipino side.
Invy's addition to the team has also been a positive change, bringing "more firepower to the team, and he is a very flexible player," JessieVash said about the former Oasis Gaming player. Invy showed impressive performance during the OFF//SEASON, particularly at the VALORANT India Invitational by Galaxy Racer, where he averaged a team-high 229.5 ACS with KAY/O, Skye, and Breach. Team Secret ultimately finished 3rd-4th place after losing to Paper Rex in the semi-finals, with invy sitting at the top of the scoreboard.
The Filipino Sova also highlighted invy's vocal and communicative skills, which have contributed to improved discussions amongst the team. "When it comes to the discussion, we are doing a really great job discussing every problem and the solution to our problems, and yeah, I think he is a really great addition to the team."
The language dynamics of the team have also changed, with Warbirds and former Bleed Esports player Lionel "lenne" Lim being the new, non-Filipino members. JessieVash revealed that they continue to speak Tagalog with each other during gameplay, but discussions after the game are conducted in English. "I think it is working well for us. Normally, when we are with Warbirds in the practice room, we speak English, but when we are together [with just] the Filipino players, we all speak Tagalog."
ALSO READ: VCT Pacific's Team Secret video profile released by VALORANT Esports
---
For more insights on the Asian VALORANT scene and upcoming content like this, be sure to like and follow VALO2ASIA on Facebook, Twitter & Instagram.
---
Cover photo courtesy of Lance Skundrich/Riot Games