VALORANT Esports hits new heights in the Asia-Pacific region – excluding Japan and Korea – during the latest Challengers event.
VCT APAC Stage 1 Challengers garnered a peak viewership of 99,570 and recorded an average of 34,631 across its 128 hour airtime, according to Esports Charts.
The competition reached its peak on the last day when 99,570 viewers witnessed the Lower Bracket Final match between XERXIA Esports and Bleed eSports. It became the tournament's most-watched matchup as both teams fought tooth and nail to earn a berth at VALORANT Masters 1 Reykjavik, a battle that went the distance on the final map in favor of the Thai side. Thai streams accounted for 50.75 percent of the audience during the match (50,532). 
ALSO READ: VCC 2022 becomes APAC's most-watched VCT sub-regional event in Stage 1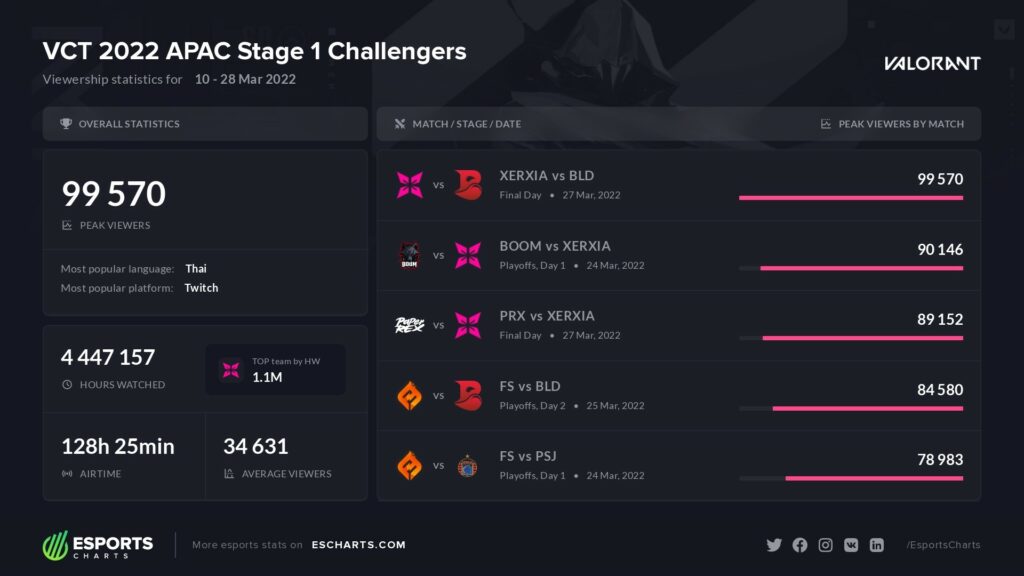 VCT APAC Stage 1 Challengers saw a considerable viewership increase of 65.01 percent vis-à-vis the last Challengers Playoffs (VCT Stage 3 SEA Challengers Playoffs) with only 60,340 viewers. It did, however, draw fewer viewers than the 2021 VCT APAC Last Chance Qualifier.
A record-breaking 191,768 people watched the aforementioned event, in which FULL SENSE faced NORTHEPTION for the tournament championship and a berth at VALORANT Champions last year. As predicted, Japanese viewers were the most significant contributors to the massive figures, contributing 50.45 percent of the total (96,756).
ALSO READ: Paper Rex qualify for 2022 VCT Masters Reykjavik over Bleed eSports
Interestingly, the clash between BOOM Esports and XERXIA Esports on the first day of the playoffs became the second most-watched matchup in the VCT APAC Stage 1 Challengers, with a high of 90,146 viewers.
The grand final between Paper Rex and XERXIA Esports came in third place with 89,152 viewers. The competition offered US$150,000 in cash as prizes, as well as two coveted spots at VALORANT Masters 1 Reykjavik, with winners Paper Rex taking home US$30,000 and getting a direct spot in the playoffs of the Masters event.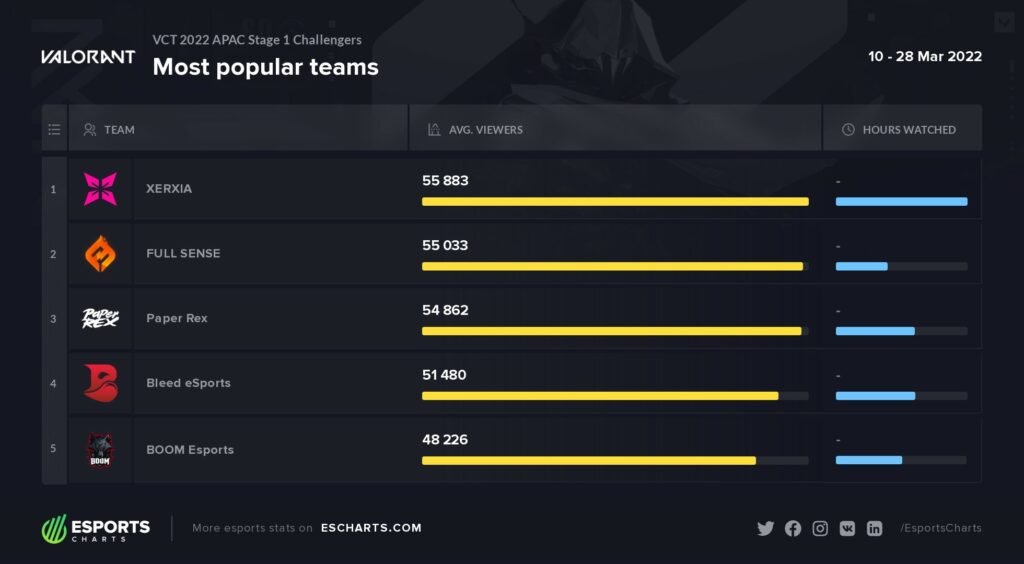 XERXIA Esports drew the most audience, generating over 1.14 million hours watched, with three out of the five most popular games were with XERXIA playing. All top five matchups had a Thai team playing in them, according to Esports Charts.
The tournament was streamed in a number of languages, including Thai, English, Bahasa, Hindi, Tagalog, Vietnamese, and more. 17,300 people were watching the stream on the Indonesian channels simultaneously, while English gathered 48,611 VALORANT fans at its peak.
---
For more insights on the Asian VALORANT scene and upcoming content like this, be sure to like and follow VALO2ASIA on Facebook, Twitter & Instagram.
---
Cover photo courtesy of VALORANT Esports Korea (Illustration)