The VCT Game Changers APAC Last Chance Qualifier is now down to the final eight teams competing for the final two spots in the Elite stage.
APAC – The VCT Game Changers APAC Last Chance Qualifier group stage has drawn to a close, paving the way to the playoffs where eight teams are set to battle it out for the lion's share of the US$10,000 prize pool and two coveted spots in the US$35,000 Elite stage.
The matches will unfold between August 31 and September 3 in a double-elimination format, with both the lower and upper bracket final games contested in a best-of-five format as the decider matches.
ALSO READ: Festival part ways with FENNEL; joins Lunatic-Hai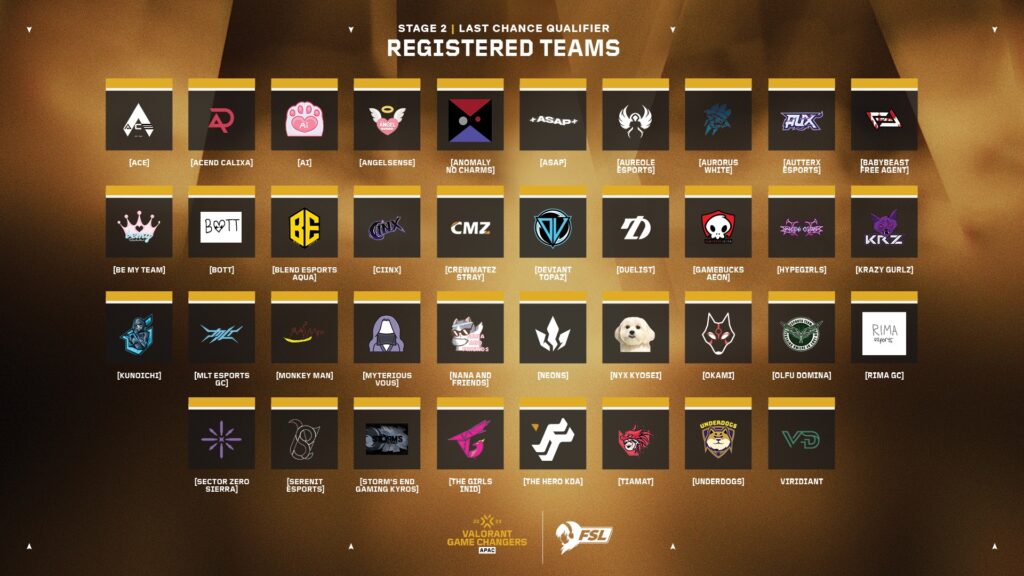 🇸🇬🇲🇾🇮🇩 Deviant Topaz
🇸🇬🇵🇭 THE HERO KDA
🇵🇭 NYX Kyosei
🇹🇭 Neons
🇮🇩 BOTT
🇹🇭 NANA AND FRIENDS
🇹🇭 be my team
🇧🇩 MLT Esports GC
Among the eight contenders, well-known teams such as THE HERO KDA and Deviant Topaz are back in the fray, having previously qualified for the primary events of Open 2 and 3, respectively. Singapore-based Deviant Topaz will aim to extend their impressive recent performance after silencing Global Esports Phoenix in a two-map affair. However, their journey was cut short by RRQ Kaguya in the following round of Open 3, ultimately landing them a 5-6th place.
Though a relatively new entrant, NANA AND FRIENDS boast two alumni from Capybara GanG, "izzengi" and "Newky", who previously secured the main event spot of Open 1.
Neons are shaping up to be the tournament's dark horse, boasting two ex-BASISSIX players, Wanlapa "kitkatwc" Charoensuk and Waritsara "Felce" Narong, along with Jularat "YOKY" Buaphan, who formerly played for Team SMG and Kizuna Tsuki. Adding to their strength, Thanaboon "Delend" Tungsupsatit, a former player for Made in Thailand and 47 Gaming, has now taken on a coaching role with Neons. This provides them with an edge, having such a seasoned player as their guide, a privilege not many other teams enjoy.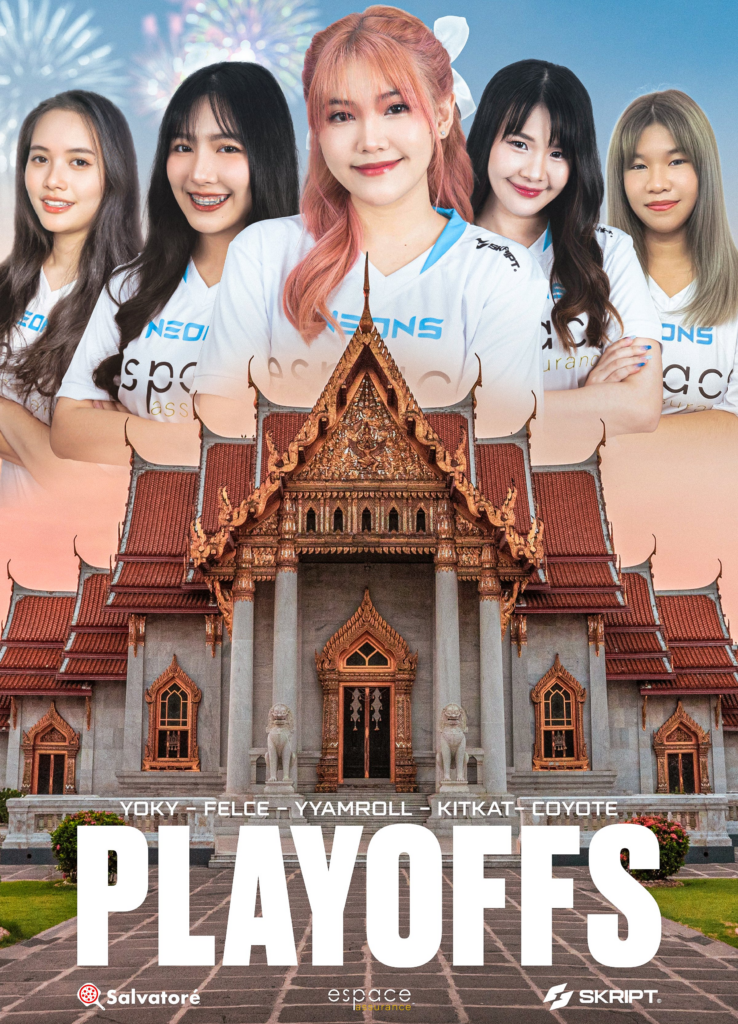 After a short stint with RRQ Kaguya, Mary "capriciouS" Sabado quickly rejoined the competitive play with NYX Kyosei. The team's lineup features the core members from GO Cyrene – "DelBinsky", "PIETY", and "Kon", who had previously made it to the main event of Open 1.
bemyteam are still relatively new to VCT Game Changers, while BOTT boast three former members of Point of Authority Blossom that finished 7-8th in Open 2.
MLT Esports GC are entering the competition with an unorthodox team composition. The roster includes former Team SMG player Kellyn "Kaephrodite" Sim and "lunah", who has just completed her stint in the North American circuit. The Taiwanese player notably made it to the main event of the 2021 VCT Game Changers NA Series 3 with Team Polaris and participated in the Super Girl Gamer Pro – Summer 2022 Championships with Team Mystic Venus. Also featured is "eluwu", who was previously a part of the majority Filipino team NYX Kyosei, as well as Asteria and The World of Battle in the previous season.
You can see all the opening matchups and the playoffs bracket below.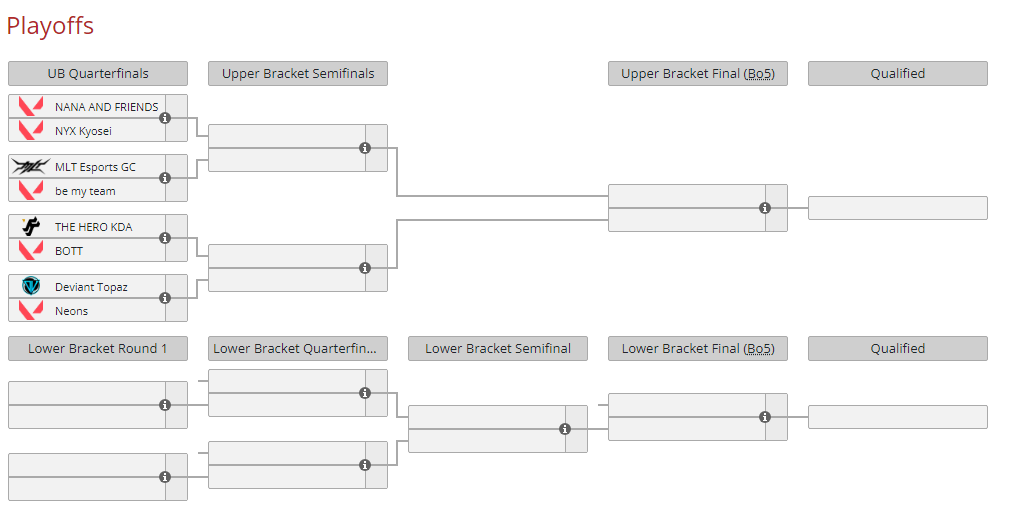 Thursday, August 31
5:00 PM SGT – NANA AND FRIENDS vs. NYX Kyosei
5:00 PM – MLT Esports GC vs. bemyteam
7:30 PM – Deviant Topaz vs. Neons
7:30 PM – THE HERO KDA vs. BOTT
Friday, September 1
5:00 PM – Upper semi-finals
5:00 PM – Upper semi-finals
7:30 PM – Lower round 1
7:30 PM – Lower round 1
Saturday, September 2
12:00 PM – Lower round 2
2:30 PM – Lower round 2
5:00 PM – Upper final
Sunday, September 3
12:00 PM – Decider
2:30 PM – Decider
---
For more insights on the Asian VALORANT scene and upcoming content like this, be sure to like and follow VALO2ASIA on Facebook, Twitter & Instagram.
---
Cover photo courtesy of Michal Konkol/Riot Games