The 22-year-old will not continue with Velocity Gaming going into Stage 2
INDIA – Velocity Gaming have parted ways with long-time player Vibhor "Vibhor" Vaid, the organization announced yesterday. Vibhor's sudden departure comes as a surprise for many, given that he was a primary building block of VLT's original lineup.
Vibhor has been on the team's books since July 2020, when Velocity Gaming entered VALORANT and signed the lineup of Team Vertigo, who had an impressive campaign in the AMD Valorant Cup 2020. With Vibhor's departure, only Anuj "Amaterasu" Sharma and Tejas "rite2ace" Sawant remain from the original lineup that the organization signed 22 months ago. 
"The last couple of days were the most challenging for me both mentally and emotionally. A lot of things were going around. Leaving the team and the teammates with whom I have been playing Valorant since day 1 of my career was not easy. A lot of victories, defeats, smiles, and tears that we have shared together." Vibhor wrote in a statement on Twitter.
"With so much going through my head, it was really difficult for me to take a decision on what is next for my career, and all of this was very mentally exhausting to the point where I even contemplated taking a break from competitive VALORANT. Then I read all the messages and it gave me the needed motivation and hunger to compete again with all my will, dedication, and full effort." he added.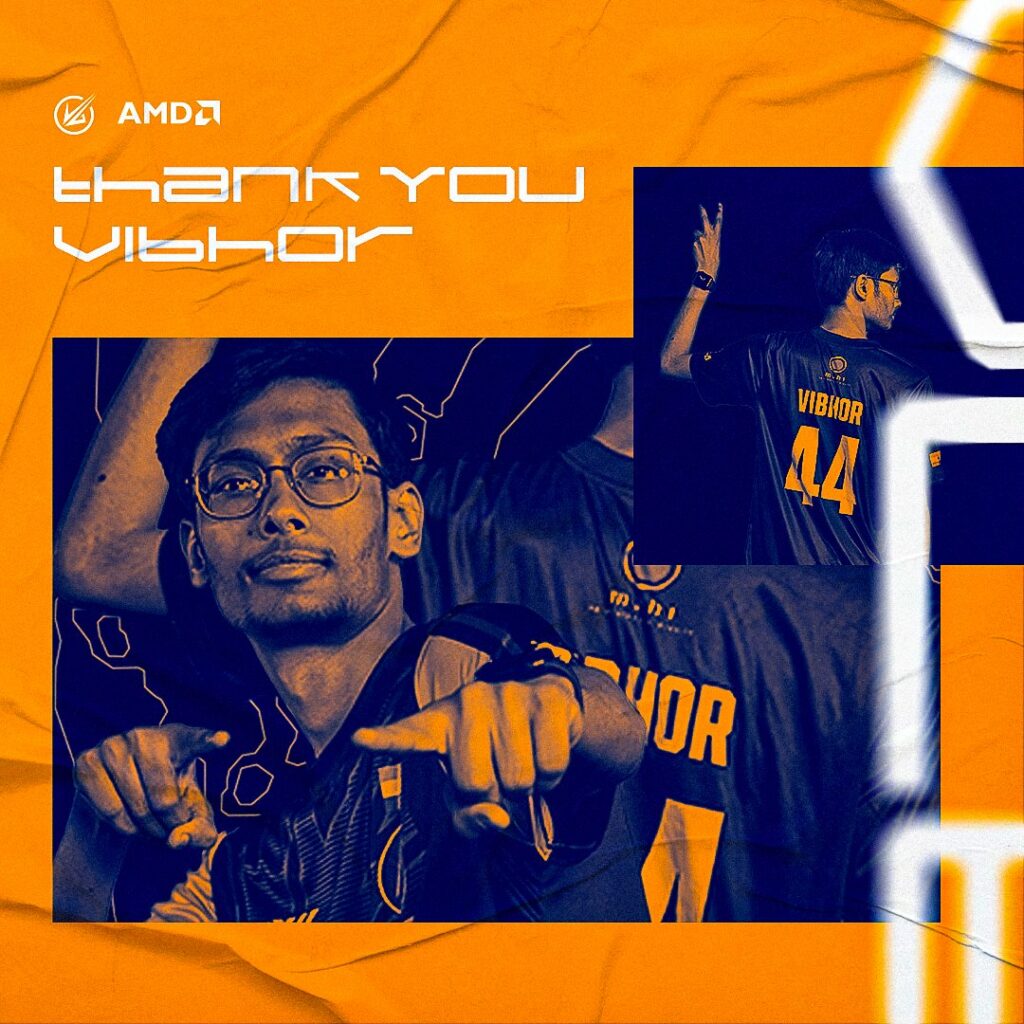 ALSO READ: ENTER FORCE.36 enters VALORANT; roster featuring iNTRO, 10X
The organization announced the news on Thursday, just two days after VLT's last exit at Skyesports Souvenir 2022 – Mumbai. "With a heavy heart, we would like to bid farewell to Vibhor! He was always the backbone of the lineup from Team Vertigo to Team Velocity Gaming! We will miss you!" the announcement reads. 
Vibhor competed in countless local events while representing the Velocity Gaming – including Team Mahi – banner, helping his team to dominate the sub-regional South Asian scene, most recently hoisting the trophy of VCC 2022 Stage 1 by taking down domestic rivals Global Esports. The squad, however, was unable to pull off a deep run in their first and most important international appearance to date, finishing 9-12th in VCT APAC Stage 1 Challengers.
Velocity Gaming are slated to resume their campaign in The Esports Club – Challenger Series against Revenant Esports (previously God Particles) today, where Mohit "mw1" Wakle is expected to fill in the void left by Vibhor. No official announcement about the starting five has been made yet. 
Velocity Gaming currently have the following roster:
🇮🇳 Anuj "Amaterasu" Sharma
🇮🇳 Tejas "rite2ace" Sawant
🇮🇳 Sagnik "Hellff" Roy
🇮🇳 Debanjan "DEATHMAKER" Das
🇮🇳 Mohit "mw1" Wakle
---
For more insights on the Asian VALORANT scene and upcoming content like this, be sure to like and follow VALO2ASIA on Facebook, Twitter & Instagram.
---
Cover photo courtesy of Velocity Gaming