Japan's ZETA DIVISION attracted the second-most viewers during the 2022 VCT Masters Reykjavik, only falling to eventual winners OpTic Gaming. 
VCT Masters 1 Reykjavik was the first international VALORANT tournament to have two Asian teams among the tournament's top five most popular teams, according to Esports Charts.
The most popular team during the event was NA's OpTic Gaming, amassing 12.51M Hours Watched. The second spot went to the flagship of the Japanese VALORANT scene: ZETA DIVISION, which garnered 12.18M Hours Watched throughout the event – only 2.65% less than OpTic –, followed by DRX in the fourth-ranking with 6.8M Hours Watched. 
ALSO READ: VCT APAC Stage 1 Challengers peaks at 99k viewers on last day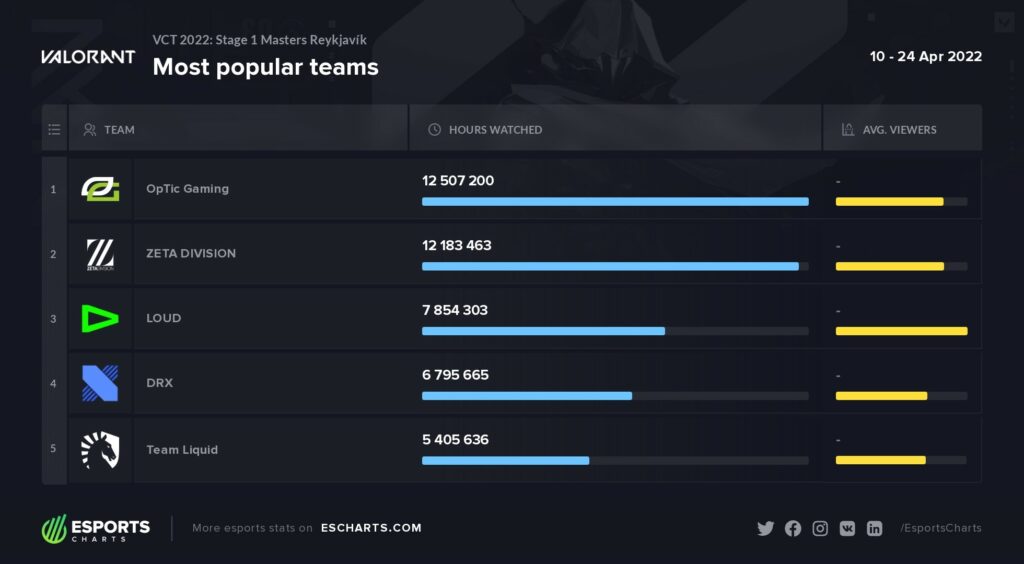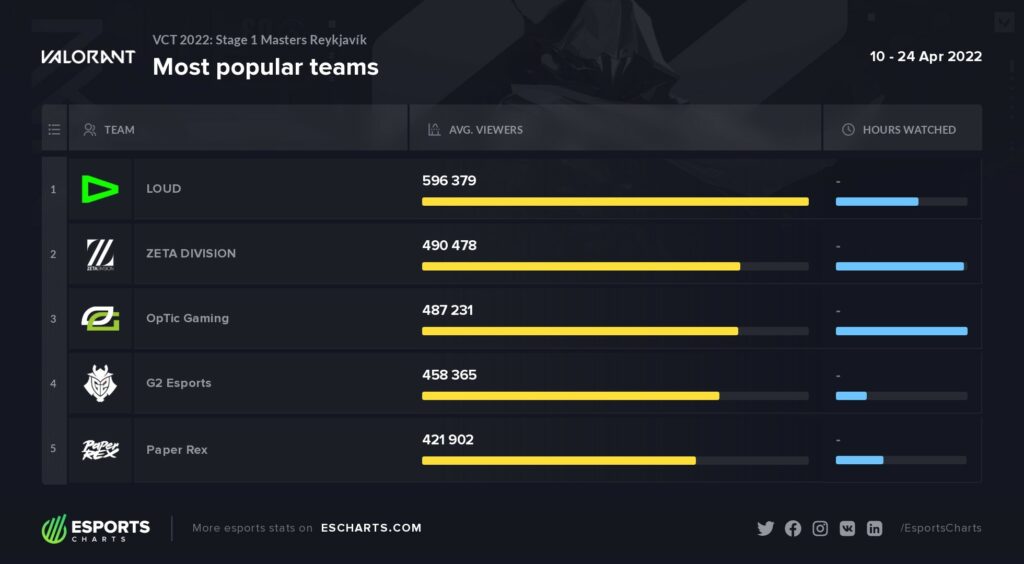 ZETA DIVISION maintains the lead in Average Viewers, with 490.68K Average Viewers. The newly-revamped squad made a remarkable run in Iceland, defeating almost every favorite in the tournament until their Cinderella story was ended by eventual victors OpTic Gaming in the lower bracket final. Performances at this event earned ZETA DIVISION a new status as a serious contender following victories over the likes of Fnatic, NiP, Team Liquid, DRX, and Paper Rex. SGMY's Paper Rex rounds out the list at number five with 421.9K Average Viewers. 
Also featured on the table is LOUD from Brazil, who unsurprisingly brought the largest share of Average Viewers with 596.38K. In a short span of time after its creation in 2019, the Brazilian organization gained worldwide recognition by being the first esports organization to reach 1 billion views on YouTube and building one of the world's most engaged gaming and esports communities.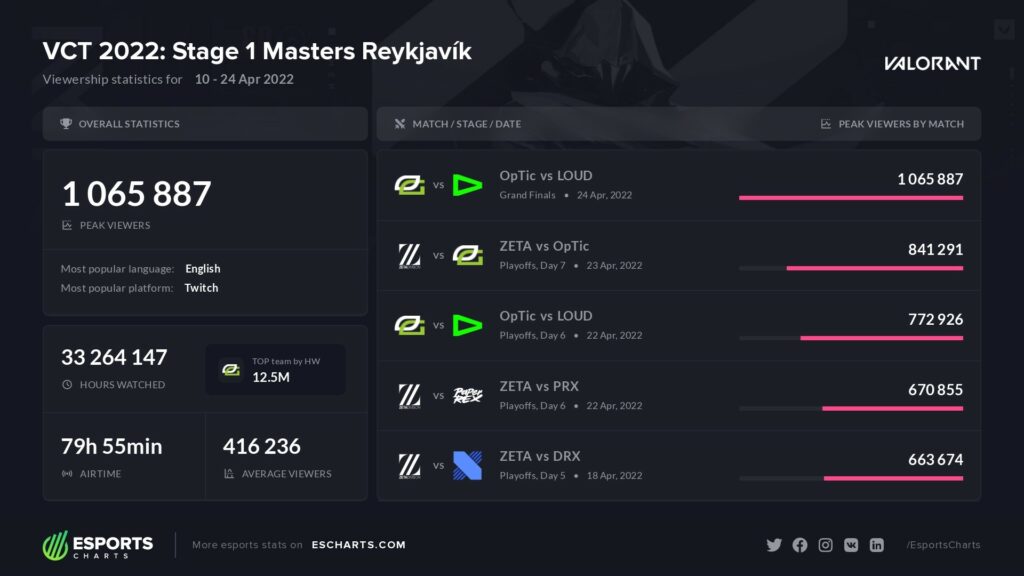 On April 24, the grand finals between OpTic and LOUD attracted the highest peak concurrent viewership with 1.06M people tuning in to witness the North American side hoisting the trophy at the end of the day, putting the event in third place, when it comes to popularity and viewership, behind last year's VCT Stage 2 Reykjavik (1.08M) and VALORANT Champions (1.08M) by a small margin.
The viewers enjoyed over 33.264.147 hours of finest VALORANT action, according to Esports Charts. The event also recorded an average viewership of 416.236 across its 80-hour airtime. With a staggering viewership, VCT Masters 1 Reykjavik demonstrated the continuing growth of VALORANT globally, and we expect to see a new record of viewers at the next international event.
---
For more insights on the Asian VALORANT scene and upcoming content like this, be sure to like and follow VALO2ASIA on Facebook, Twitter & Instagram.
---
Cover photo courtesy of Colin Young-Wolff/Riot Games