The move comes at the tail-end of an underwhelming 2023 season for Velocity Gaming. 
INDIA – Velocity Gaming have announced the release of their remaining VALORANT members following the end of their VCT 2023 season. 
However, despite releasing their VALORANT roster, Velocity Gaming manager Adarsh "EUPHO" Singh has clarified that they plan to retain their Content Creator and BGMI lineups. Owner Manoj Kasyap will also temporarily step back from esports, with the manager emphasizing that "it's all not over."
"With a heavy heart, we bid a fond farewell to the remarkable Valorant Lineup. Our gratitude goes out to Amaterasu, Hellff, DEATHMAKER, and Excali for their unwavering dedication and for upholding the prestigious VLT Badge. These individuals are the true architects behind the incredible legacy of VLT, shaping it into what it stands for today! As you embark on new paths, we extend our sincerest wishes for success and fulfillment in all your future endeavors." the announcement reads. 
"Velocity Gaming was formed in 2019 with a bunch of passionate friends who started something good for the Indian gaming community. But passion can only take you so far, and we've come so far already," Manoj Kasyap said in the video.
In July 2020, Velocity Gaming made their entry into VALORANT Esports in mid-2020 by signing Team Vertigo, headlined by veteran Tejas "rite2ace" Sawant. Over the course of the first three years, the organization experienced tremendous success, accumulating an impressive collection of trophies. Notable among their achievements were victories in the 2022 VALORANT Conquerors Championship Stage 1 and Skyesports Championship 3.0. Alongside Global Esports, Velocity Gaming was regarded as India's top contender on the international stage.
In addition to operating a successful VALORANT team in the region, Velocity Gaming has made a significant contribution to the development of regional talent through its VALORANT academy program, with Akram "rawfiul" Virani from Orangutan being one of its alumni.
Unfortunately, results took a downturn for Velocity Gaming in 2023, despite featuring prominent players like Domagoj "Doma" Fancev, formerly of Fnatic, and Adam "ec1s" Eccles, formerly of Team Liquid and 100 Thieves. The team had high expectations surrounding them in New Delhi but were among the first to be eliminated in Split 1 (5-6th) and 2 (7-8th). 
ALSO READ: Why Velocity Gaming is bullish on South Asian VALORANT, and betting its future for another two years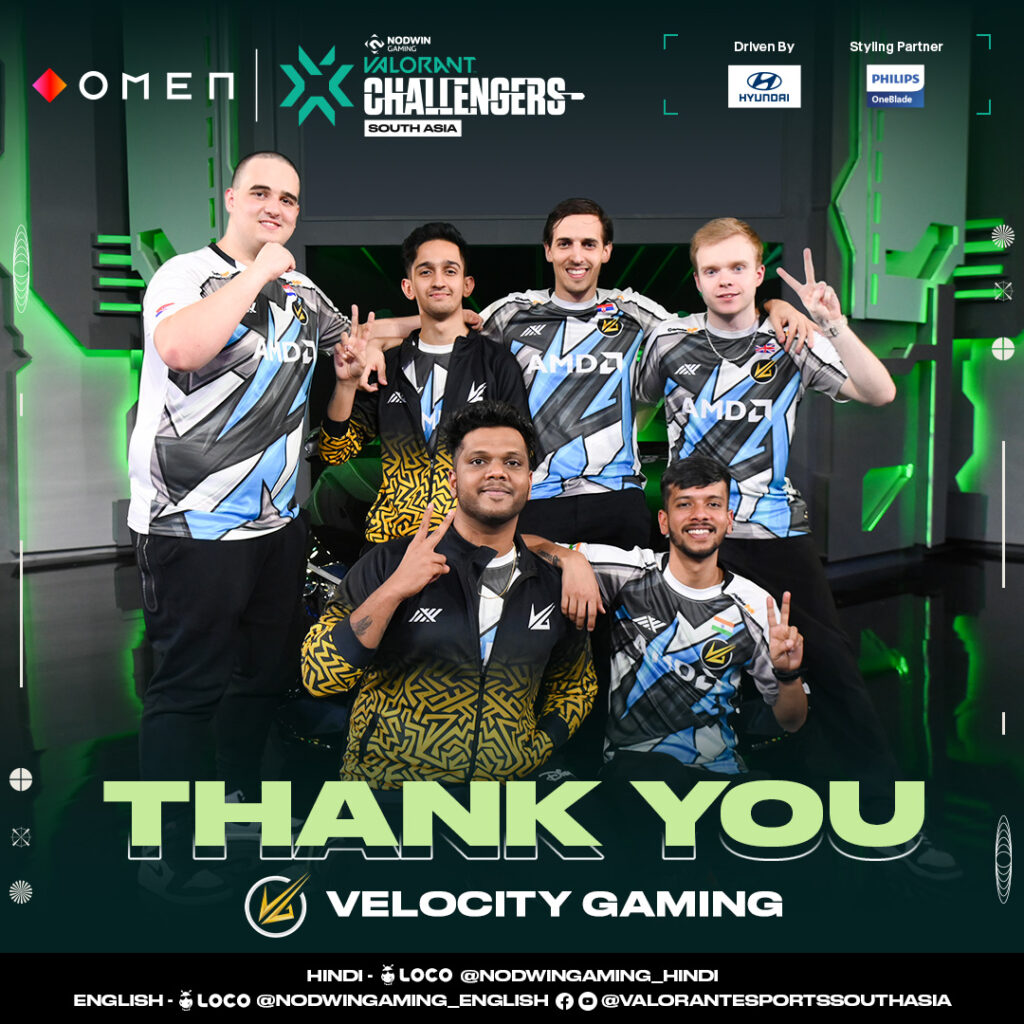 The team's release also marks a change for Anuj "Amaterasu" Sharma, as it is the first time in his professional VALORANT career, which began in 2020, that he will be without a team. He has competed under various banners, including Team Vertigo, Velocity Gaming, and Team Mahi. In a personal statement, he expressed his commitment, "back to the grind. The dream isn't dead yet." This indicates that the 32-year-old player does not intend to retire. 
Despite this decision, it appears that Velocity Gaming is not finished with VALORANT. The announcement video cleverly includes a question mark next to the "The End" text, sparking speculation and conversations regarding the potential comeback of the organization in the upcoming season.
Velocity Gaming roster was:
🇮🇳 Sagnik "Hellff" Roy
🇮🇳 Debanjan "DEATHMAKER" Das
🇮🇳 Karan "Excali" Mhaswadkar 
🇮🇳 Anuj "Amaterasu" Sharma
🇭🇷 Domagoj "Doma" Fancev
🇬🇧 Adam "ec1s" Eccles
🇷🇸 David "Dav" Miljanić (Coach)
---
For more insights on the Asian VALORANT scene and upcoming content like this, be sure to like and follow VALO2ASIA on Facebook, Twitter & Instagram.
---
Cover photo courtesy of NODWIN Gaming