The Filipino organization Action PH has let go of its VALORANT team, it has announced.
PHILIPPINES – Action PH has parted ways with its VALORANT squad, the players announced on Monday. The two sides decided to go their separate ways since the players are nearing the expiry of their contracts. In addition to that, the organization has yet to release a statement about its future in VALORANT.
After rising through the ranks by placing high in various third-party tournaments, including a third-place finish in the Zotac Cup, Action PH finally broke out in VCT Philippines Stage 1 Challengers when they finished third, reaching a peak of #20 in the VLR.gg rankings following that success.
ALSO READ: VCT Game Changers APAC Open 4 playoff teams determined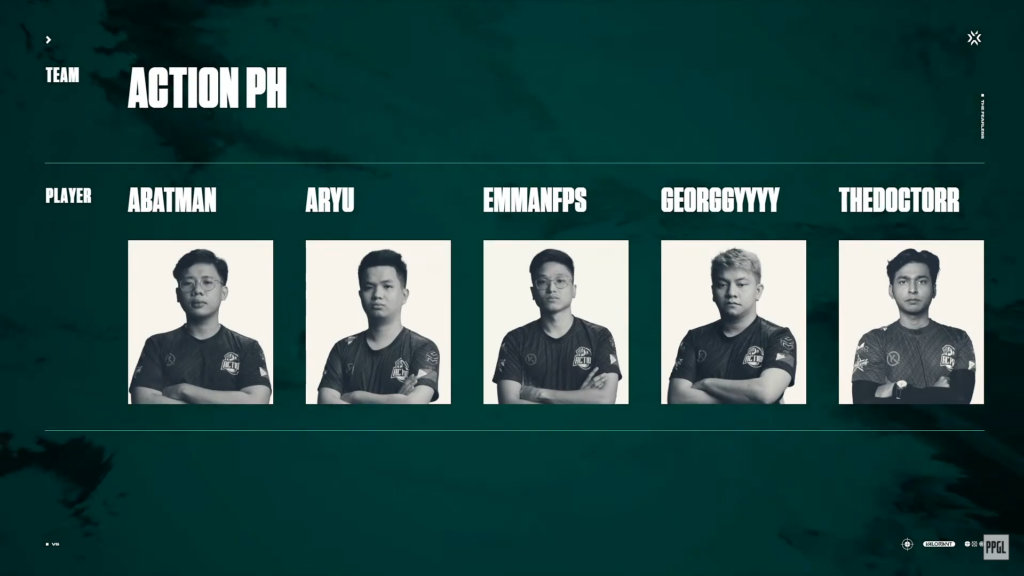 However, Action PH struggled to replicate that performance, with two of the roster's original players, Jm "tesseract" Ignacio and Matthew "modeskiii" Bautista departing the squad and subsequently joining India-based Orangutan and Japan's SCARZ, respectively.
With Franc "ABATMAN" Meija and Mathanraj "theDoctorr" Munisparan enlisted as permanent replacements, the team went on to place second in Predator Kings of PH 2022 before getting the last nail in the coffin, going out in seventh place in VCT Philippines Stage 2 Challengers and missing out on a coveted spot in VCT APAC Stage 2 Challengers.
All five players on the squad have expressed their desire to return to the top level of VALORANT. They are now looking for individual offers as a free agent.
Interested parties can reach the players on:
Georggyyy: (Twitter: @GeorgeLachica2)
Aryu: (Twitter: @AryuVLR)
Emman: (Twitter: @Emmanfps)
ABATMAN: (Twitter: @ABATMANNN)
theDoctorr: (Twitter: @theDoctorrVLRT)
The following former Action PH members are now free agents:
🇵🇭 George "Georggyyy" Lachica
🇵🇭 Philip "Aryu" Vergara
🇵🇭 Emmanuel "Emman" Morales
🇵🇭 Franc "ABATMAN" Mejia
🇲🇾 Mathanraj "theDoctorr" Munisparan
---
For more insights on the Asian VALORANT scene and upcoming content like this, be sure to like and follow VALO2ASIA on Facebook, Twitter & Instagram.
---
Cover photo courtesy of Action PH