After a long day of battle, another two teams are headed home from the VCT APAC Last Chance Qualifier.
BOOM Esports were sent home by DWG KIA, while F4Q ejected Global Esports. Coming into the event with a win over FENNEL and DWG KIA in the round of ten, BOOM and Global struggled to succeed in their following matches.
ALSO READ: REJECT, FENNEL eliminated in last place of VCT APAC Last Chance Qualifier
Few predicted either team's eventual outcome, particularly Global Esports in their first official international encounter. They came out firing on all cylinders, showing South India's capacity to fight with APAC's elite and even coming dangerously close to eliminating F4Q, who stole a map from G2 and Sentinels at Masters Berlin.
While for BOOM, a team that recruited a player less than two weeks before the tournament began and anticipated experimenting more with their seven-man roster soon, leaving the competition with a series victory was a decent way to conclude their VCT campaign this year.
---
The last Indonesian team in the Champions contention have now been eliminated
Ahead of the VCT APAC Last Chance Qualifier, BOOM acquired three Alter Ego players that placed third in Stage 3 – SEA Challengers Playoffs. However, the team has yet to use its most recent acquisitions (BerserX and TehBotol) but is anticipated to do so before the 2022 season. A new roster look that includes former Alter Ego players will be something to watch in their next appearance, as it will consist of the best of both Indonesia's finest representatives in this year's VCT.
BOOM Esports' campaign in the VALORANT Champions Tour this year came to an end following their defeat against DWG KIA. The loss to the Korean team crushed any hopes the Indonesians had of qualifying for Champions.
Earlier in the competition, BOOM were able to dispatch Japan's third seed, FENNEL, in their first match of the day, which also marked the debut for Rafi "frostmind" Diandra under the BOOM banner. Following the victory, Korea's highest-ranked side in attendance, NUTURN Gaming, dropped BOOM to the lower bracket, where they played DWG KIA.
---
The heavy hitters of India have now been eliminated. 
Coming into the event, Global Esports brought the addition of former Cloud9 player-turned-coach Josh "shinobi" Abastado which seemed to be working. Global Esports had a slightly stronger showing on the first day with their international debut against DWG KIA – Korea's #4 ranked team, according to VLR.gg. They beat Lee "Jeong Hi" Jeong-ha 2-1 (Haven 13-8, Ascent 7-13, Split 13-5) to advance to the quarterfinals round.
However, it seemed that they ran out of gas coming into the next game when they meet the sole SEA representatives at Masters 3 Berlin, Paper Rex. Throughout the series, Global Esports only accumulated a total of three rounds, which they got during the first half of the first map. Paper Rex dominated the series, earning the second 13-0 ever in any Last Chance Qualifiers after Team Liquid vs. One Breath Gaming in the EMEA LCQ.
Bhavin "HellrangeR" Kotwani's troops were pitted against F4Q in the knockout match to survive in the LCQ. Initially, things looked great as Global Esports cruised to a 1-0 lead on their map pick, Haven 13-10. It all came down to Split, which was a scrappy affair all the way until the second half when Global Esports assumed control of the game with Ganesh "SkRossi" Gangadhar's aggressive plays. The Korean side then burst off and forced overtime, which they prevailed 16-14 courtesy to Yoo "fiveK" Sung-min's 3v1 most crucial clutch of the match, which could have easily turned the other way around.
---
With the conclusion of the fourth day, six teams are left standing in the VCT Asia-Pacific (APAC) Last Chance Qualifier, vying for a spot at the VALORANT world championship, set to take place this December. Fans should set their eyes on the elimination matchups, which will determine if three of APAC's representatives from the last two Masters, NUTURN Gaming, Paper Rex, and F4Q, survive in the Champions contention.
Today's single-elimination, best-of-three (BO3) playoff matchups are as follows:
Friday, October 15 (SGT/UTC+8)
15.00 – 🇹🇭 FULL SENSE vs. 🇯🇵 NORTHEPTION | BO3 Upper Bracket Final
18.00 – 🇸🇬 Paper Rex vs. 🇰🇷 DWG KIA | BO3 Lower Bracket Round 3
21.00 – 🇰🇷 NUTURN Gaming vs. | BO3 Lower Bracket Round 3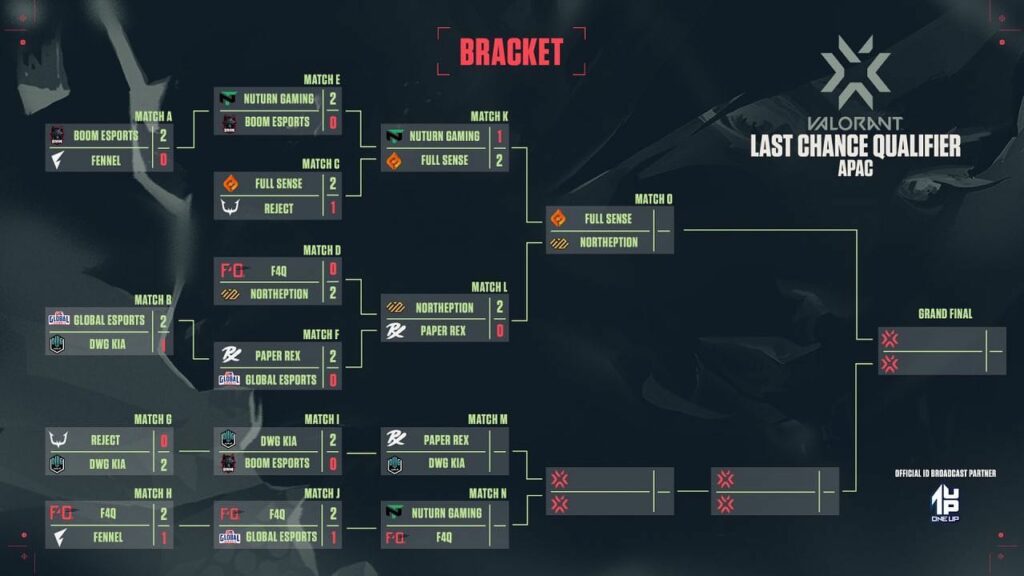 ---
For more insights on the Asian VALORANT scene and upcoming content like this, be sure to like and follow VALO2ASIA on Facebook, Twitter & Instagram.
---
Cover photo courtesy of HellRangeR