Anaks has reunited with MaKo after previously playing together under the TUBEPLE Gaming banner in early 2021. 
SOUTH KOREA – DRX announced Friday that former T1 Korea player and Maru Gaming coach Ye "Anaks" Sang-jun will be joining the team as a player development coach. He joins the Kim "Zest" Gi-seok-led squad in the middle of their campaign at VALORANT Champions, where DRX have so far defeated FURIA Esports and 100 Thieves and are about to face the winner of FPX and KRU in the quarter-finals. However, Anaks will not be standing by for the team's VALORANT Champions campaign this month. 
DRX currently have a vast staff dedicated to supporting the team's starting five. The organization has a head coach in former WeMade FOX member Seon-ho "termi" Pyeon, and is assisted by coaches Soon-woo "Argency" Kwon, Kim "glow" Min-soo, and now Anaks as the latest addition.
ALSO READ: VALORANT Champions playoff bracket drawn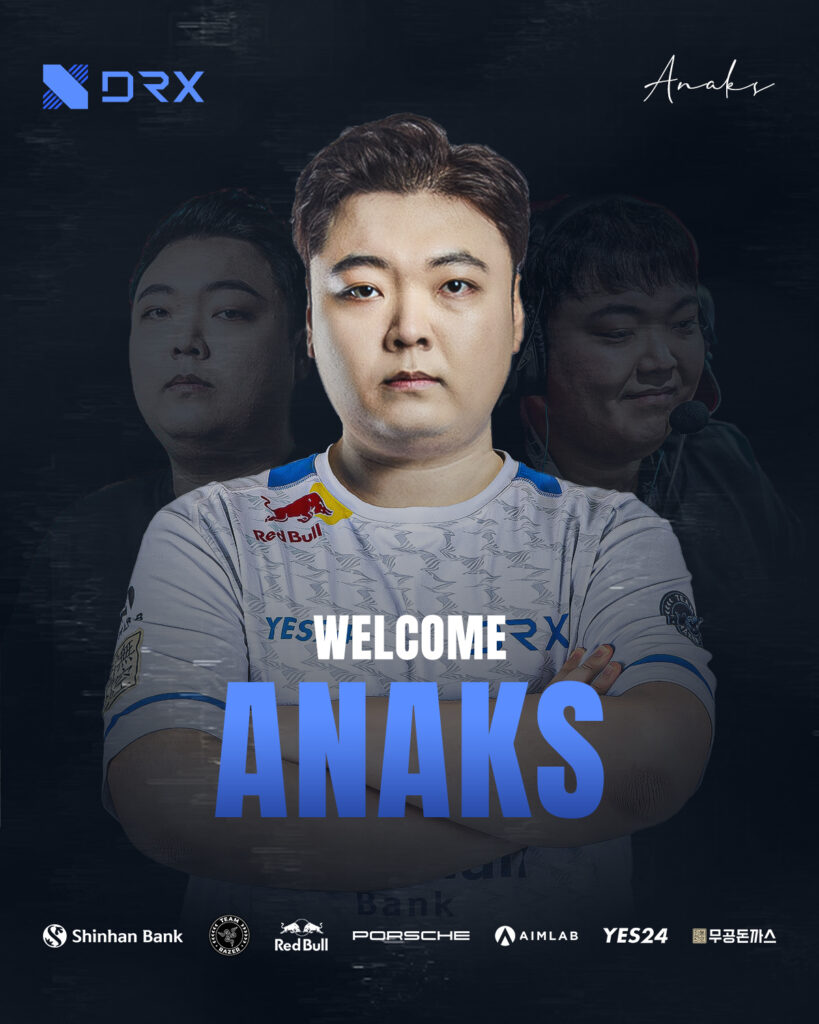 As a player, Anaks is known for his escapades in the Korean sub-top, playing alongside Byung-yeon "JoXJo" Cho, Kim "MaKo" Myeong-kwan, Jeong "Esperanza" Jin-cheol, and coach Ji "meow" Dong-jun in teams such as Prince, TUBEPLE Gaming, and T1 Korea.
After his time in Prince, the 27-year-old moved on to a coaching position with Maru Gaming at the start of 2022, where he spent a successful nine-month stint that resulted in a runner-up finish at VCT Korea Stage 2 Challengers, taking down the likes of On Sla2ers, World Game Star, and DWG KIA before eventually falling down to eventual tournament victors DRX. 
The VCT East Asia Last Chance Qualifier became Anak's last tournament with Maru Gaming before getting the call up to the current best Korean team. 
DRX's lineup is therefore now:
🇰🇷 Kim "stax" Gu-taek
🇰🇷 Goo "Rb" Sang-Min
🇰🇷 Yu "BuZz" Byung-chul
🇰🇷 Kim "MaKo" Myeong-kwan
🇰🇷 Kim "Zest" Gi-seok
🇰🇷 Pyeon "termi" Seon-ho (Head coach)
🇰🇷 Kim "glow" Min-soo (Coach)
🇰🇷 Kwon "Argency" Soon-woo (Coach)
🇰🇷 Ye "Anaks" Sang-jun (Coach)
---
For more insights on the Asian VALORANT scene and upcoming content like this, be sure to like and follow VALO2ASIA on Facebook, Twitter & Instagram.
---
Cover photo courtesy of VALORANT Esports Korea