DRX head coach Seon-ho "termi" Pyeon spoke to members of the press and discussed his decision for the team's starting five.
BRAZIL – DRX head coach Seon-ho "termi" Pyeon shared his thoughts regarding his decision to choose Kim "Zest" Gi-seok over Jung "Foxy9" Jae-sung as part of the team's starting five in a post-match press conference following their victory over BBL Esports from Turkey.
This decision has grabbed the public's attention, especially after an earlier interview between Yinsu Collins and Kim "stax" Gu-taek suggested that Zest would be moved to a sixth-man position to allow Foxy9 to "play 99.9%". This decision seems to have been overturned by the head coach.
When asked to elaborate on his reasoning behind choosing Zest over Foxy9, termi explained that the team has been scrimming extensively with Foxy9 since he joined the roster, indicating that the initial intention was to have him as part of the starting five. However, the 36-year-old believes that the 2022 lineup with Zest has performed well in the past, including the recent second runners-up placement at Champions 2022. In his view, the roster is still stable and consistent, and he does not believe that they lack anything that would require a change.
ALSO READ: Round two matchups of VCT LOCK//IN Alpha Bracket locked in
"Well, we have been scrimming a lot with Foxy9 ever since he joined our roster, but from what I think, we did pretty well last year, finishing third in Champions, and I do not think that our roster lacks anything. We are stable, and we are consistent."
Foxy9 was brought into DRX from Japan-based REIGNITE following Riot Games' decision to set the minimum roster size to six players instead of five for the international leagues. The 18-year-old was a standout in VCT Japan Stage 1 Challengers, where he posted an average combat score of 297.25 over the course of 24 maps that include matches in open qualifiers, main event, and playoffs, according to THESPIKE.gg.
"I did not feel like we needed to rush things with having a new member coming in and starting the games and stuff," termi said following their opener victory. "I think Foxy9 has huge potential, but it is just that he needs more time to drill in the fundamentals, the team plays, and stuff like that." Ultimately, termi believes that Foxy9 will bring a lot of firepower to the team once he has had more time to settle in.
DRX are set to play North American powerhouse Cloud9 in the second round of VCT LOCK//IN, on Sunday, February 19, at 1 AM SGT (UTC+8).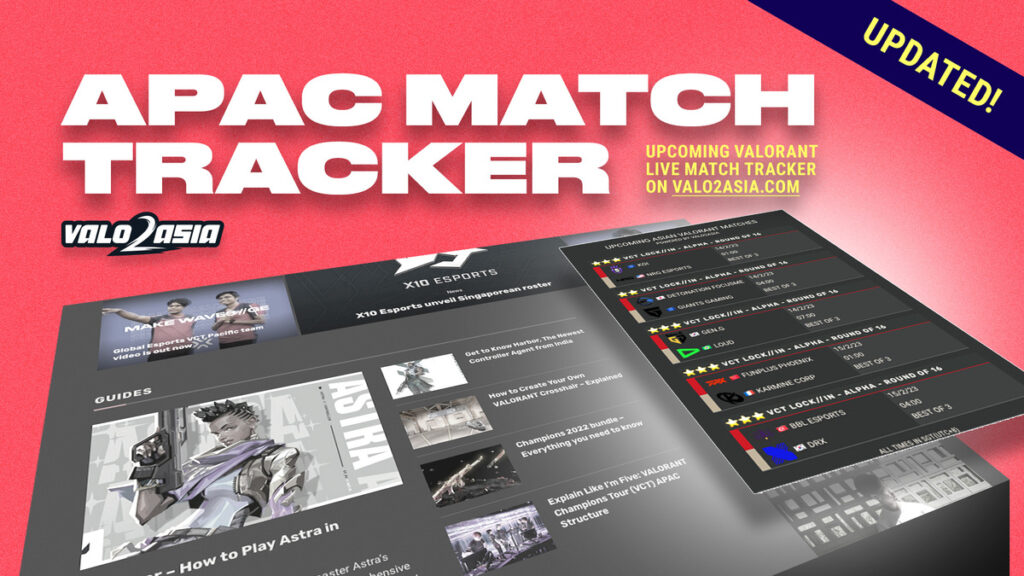 Get ready for non-stop action with VALO2ASIA.com! We bring you the pulse of APAC's most electrifying matches with our real-time match ticker, updated daily to keep you in the loop on all the latest. Our star rating system rates the importance of each match based on factors such as the teams' lineups, tournament rounds, and prestige.
From VCT LOCK//IN to other major tournaments in Asia, we've got you covered with the most comprehensive coverage in the region with accurate schedules in Singaporean Time (UTC+8). Explore VALO2ASIA's match ticker now on the right side of our website!
---
For more insights on the Asian VALORANT scene and upcoming content like this, be sure to like and follow VALO2ASIA on Facebook, Twitter & Instagram.
---
Cover photo courtesy of Lance Skundrich/Riot Games