LAMMYSNAX is back at his former team after seven months with domestic rivals Attack All Around. 
THAILAND – FULL SENSE have confirmed that Elamrahim "LAMMYSNAX" Khanpathan is back on their roster after his stint during the 2023 season with domestic rivals Attack All Around.
This move places LAMMYSNAX once again beside former teammates Chanawin "JohnOlsen" Nakchain and Kititkawin "PTC" Rattanasukol — with the latter rejoining just a week prior. The trio was previously under the spotlight when they donned the black and orange colors at the 2021 VALORANT Champions in Berlin, Germany.
The team statement in Thai reads, "LAMMYSNAX is a wonderful person, always creating laughter and smiles for those around him. Today, Lam returns with the same goal as the FULL SENSE team: to elevate the team to its highest potential. We are thrilled that today Lam has returned to fight alongside us again. We ask everyone to trust Lam and support us going forward." 
ALSO READ: OFFICIAL – Ninjas in Pyjamas (NiP) to form Chinese VALORANT roster
Having been a part of FULL SENSE since April 2021, the 20-year-old player took his leave at the close of 2022. While LAMMYSNAX and his teammates often found themselves overshadowed by X10 Esports on the international stage, they notably triumphed in the 2021 APAC Last Chance Qualifier against Japan's NORTHEPTION. This win sealed their position at the 2021 VALORANT Champions, marking them as the second Thai team to ever compete in an international VALORANT event, a proud legacy they maintain.
Yet, 2022 was not all smooth sailing. The domestic competition flourished with strong contenders, and FULL SENSE could not match their previous year's high. They managed a respectable 5-6th place in the VCT APAC Stage 1 Challengers and wrapped up their season without participating in the APAC Stage 2, having placed fourth in the regional competition.
The unfolding of the 2023 season witnessed the majority of FULL SENSE members branching out, but none were part of the XERXIA team that was Thailand's representative at VCT Ascension Pacific. With LAMMYSNAX's homecoming, FULL SENSE are charged with renewed energy, aiming to recapture their 2021 glory.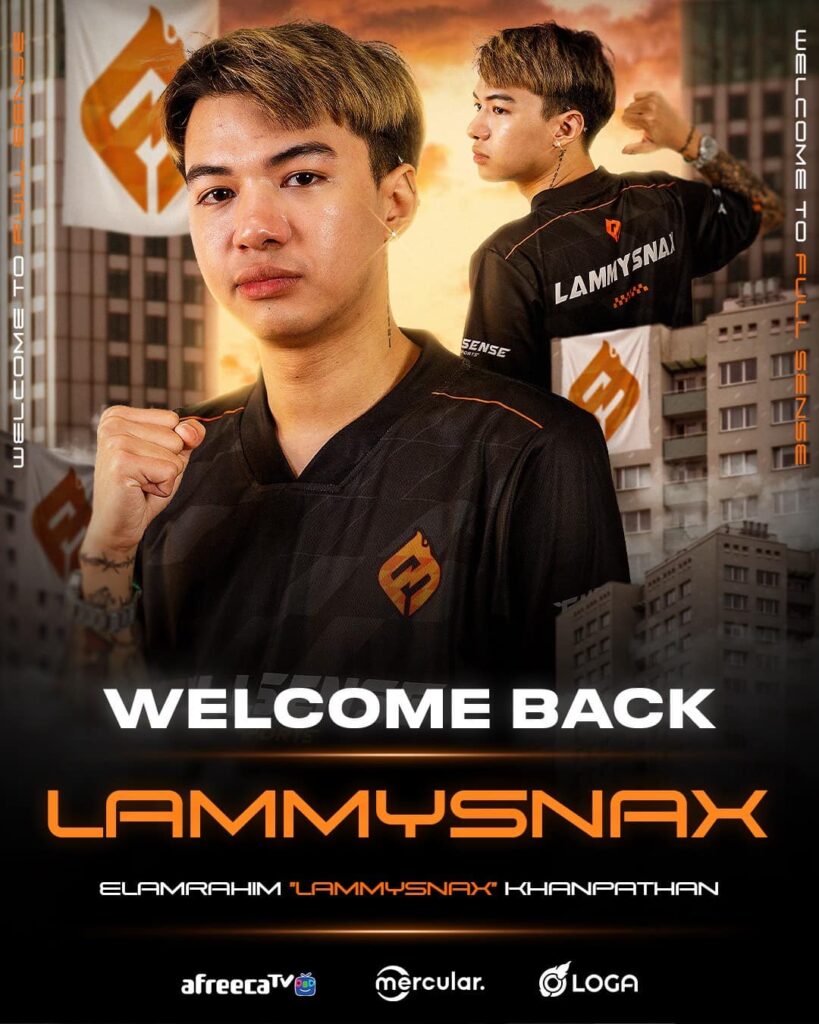 LAMMYSNAX's return marks another step in FULL SENSE's rebuilding journey as they gear up for the 2024 season. In just the recent two months, the team has witnessed five roster moves. This includes welcoming back PTC, signing former Sharper Esport star Thanyathon "Leviathan" Nakmee, and bidding farewell to Phakphon "Flukky" Sukhonchasiri and Teerapong "Teerapong" Wongsirisuponchai.
However, roster changes are far from over. As disclosed by Esports Director Yuranun "0bi" Sangurang in a recent podcast, "FULL SENSE were in the phase of team player adjustments, which have already been completed. Currently, we are in the phase of adjusting the back-end (referring to the coach) with a focus on overall improvements that might either result in the loss of current members or the addition of new ones."
The FULL SENSE roster is now as follows:
🇹🇭 Chanawin "JohnOlsen" Nakchain
🇹🇭 Thanaphat "THEE" Limpaphan
🇹🇭 Taned "killua" Teerasawad
🇹🇭 Thanyathon "Leviathan" Nakmee
🇹🇭 Kititkawin "PTC" Rattanasukol
🇹🇭 Elamrahim "LAMMYSNAX" Khanpathan
🇹🇭 Nattawat "SuperBusS" Yoosawat
🇹🇭 Theethawat "Zelyn" Taechavitidkhul (Head coach)
🇹🇭 Kachaporn "zocha" Taveesin (Assistant coach)
🇹🇭 Thotsaphon "cbbk" Suphatthanaphalaphon (Analyst)
---
For more insights on the Asian VALORANT scene and upcoming content like this, be sure to like and follow VALO2ASIA on Facebook, Twitter & Instagram.
---
Cover photo courtesy of Wojciech Wandzel/Riot Games