The Peacekeeper Elite organization has extended its esports venture to VALORANT with the signing of a new roster headlined by Kim "Secret" Ha-jin. 
CHINA – China's Peacekeeper Elite (PUBG Mobile) organization Regans Gaming is venturing into the VALORANT scene for the first time with a newly-formed roster featuring Chinese and Korean talents.
The most recognizable name on the list is former Gen.G and DWG KIA player Kim "Secret" Ha-jin. He is joined by Korean compatriot Lee "Neal X" Jae-yong, who will be joining the team from Number One Player alongside Liang "Star1og" Junchao. 
Secret links up with Regans Gaming following a brief stint under Maru Gaming in WCG VCL Korea Split 2. During this time, he stood out as the team's second-best player and helped them clinch a second runners-up finish. Prior to that, Secret played a season for DWG KIA and a brief tenure with Gen.G, competing in São Paulo while with the latter but left the team before he could represent them in the VCT Pacific League on his home turf.
ALSO READ: REJECT complete 2024 roster with Akame, muto, GangPin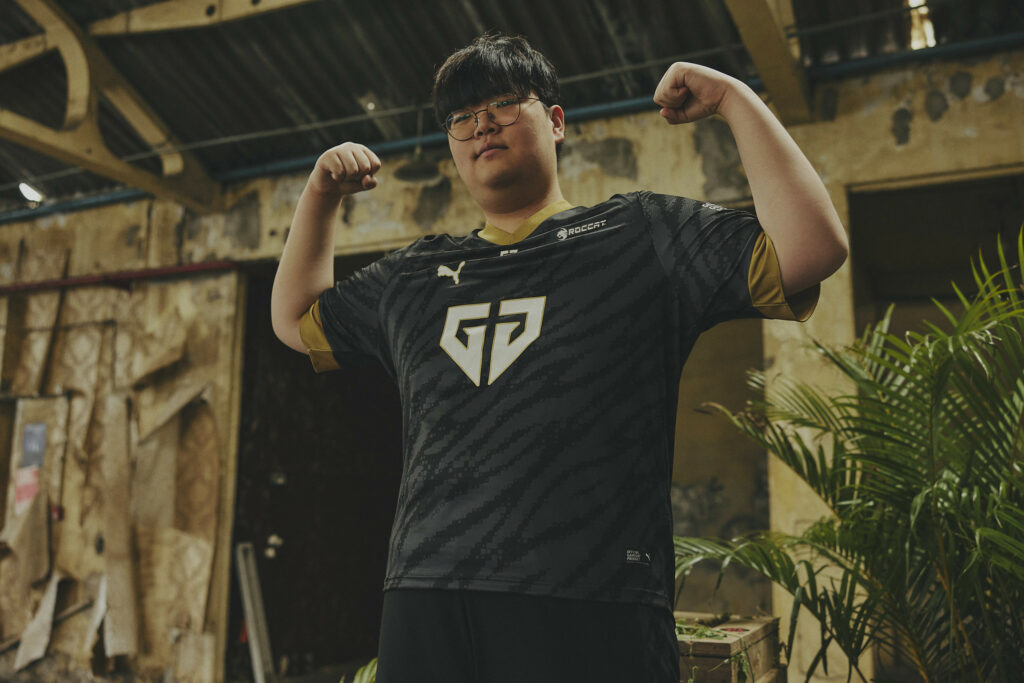 Meanwhile, Secret's Korean compatriot, Neal X, made his mark in the Chinese competitive scene as far back as the end of last year. He played as a Duelist for Number One Player during the FGC VALORANT Invitational and will now reunite with Star1og as part of Regans Gaming.
Rounding out the roster are Lin "KattelEC16" Hongzheng and Chen "Shui" Guanxie,  who are making their debut entries in the official VLR.gg database as a controller and an initiator, respectively.
Despite being a newcomer to VALORANT, Regans Gaming is infamous for their PUBG Mobile team that competes in the Peacekeeper Elite League. Last year, Regans Gaming grabbed headlines with the high-profile signing of player You "FlowerC" Guochuan, a transfer deal that cost the organization approximately US$698,000, among other significant transfers.
Since its inception in 2019 for competing in the Peacekeeper Elite League, the organization has amassed close to US$2 million in prize money. With this new venture, Regans Gaming becomes part of an ever-growing pool of organizations diving into VALORANT. At present, 37 teams are in the fray in the VALORANT China Evolution Series Act I Open Qualifier.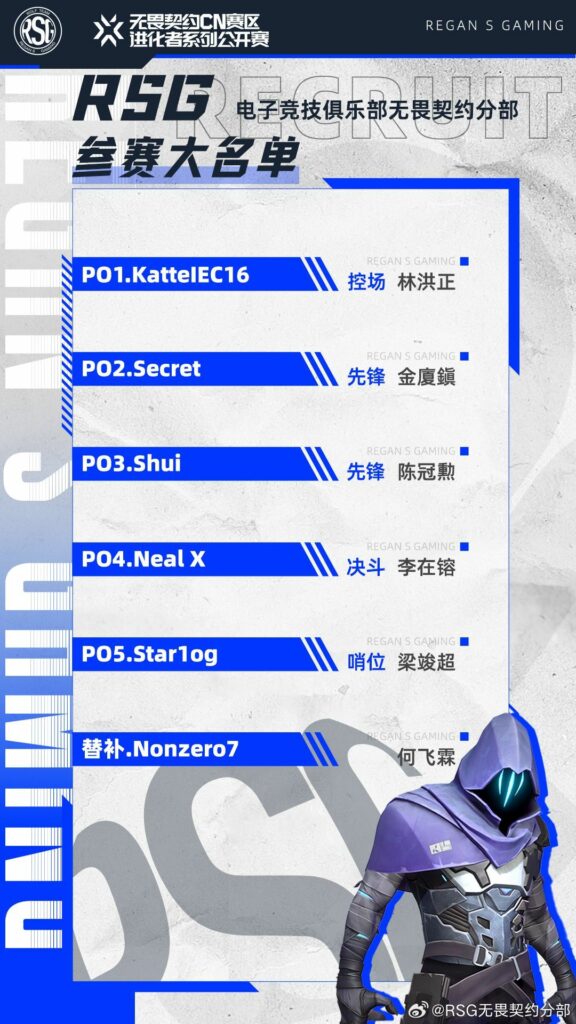 The Regans Gaming VALORANT lineup has already played two official maps together, securing wins over the likes of Four Angry Men and Douyu Gaming in the initial rounds of the VALORANT China Evolution Series Act I Open Qualifier.
Regans Gaming's VALORANT roster is:
🇰🇷 Kim "Secret" Ha-jin
🇰🇷 Lee "Neal X" Jae-yong
🇨🇳 Liang "Star1og" Junchao (梁竣超)
🇨🇳 Lin "KattelEC16" Hongzheng (林洪正)
🇨🇳 Chen "Shui" Guanxie (陈冠勲)
🇨🇳 He "Nonzero7" Feilin (何飞霖) (Substitute)
---
For more insights on the Asian VALORANT scene and upcoming content like this, be sure to like and follow VALO2ASIA on Facebook, Twitter & Instagram.
---
Cover photo courtesy of Lance Skundrich/Riot Games