Rex Regum Qeon have roped in the leading player from the Korean Challengers League as their newest addition.
INDONESIA — Rex Regum Qeon have announced the signing of Park "Estrella" Gun, adding the former Dplus KIA star to their roster ahead of the 2024 season. The news lands a day after their meet and greet session in Jakarta where the organization shared the news of successfully onboarding a South Korean talent, making Estrella RRQ's inaugural signee from outside Southeast Asia.
"Estrella will be a part of RRQ for the 2024 VCT Pacific season, coming to us with previous experience as the In-Game Leader of Dplus Esports, who represented Korea at VCT Ascension 2023. He will take on the role of flex/initiator in the 2024 VCT roster. Best of luck this season, Estrella. The foundation has been set, and it's time to ascend to the next level as we strive for greatness."
The move sees Estrella quickly return to action after he was left teamless in late August when Dplus KIA announced the departures of him, Kim "Lakia" Jong-min and Park "allow" Sang-wook, the last two of whom have not announced their future moves yet.
ALSO READ: T1 unveil xccurate, k1Ng, iZu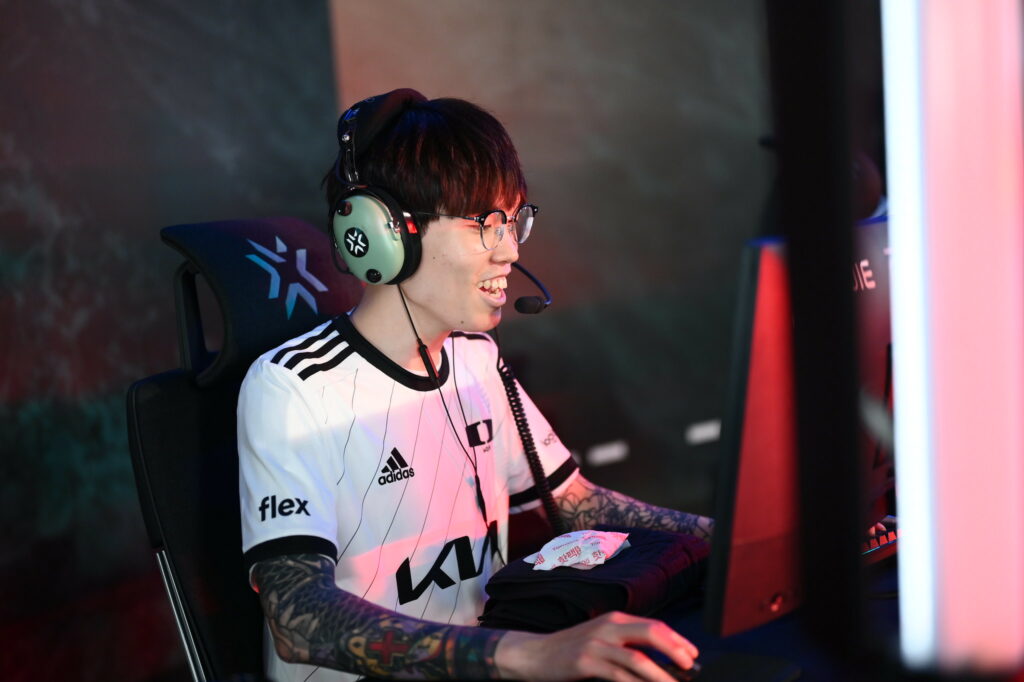 Having made his name in stints with Incheon On Sla2ers and more recently as an Initiator and in-game leader with Dplus KIA. Estrella has been turning heads with promising performances in the 2023 Korean Challengers League circuit. The 24-year-old was instrumental in leading Dplus KIA to back-to-back victories in WCG VCL Korea Split 1 and 2, where in the latter he was the team's top performer and the tournament's second-best player overall with a VLR rating of 1.20.
Dplus KIA's Split 2 victory in Seoul paved the way for them to represent their region in Bangkok at the VCT Ascension Pacific tournament. There, Estrella again led the charge with an impressive 1.17 VLR rating, even though the Korean team made a surprising early departure, finishing 7-8th after a cutthroat group stage despite a 2-0 group stage win over eventual champions Bleed Esports.
Prior to donning Dplus KIA's colors, Estrella was a member of the Incheon On Sla2ers team that made it to the grand finals of the 2022 APAC Last Chance Qualifier with an impressive lower bracket run but ultimately fell short against Zheng "ZmjjKK" Yongkang's EDward Gaming in the end, missing the qualification to VALORANT Champions Istanbul. In ONS, Estrella stood out, even surpassing familiar names such as Park "Bazzi" Jun-ki, Yu "TS" Tae-seok, and Kim "GodDead" Sung-sin, all of whom participated in the 2023 Pacific League.
The move to RRQ will mark Estrella's chance to level up further as he makes a step up to one of the eleven teams set to compete in the 2024 VCT Pacific League conveniently hosted in his home country of South Korea. His arrival comes at a moment when the Indonesian-Filipino combine are aiming to better their chance next year following a seventh-place finish in the inaugural League and a respectable fourth-place showing in the Last Chance Qualifier.
Estrella's arrival continues the OFF//SEASON rebuild that Rex Regum Qeon have been undertaking, having officially parted ways with Emmanuel "Emman" Morales on the first day of the transfer window and now the signing of Estrella himself.
Rex Regum Qeon now boast the following roster:
🇮🇩 Hagai "Lmemore" Tewuh
🇮🇩 Saibani "fl1pzjder" Rahmad
🇮🇩 David "xffero" Monangin
🇵🇭 Eroll Jule "EJAY" Delfin
🇵🇭 James "2ge" Goopio
🇰🇷 Park "Estrella" Gun
🇿🇦 Marthinus "Ewok" Walt (Head coach)
---
For more insights on the Asian VALORANT scene and upcoming content like this, be sure to like and follow VALO2ASIA on Facebook, Twitter & Instagram.
---
Cover photo courtesy of VCT Pacific