These moves see former Alter Ego Celeste captain Ryona "Tarathiel" Tan coming out of retirement while former Thirsts Red player Elyse "Ratatoulyse" Lim has joined as a newcomer to the squad.
SINGAPORE – With Team SMG set to play against Rising Hope (previously Nigma Galaxy Female) in the opening game of VCT Game Changers APAC Elite, the team have replenished their ranks with the signings of Ryona "Tarathiel" Tan and Elyse "Ratatoulyse" Lim.
These are the first changes to Team SMG's Game Changers lineup since the squad signed with the JJ Lin-owned organization in March. The incoming duo takes the place of Wanwisa "fixky" Pannil, leaving Jularat "YOKY" Buaphan the last Thai player to play for SMG.
ALSO READ: lenne announces free agency
Tarathiel links up with Team SMG after hanging up her mouse back at the start of February to pursue other interests. The arrival of the former Alter Ego Celeste's in-game leader to Team SMG will undoubtedly bring more high-level experience to the roster, with the Indonesian player having won all 13 FSL/VCT Game Changers Open and Elite tournaments since Celeste's move to VALORANT in July 2020. To put things into perspective, she has accumulated an 87.79% map win rate throughout her VALORANT career.
After sitting out the VCT Game Changers circuit this year, she is likely eager to return to competition after more than a half-year away from the game.
The second addition to the team's books, Ratatoulyse, is still more of an unknown element, as the 17-year-old's prior team experience was only with Thirsts Red. In spite of that, the Malaysian Duelist has been rising throughout her time representing Thirsts Red and the future looks promising for her.
One of Ratatoulyse best individual showings came in VCT Game Changers APAC Open 4, where Thirsts Red placed 5-6th and the Duelist player was the highest-rated player in her team's highest placement to date, accumulating 263.5 ACS throughout 312 rounds played. Ratatoulyse also shined at the three previous Open tournaments, averaging 253 ACS against strong Game Changers opposition.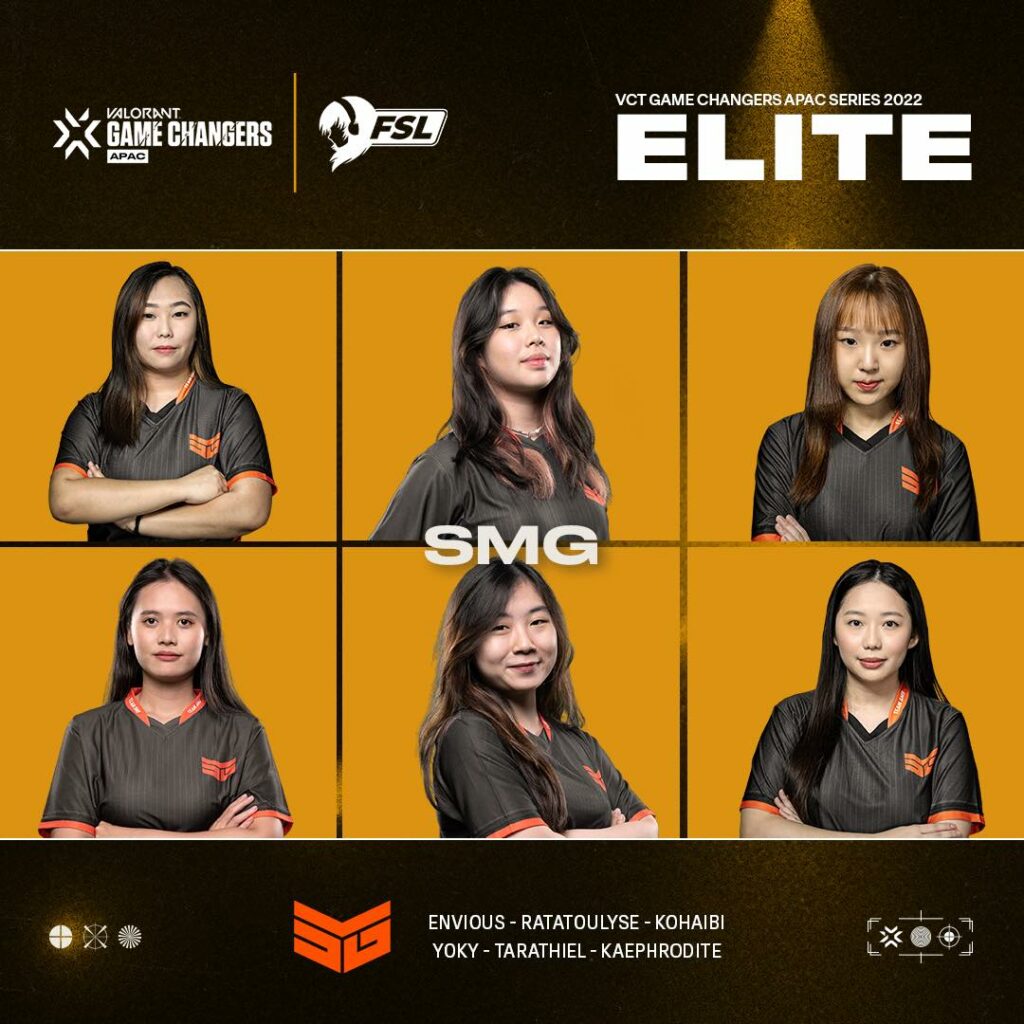 With the end of the year soon approaching, Team SMG will have their most important campaign to look forward to before 2023. The new duo will be debuting their Team SMG jersey in VCT Game Changers APAC Elite, which is set to begin later this week, with the team hoping to secure their first international trip to the VCT Game Changers Championship tournament held in Berlin, Germany.
The new-looking Team SMG six-player lineup is:
🇸🇬 Abigail "Kohaibi" Kong
🇸🇬 Yu Ting "Envious" Ewa
🇸🇬 Kellyn "Kaephrodite" Sim
🇹🇭 Jularat "YOKY" Buaphan
🇮🇩 Ryona "Tarathiel" Tan
🇲🇾 Elyse "Ratatoulyse" Lim
🇸🇬 Alex "falfalfal" Cheang (Coach)
---
For more insights on the Asian VALORANT scene and upcoming content like this, be sure to like and follow VALO2ASIA on Facebook, Twitter & Instagram.
---
Cover photo courtesy of ZOWIE DIVINA